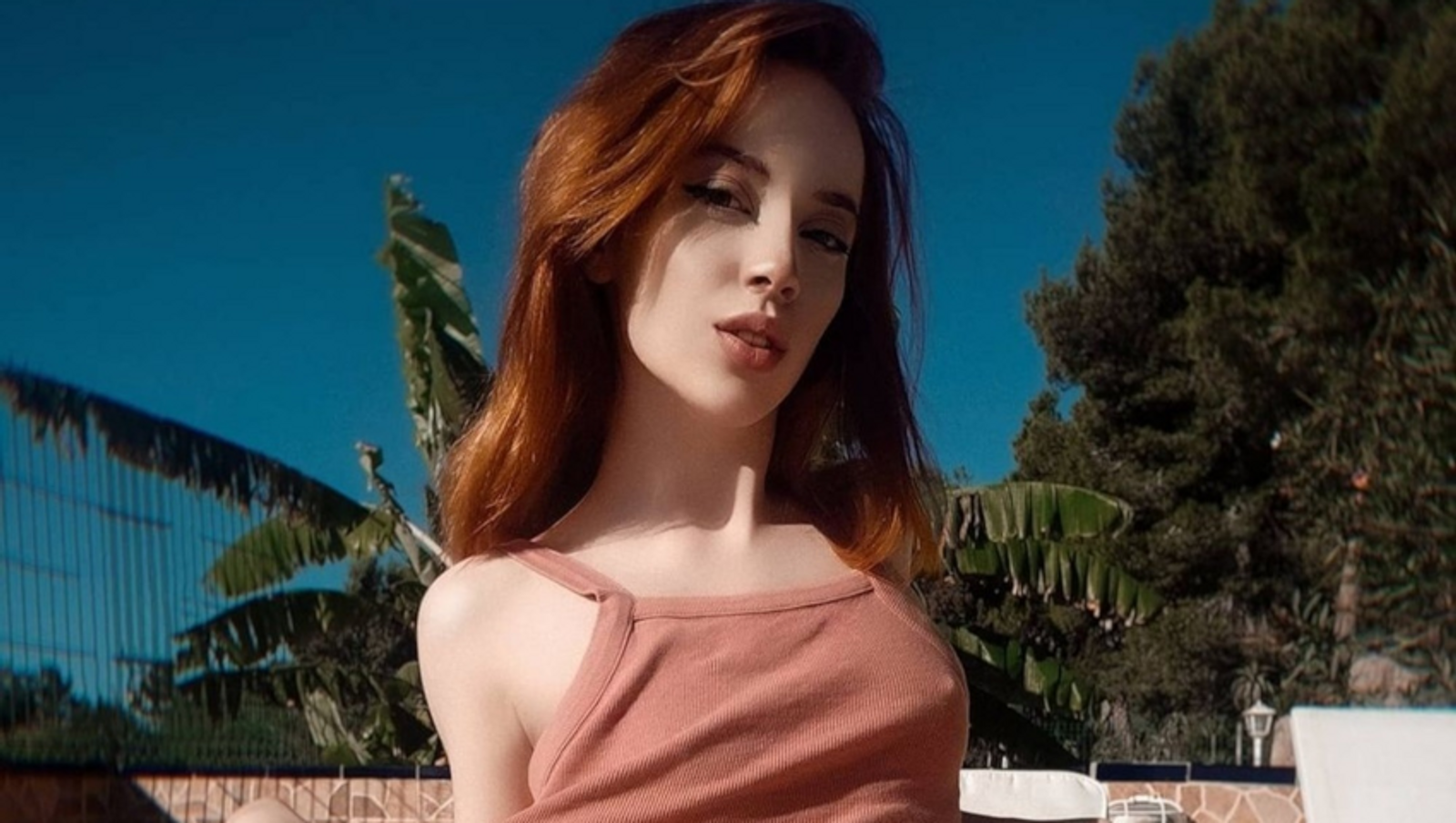 LOS ANGELES — Russian performer Lottie Magne tells AVN she started painting around the same time she launched her career in the adult industry in spring of 2020.
Fans can see her erotic illustrations on her Patreon page that is called MAGNEFY.
"One day I realized it's mine, and I think in the future, after my porn career, I'll definitely become an illustrator," Lottie says. "I'm already starting to make money on this and developing my skill. Hopefully people will notice my work—one way or another— because it means for me a lot."
In her Patreon description, Lottie explains that she loves "the aesthetic of robots, neon lights, tragedy and sexuality" and that she's "trying to mix it" in her art.
"MAGNEFY is a closed, chosen part of me, for those who want to get to know me better, because Lottie Magne is a much more interesting person than it seems at first sight," Lottie continues. "You know, I'm a second-impression person: I need some time to show all what I can do for others and to show who I am."
Without question, Lottie is making an impression in adult entertainment. The 22-year-old actress is enjoying a breakout year as one of Europe's most promising young stars.
Some of her high-profile work this year came in the form of a rare three-episode series for Vixen, Blacked and Tushy—and a rendezvous in Vienna with 2020 AVN Foreign Female Performer of the Year Little Caprice and Marcello Bravo for LittleCaprice-Dreams.com. Lottie's credits so far also include multiple appearances on WowGirls, MetArt, Legal Porno and Nubiles. 
"I love to feel the duality of my sexuality," Lottie says. "I never get the men's attention behind the scenes, can you imagine?
"If I go for a walk with a friend (with absolutely any girlfriend), then with a probability of 99.9 percent they will approach her and not me. This has never hurt me—anyway with my new job I feel full of dirty secrets and I like it. Is it normal? I'm not sure."
Even though Lottie started performing in April of last year, she considers her real porn debut when she joined Julia Grandi's JulModels last September.
It was Grandi who directed Lottie in her Vixen Media Group trilogy—in all she has performed in five scenes for VMG sites, including one for TushyRaw.
"Julia thinks I'm difficult person but anyway for me she's tough boss and I respect her very much," Lottie says. "I've never met such a strong person in my life! My composure don't allow me to express my admiration, but maybe no one needs it? I know I like that, and that's enough for me."
Julia Grandi tells AVN Lottie is committed to excellence.
"As a performer she would definitely hit the rows of perfectionists," Grandi says. "She keeps high standards to all production parts and even higher standards to herself.
"Lottie is a kind of performer who would do the same scene again and again until it's perfect and she won't be satisfied until she feels she did her best."
Grandi continues, "No doubt, Lottie's appearance is bright and she is a beautiful young woman, but the most alluring thing about her is that her inner self talks to the viewers through her appearance.
"There is something genuine and distinctive about her which is why, I guess, I wanted to shoot her again and again."
Christian Clay, the 20-year veteran performer from Italy, has worked with Lottie for both Vixen and Tushy in the first two episodes of her three-part series. Clay also drilled Lottie for TushyRaw.
"She surprised me," Clay tells AVN. "She's a cool, shy girl—she's super shy. She doesn't talk too much but when the camera is in action she is super good. She know how to acting, she know how to move. She's super nice.
"I guess now she work more, so she has more experience. For sure she's getting better and better."
Rocco Siffredi gave Lottie high marks for her performance in The Spanish Stallion, while Little Caprice and Marcello Bravo booked Lottie in a pair of scenes, calling her "really special" and adding that from their perspective, she is "the new starlet of the year."
In this exclusive interview, Lottie discusses her steady progression in the industry, the inspiration for her art and what she's learned so far, among other things.
AVN: Where are you from originally—born and raised? 
LM: I was born in a small Russian town close to China. I keep it's name a secret because the town is too small and we have a lot of bullying against women, especially sex workers…
What were you doing for work before you started in the adult industry? Did you ever have some part-time jobs? 
No, I've never tried 'noRmAL job'. For a long time I worked as a nude model as soon as I turned 18. At the age of 20 I started working on a webcam, and it was a good time.
What was your feeling about adult scenes at first? 
At first, everything was like a strange dream for me. I didn't believe I had started acting in porn, so I don't like my first scenes, to be honest. After a year of work, I really got the point: my body has caught the faithful impulse, and my consciousness, and my subconscious. It's like learning to swim—you will never forget how!
For readers who may not know about you yet, how would you describe your personality? 
Eccentric, principled, creative introvert.
What do you think of the adult industry so far?
Working in porn is not an easy job, and it needs to be talked about. I don't want this kind of work to be romanticized or held back about its shortcomings, and I'm also against the stigmatization of industry workers. There are many drawbacks, but if you know, then it can be a great job, a dream job for those who love sex, erotica, and an abundance of cameras around.
By the way, one of the main drawbacks of pornography is Lottie Magne's lack!
How would you describe your experience performing in Rocco Siffredi's Spanish Stallion movie? Who was your sex scene with?
Rocco is a very hardworking person and I really respect it. I love he is willing to re-shoot the same scene many times (!) to get the desired result. I appreciate when people are kind to their product. I worked in several scenes, each time with different actors, but my favorite scene is the scene with actress Zaawaadi (she's real brilliant, in my humble opinion)
How would you describe your experience performing with Little Caprice and Marcello Bravo in Vienna? What was the best part?
Marcello and Caprice are wonderful guys; they have incredible energy and I was glad to work with them! I fell love with Caprice in our scene for 'Luscious'... but I was looking really shy with her, cause she's too amazing. It was my first time when I've seen angel on Earth...

How would you describe your experience doing three episodes for Vixen, Tushy and Blacked? What was the highlight of this for you?
This was clearly not my very first experience in filming, but unfortunately, I still didn't know what to do and how. I didn't understand Vixen/Tushy/Blacked concept, and I didn't get the drive, although the team was eager to help me... I hope I get the chance to show all my energy and passion to Vixen. Oh, they will see what I can!
Where do you find inspiration for your illustrations? 
Inspiration is everywhere for me. Movies, pictures, even my own life and my friends.
For example, recently I thought it would be great to draw a mini-comic about the sexual adventures of me and my Julfriends (Stefany Kyler, Tory Sweety, Lika Star and Sonya Blaze). But on the larger part of the project, I'm not sure yet, since I haven't yet found the right audience.

What have you learned about yourself since you started in the adult industry?
I stopped pretending! I recognized myself as real. For a long time I was a hostage to standards. I thought I would never be attractive if I didn't look cute and behave like that, and if my body doesn't look sexy according to the standards.
But no, I can be myself! I can be weird, difficult, serious. I can read comics and play video games in comfort of my home for weeks, and without trying to prove I have to become a party girl in order to please others. I'm Lottie Magne.
What's next for you—how do you see the rest of 2021 and beyond? 
I don't make big plans for the future, because I understand that a lot can go wrong. But I'm willing to strive to work harder, especially for my own content! And of course, I hope to be noticed more and more often. I will work... harder, harder, ohhhh, yeah, HARDER!
Photography by Lottie Magne