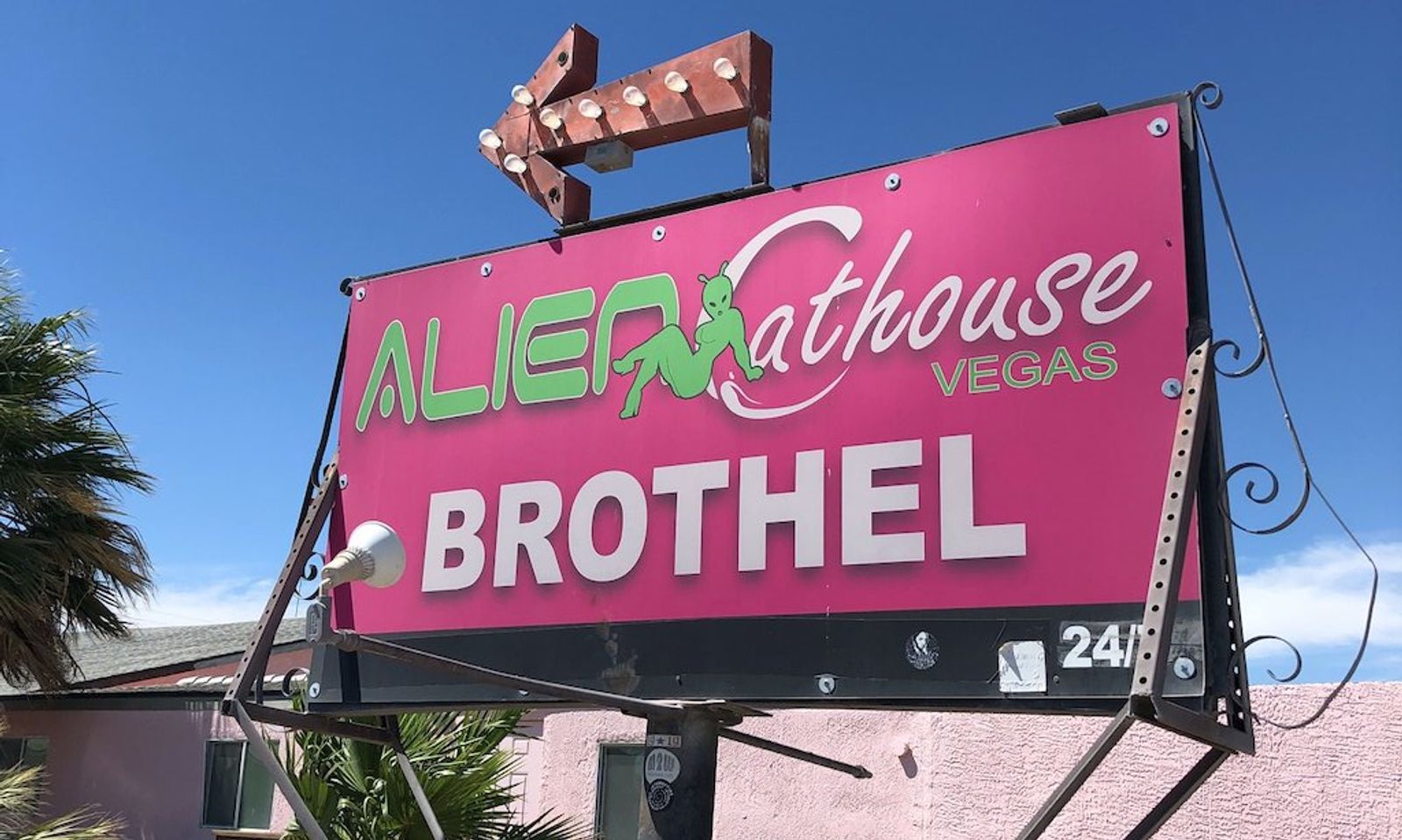 A legal Nevada brothel located in the state's Amargosa Valley, which is—not coincidentally—one of the towns nearest to the mysterious Air Force base known as Area 51, already caters to patrons' science fiction and extraterrestrial fetishes. But now the Alien Cathouse plans to take the otherworldly theme to another level, according to a report by Britain's Daily Star tabloid. 
The brothel, reportedly once owned by legendary, self-described "pimp" Dennis Hof—who died last year—plans to offer two new options to its menu for patrons looking for futuristic recreation before traveling down the road to attempt a surreptitious glimpse inside the highly classified Air Force facility where, UFO enthusiasts insist, bodies of captured space aliens lie in cold storage.
The brothel plans to introduce a sex robot "courtesans" to its list of services—an idea that has been raised in other American cities but rejected by local governments. 
"For clients that have certain … fetishes that (human) courtesans might not be interested in, the robot could fulfill those," current Alien Cathouse boss Rod Thompson told the Star. He also suggested that "additional opportunities" would be available for three-way encounters involving both human and robotic "courtesans."
As discussion of sex robot brothels has picked up momentum in Nevada and elsewhere, however, actual, flesh-and-blood sex workers have spoken out against the prospect, as AVN.com has reported.
"It's dehumanizing," said Allissa, a legal sex worker at another Nevada brothel, Sheri's Ranch. "Offering sex dolls as a substitute for human sex workers is not only an insult to sex workers, but it's also an insult to the millions of clients that seek genuine sexual and emotional connections with professional women like me every day."
But Thompson insists that the "courtesans" currently plying their trade at Alien Cathouse have welcomed the potential addition of robots to the establishment's roster.
"The courtesans are actually excited about the additional revenue stream to Alien Cathouse, as well as the additional opportunities that might present themselves for interested parties wanting to party with a real flesh and blood courtesan and with an AI sex robot at the same time," he said.
But the addition of on-site sex robots is not the only high-tech enhancement under consideration at the Area 51-adjacent brothel, where the human "courtesans" are known as "Cosmic Kittens."
The sci-fi brothel also plans to add a "teledildonics" feature, which would allow patrons to sexually interact with the establishment's "Cosmic Kittens" without actually traveling to the brothel's location, deep in Nevada's desert. 
Using teledildonics, courtesans could control internet-connected sex toys to provide their services to clients located anywhere in the world where reliable WiFi is accessible.
"I for one am all about diversifying my portfolio of sexy services to meet the needs of my beloved clients," said Alien Cathouse sex worker Stella Renée. "Expanding our technological and social stiletto-print is imperative. Adapt or die!"
Photo By Alien Cathouse Facebook