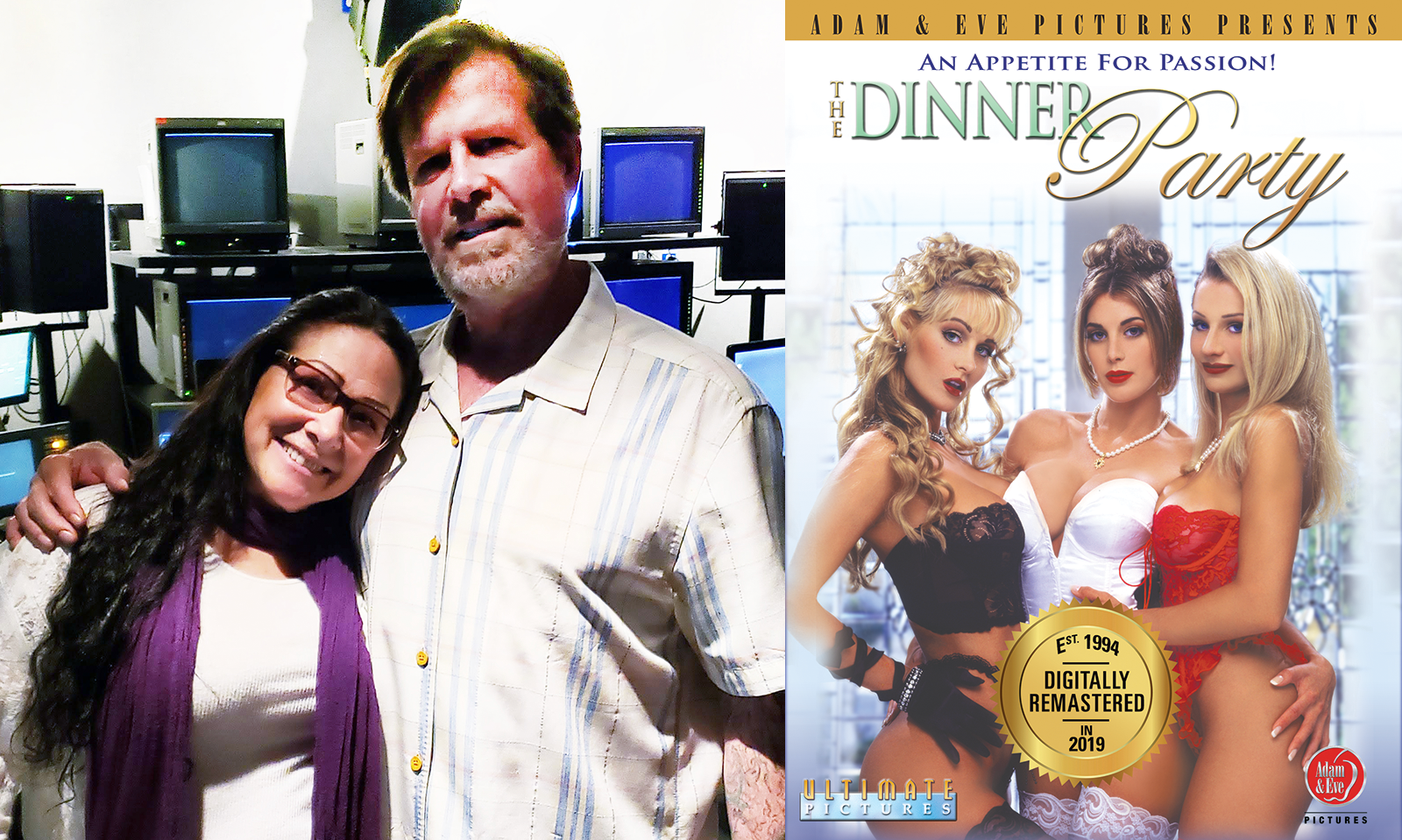 It's been a long time since VHS tapes ruled the shelves of brick and mortar adult video stores. But turn-of-the-millennium content still resonates with viewers, inspiring the creative energy of industry professionals to bring classic features back to life.
Adam & Eve and directors/editors Luc Wylder and Alexandra Silk recently restored and re-released two classic films spanning that VHS and DVD era: The Dinner Party and Sex Across America: A Look Back. A sampling of the original multi-volume Sex Across America series, released between 2000 and 2005, Sex Across America: A Look Back is a three-hour feature hosted by Angela White. The Dinner Party is the quintessential big-budget '90s film, carefully restored for the digital age.
"The Dinner Party is definitely one of our classics," Adam & Eve Executive Producer Rachel Vigneaux says of the 1994 film. "We have wanted to bring this classic film out again for some time; however, we wanted to deliver a better quality than the original. We attempted a few times over the years to digitally enhance the movie but weren't happy with results. Then Luc [Wylder] offered to take a stab at it with some of the new technology he had been learning and we were happy to give it a try! The idea is to share the movie with those who haven't seen it and also to bring it back to those who loved it to begin with, in a newly enhanced version."
Stills from Cameron Grant's The Dinner Party (1994), released in 1994 remastered by Luc Wylder and Alexandra Silk. Photos courtesy Adam & Eve Pictures. Read the original review by AVN here.
"The Sex Across America series," continues Vigneaux, "was a unique undertaking as the cast traveled across America bringing the sex with them and finding adventures along the way. There were twelve volumes. They traveled to Miami, Seattle, Puerto Rico, Hawaii and New York, to name just a few. Each volume featured the hosts Alexandra Silk and Luc Wylder, who introduced new cast members along the way. The idea behind bringing Angela White on board was to add her to the series and bring back the highlighted favorites for today's viewers."
"The reason we choose them [Silk and Wylder] to edit and restore," says Vigneaux, "is that they have found a niche and a need in the industry to fulfill. They are amazingly good at studying the industry and providing what is needed from in front of the camera, to behind the camera, and now to the edit room."
Silk and Wylder talked with AVN about their experiences editing these two films, as well as their path from directing and starring in adult films to video post-production. Behind the newly released Dinner Party and Sex Across America lies their unique journey of personal growth within the adult industry.
"I initially studied photography in 1978," recalled Wylder, "and of course that was with film developed in a darkroom. When I became involved in film making, I already had the fundamental skills needed, a love for the craft, and had a formal education to top it off. I was very much aware of the process from the first moment that I hit 'record' on a commercial tape for [Fallen Angel's] Dirty Dancers No. 1. I had a long-term vision for Fallen Angel's media and I began archiving everything in a most meticulous manner. The process of upconverting standard definition analog media and bringing it up to speed for the current HD-based internet machine was kind of a natural evolution for me. Providing this unique service to other broadcast or internet companies who are perpetually starving for quality media was a great fit."
"As for me," said Silk, "I used to QC all of Fallen Angel's videos. QC stands for Quality Control and is the final step before delivery to a client. Once an editor outputs his final cut of the movie I would have to watch every frame. If there was anything I didn't think would clear broadcast specs, or a legal issue or a color imbalance, I'd make a little note and the editor would make the correction. Then I would have to watch every frame again, to confirm the corrections were actually completed. It was tedious to write down all the time codes and the corrections. By the time all that was completed I could have made the corrections myself! It was my incentive to learn how to edit and save time."
Wylder and Silk continually hone their skills through monthly meetings with a mainstream post-production group in Hollywood, as well as through the study of online and written resources to keep up with the latest technologies. They recently attended a weeklong seminar at Apple headquarters in Cupertino.
It's also clear that the married couple's shared enthusiasm for the art of filmmaking inspires their creativity. Wylder primarily worked on the restoration of The Dinner Party and Silk on the editing of Sex Across America, but they often speak as "we" throughout the interview. One gets the sense that theirs is an intimately collaborative process.
"This was adult filmmaking, erotic filmmaking at its finest," said Wylder of The Dinner Party, directed by Cameron Grant in 1994. Wylder recalled the process began with selecting the best master from Adam & Eve archives. They "sent cases full of masters in different formats," Wylder said, "and we needed to apply due diligence to the process. We gathered engineering specs on each master and engineered them and determined which one would be the best to capture. Our goal was to create a complete and accurate restoration of the original work. In the end, we chose to capture the original edited master from 1994 and, miraculously, it worked. So it holds up to current expectations."
"The key is what we do after we've captured media and digitally upconverted it," added Wylder of the footage. "Therein lies the magic with the current technologies. We are able to take what arrives as a single clip, recreate every cut, and then individually remaster each one of those clips, with color correcting, audio filtering, and so much more."
Wylder recalled the reaction from Adam & Eve to the final result.
"Adam & Eve are usually short on words whenever they receive a project. You might hand in a magnificent, best-selling feature to them, and you'll get back the words 'Movie is good' and that's it!" Wylder laughs. "But in this case when I sent the movie to them they just said, 'This is awesome.' They liked it, yes. I was pleased with that."
Describing the Sex Across America series, Adam & Eve's Rachel Vigneaux says, "Most movies today simply do not have the travel budgets for entire casts to travel across America for multiple locations to shoot at. This was a first! Angela White and Chad Alva take a look back at fourteen of the most outrageous scenes from the series and in the end get so into them that they themselves end up having sex."
"I had little bit of help in my selection of Angela White," Wylder said. "I went to the AVN announcement party where they were releasing the name of the host for the AVN Awards Show. The moment that they announced Angela White's name, I was on the phone to Adam & Eve telling them that we were going to use her in Sex Across America: A Look Back."
Reducing a twelve-volume series to a single feature presented Silk with a classic editing challenge.
"I was trying to highlight the best of the best," recalled Silk. "I tried to pick the scenes that had star power, a lot of people in them—we did a lot of orgies along the way—and the fabulous locations. There were too many great scenes. That's the hard part for an editor, to have to let go of a scene that you really want. There is just never enough time."
The process of selecting the scenes from the upbeat series was a joyful one. "There was a lot of laughing involved," said Silk. "I wish I had recorded that. I wanted that same lighthearted undertone carried throughout the series. People take sex so seriously. It's meant to be fun."
The scenes from the The Dinner Party and Sex Across America may remain unchanged in content, but the work of restoring and editing them inspired reflection from these two industry veterans.
Describing the completion of the Sex Across America: A Look Back project, Alexandra Silk recalls, "We celebrated! We like to take a moment to celebrate, pat ourselves on the back and dance. I enjoyed editing Sex Across America probably the most out of any movie I've edited, but it took months to edit all that media. When the project ended, it was a release. I try not to be attached to the outcome of the project. I'm more involved in the process, being in the moment and enjoying the experience—that to me is the gift of editing."
"There's an underlying message here," mused Luc Wylder. "It's almost a Zen message. You work at what you enjoy, you put time and your entire focus into it and then you let it go. Just staying with that experience, that moment of process where you're creating and you're doing something wonderful. That is the reward. We editors create a real and emotional experience for the audience. We spend ninety minutes together on the screen. What do you want people to watch?"
To contact Wylder or Silk, email [email protected] or [email protected].