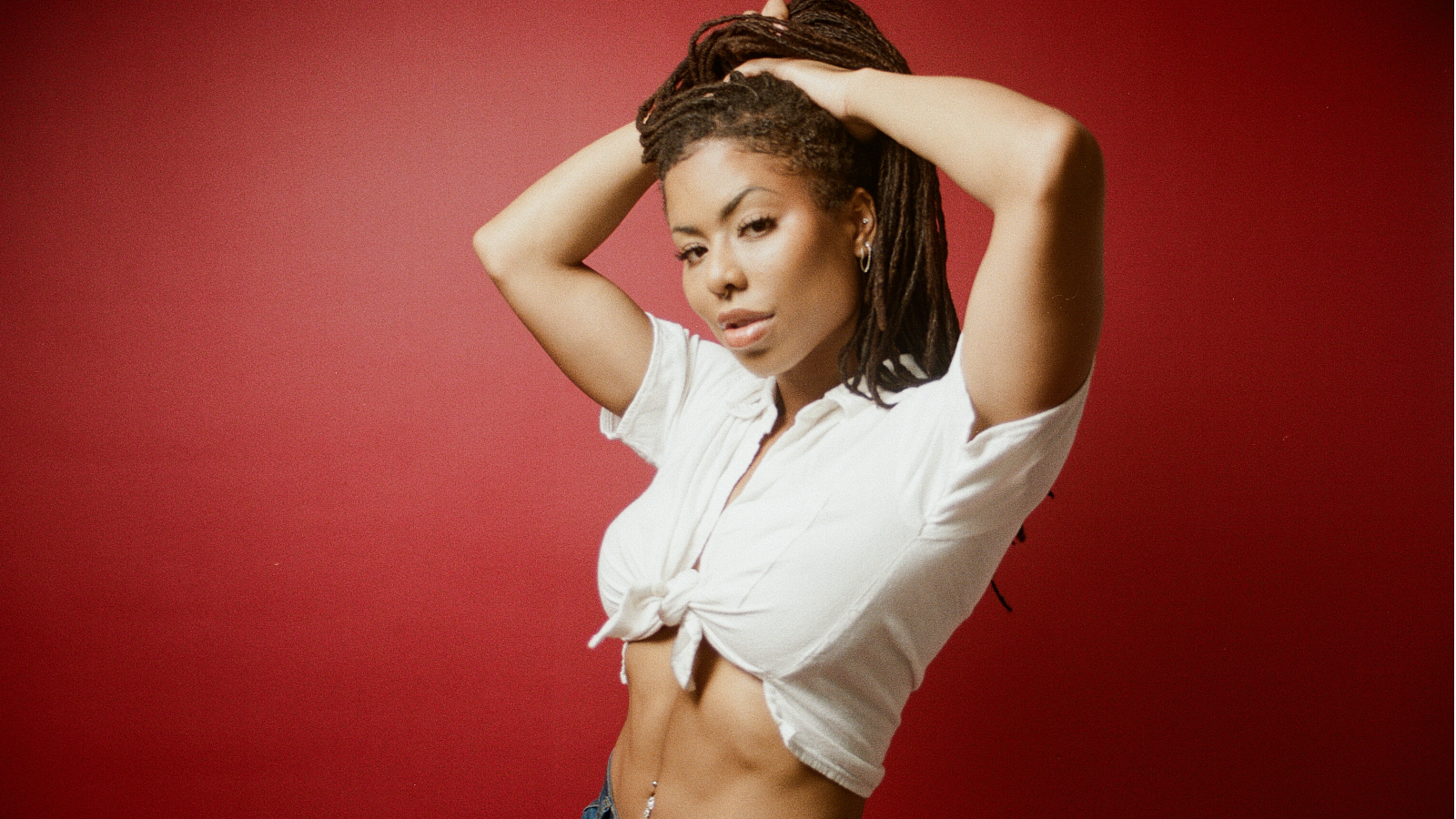 This is the cover story of the May issue of AVN magazine. Click here for the digital edition.
LOS ANGELES—Kira Noir wanted to change seats.
Sitting in the front row at the 2023 AVN Awards Show, she texted with her friend and fellow performer, Leo Vice, about joining him in the balcony.
"I was just thinking I'll go ahead and sit with my friend because I usually don't go up on stage," explains Noir, who was accompanied by veteran photographer JT after their red-carpet walk.
But when Noir got upstairs minutes before the 40th annual ceremony was set to begin, security stopped her from going into Vice's section because she didn't have the right ticket—so she went back.
Less than 90 minutes later the humble superstar was summoned to the stage as the winner of the biggest individual honor in adult entertainment, accepting the AVN Female Performer of the Year award in front of a raucous crowd, many of whom gave her a standing ovation on the night of January 7th in Las Vegas.
"I'm really glad I sat where I was supposed to sit," Noir jokes. "I've won AVN Awards before, I've just never had the opportunity to go up on stage to accept one. So I didn't think that was going to happen—I wasn't expecting anything. So it was really fun."
Leo Vice led the chorus of cheers from the theatre's upper deck.
"Fate just put her in the right place," Vice tells AVN. "When Kira's name was announced I was going ape shit so much that I forgot to even record her."
Noir's date JT, who was attending his first AVN Awards Show, says he saved the ticket stubs.
"Having her ask me to be her date and then her winning, it was like the coolest way to ever attend AVN," the 20-plus-year industry vet JT says. "I couldn't have imagined anything like that.
"The funniest part of it is right when it was announced that she won, we both said to each other, 'OK, let's say who we think is gonna win.' And we both said other people at the same time they announced her name. She was even in more shock than anyone else. It was quite a moment."
Stunning in a flowing white wedding gown that she customized with an extra high slit, Noir wiped away a tear during her acceptance speech.
"I love all of you," Noir told the audience. "Oh my god, I'm pretty sure I'm dreaming right now. But just in case I'm not, thank you so much Mark Spiegler, thank you everyone who's hired me and thank you to everyone who's fucked me over the last 10 years!"
The future Hall of Famer took her place in AVN Awards history as the first Black woman to win the Female Performer of the Year crown since the award was first presented in 1993.
Noir calls that distinction "really bittersweet."
"Of course I'm just over the moon about it and couldn't be happier but it also comes with the asterisk that it took a long time for a Black woman to win it and there have been a lot of Black women before me who have also been incredible performers that it would've been nice to have recognized," Kira says. "So I feel like I have to acknowledge that."
She says she watched the replay of her victory, cherishing the moment and some of the reactions from her peers.
"I love that the camera looked at September Reign for a second," Kira says. "She's beautiful and seeing her smiling and being really happy for me made me really happy, too.
"I really love this industry and I'm really happy I've been in it for as long as I have. It's been a privilege to be able to do this type of job, especially for this long. So I'm really glad that I have people like that in my corner."
Noir earned the respect of her industry peers many years ago because of the way she carries herself both on and off the set, according to her longtime agent Mark Spiegler.
"She's like naturally one of the nicest and greatest talents in the history of porn," Spiegler tells AVN. 
The 28-year-old performer—a former stripper at Larry Flynt's Hustler Club in East St. Louis who was born in California and grew up in Nashville—made her boy/girl scene debut in February 2015 with Damon Dice. Armed with a range that includes being one of the top anal performers in adult in addition to her acting prowess, she has racked up more than 580 performing credits and numerous accolades in the past eight years.
Noir considers Spiegler, who has represented eight of the past 10 AVN Female Performer of the Year winners, a father figure.
"I'm incredibly lucky to have been at his agency for so long," she says. "I'm pretty sure I joined in late 2015 so a couple of months after I started professional porn…
"I've had zero problems. I feel really safe with him. He also taught me a lot of good habits. I think it's because of him that I'm able to do anything well. Like whenever I fuck up it's my fault. Whenever I do something good it's what Spiegler taught me."
Noir co-hosted the all-digital AVN Awards Show in 2021; she graced the cover of the November 2020 edition of AVN magazine; she was the July 2018 Vixen Angel; January 2019 Girlsway Girl of the Month; November 2019 Cherry of the Month for CherryPimps; and named a Fleshlight Girl in 2022. Noir also has represented Pornhub as a brand ambassador for the past three years; and now she's won a total of six AVN Awards.
"Kira has been nothing short of a phenom in the industry," a Brazzers rep tells AVN. "It's been incredible to see Kira's meteoric rise—from her first scenes with us in 2017 to being crowned AVN Performer of the Year.
"She has been a huge fan favorite and mainstay on ZZ since the beginning, and it's not surprising to see the amount of accolades and accomplishments she has racked up."
The Brazzers rep continues, "Kira is known for bringing an unmatched sexual energy to her scenes and we are elated to work very closely with her to bring the heat to Brazzers in 2023. Kira's devoted fanbase will definitely want to stay tuned to what we are cooking up this year on ZZ."
Noir added another piece of history to her glorious night, when she captured the Best Supporting Actress trophy for the third consecutive year—marking another industry first.
She achieved the three-peat for her performance as Alyssa in Casey Calvert's twisted all-girl drama Sorrow Bay for Lust Cinema.
In 2022, Noir claimed the same award for her role in the Grand Reel-winning Casey: A True Story for Adult Time; and in 2021, she took home that trophy for her dramatic turn in Primary, which was the first feature Calvert ever directed.
"I've loved working with Kira from the day I met her," Calvert tells AVN. "I think she is one of the most talented actors in this industry. She's so brilliant, so beautiful; and she's an amazing actor and an amazing sex performer.
"She absolutely deserved to win Female Performer of the Year. That was so incredible and I was so proud of Kira for her win in Sorrow Bay.
"She worked so hard on that. I asked a lot of her in that movie and she never complained. She always brings her A game."
Calvert reveals that she was so confident in Noir's ability that while casting Sorrow Bay she offered her a choice of two characters.
"I knew I was going to put Kira in it, so I said to her, 'I have two roles for you and you can choose which one you want.' Once she saw that one of the characters dies, she said, 'I want to be the dead girl!' That's my Kira." 
It turns out that death scene on a chilly day at the beach also was the most challenging part of the role for Noir.
"I think the hardest part was acting like I was completely dead with my eyes open," Kira cracks.
"I loved that. That movie was so cool. And Victoria Voxxx killed it as the antagonist. I absolutely loved how creepy she was. And I feel like there's a theme. A lot of the serious movies I've been in I end up getting murdered. But this was my favorite death scene so far.
"I loved everybody in the cast. I loved the story. And Casey Calvert's an amazing director, so I always love being on her sets."
Noir returned to Calvert's set in April to reprise her role as Eva in the third season of Primary, which explores the world of polyamory.
Casey tells AVN that Noir's latest sex scene with Voxxx was "the best scene I've ever shot."

"I'm still blown away by what happened yesterday," Calvert told AVN on April 28. "I trust both of them so much as actors and I wrote the scene for them. But yesterday really was just making art."
The 2022 Director of the Year Ricky Greenwood knows Noir's talent, too. It's why he cast her as the lead of his upcoming action movie Machine Gunner, which will be released by Digital Playground this year.
Greenwood says during casting discussions for the role of Nicole Ransom, who leads black ops for the U.S. government, that he brought up Noir not only because he knows she can act, but also because of the physicality the role required.
"When I think of Kira, I think of Linda Hamilton in Terminator 2 or Sigourney Weaver in Alien. ... She did some amazing stunts and she looks bad ass. She looks like an action star from the 80s."
In Machine Gunner—her first lead role—Noir goes on a mission to apprehend a man that deserted the U.S. government with a bunch of secrets.
"And the twist was, that was her ex," Noir says. "So she gets to go in with her friends and try to find him. And that was just a lot. I've never tried being an action hero in anything before. And it thankfully lined up right in a time of my life where I've been working out a lot more.
"So I was carrying heavy guns and running around the forest and I feel like my arms and muscles looked really good. So I hope I did the part well…"
***
Noir started posting nudes on Tumblr in 2012 when she turned 18 and then danced at the Hustler Club in East St. Louis from late 2012 to 2014. She wore her hair in short, red dreadlocks and used the name Mary Jane at the club, while she was known as Kira Fire online.

Kira loved stripping at Hustler, where she met her first agent, Jack Spade, who had come to the club in late 2014 with the then-reigning AVN Female Performer of the Year Bonnie Rotten, who was feature dancing.
Eight-and-a-half years later, Noir tells AVN, "it feels surreal."

"When I first started sex work it wasn't about making a bunch of money, it was about survival," she says. "And it's been nice that I've made so many friends and had this kind of success in the industry. It's really opened my eyes to how the world works. I feel like the sex industry as a whole, whether it's porn or strippers or escorts, it's a very important part of our society."

Noir continues, "People tend to forget that because we're here, but we're not going to go anywhere and I'm happy that the success means that I can continue doing this.

"Because I've met a lot of people over the years that told me that they used to work in corporate, they used to work be a graphic designer, they used to be a teacher, they used to be in the military—all sorts of different jobs. And every single one of them say they prefer this—doing porn, this community specifically.

"So it makes it hard for me to want to do anything else whenever I hear how much the rest of the world sucks."


Kira won her first AVN Award in January 2019 for her performance in the Best Group Sex Scene for Vixen's After Dark. She tasted AVN gold again in 2021 for Mainstream Venture of the Year for her appearance in the G-Eazy music video "Still Be Friends," which was a collaboration with Vixen that also included 15 other adult performers.

She takes pride in excelling in both features and hard gonzo scenes. Her star showcase Kira vs. Kira—directed by L.T. for Elegant Angel—features her in an all-girl orgy, a gangbang and doing double anal. It was released in January.

"I really can't pick just one as my favorite because with gonzo scenes you get to be just super natural and do crazy positions with crazy makeup and crazy outfits and that is a lot of fun doing a performance heavy-type of scene," Kira says. "It feels cool to know that I can gape super wide in a gonzo scene and that I can cry on an emotional set. I think that I really do want to keep doing both in the future."

That's good news for directors like Greenwood, who tells AVN Noir maintained her positive attitude from Day 1 until the final sequence of his grueling production schedule in Machine Gunner.

"She wanted to do her own stunts," Ricky says. "She was happy to do all the physical things. They are long days because you start early and do a lot of physical stuff and sometimes having sex at the end of the day, you're exhausted. And she was there every day on set because she needed to be and I never heard any complaints. She was always happy and funny.

"Even at the end when we had the last shot of the movie she wanted to do it perfectly."


Noir calls Machine Gunner "the biggest project that I've ever been a part of."

"We were working on this giant movie ranch. We had these big military trucks and I gave a blowjob to Tommy Pistol on one of them," she says. 
Kira reveals she watched classic films such as Predator, T2 and Alien—and the new Dungeons & Dragons movie "which has a really great female lead" to prepare.

Noir tells AVN she found a process that works when she's going into a feature role.
"I try not to read the entire script until after we're done shooting," she explains. "I kind of have to trick my brain into doing certain things. So I'm always afraid if I know the entire story and something that my character isn't supposed to know that I won't be able to play that off very well.

"So I'll look for just where my lines are… And then I don't actually try to memorize lines until I get to set and I start running lines with my scene partners. That way I don't get stuck saying things in a very particular way.

"I'm usually learning my lines right before we do the scene."
***
Noir says that aside from being booked a little more than usual not a lot has changed since January—and she likes it that way.
"I really can't express how happy I am to have won and how much it means to me but I also know that I don't want to get a big head," Noir says.
But anyone who has been around her knows that's not in her nature.
What is, however, is Noir's desire to make the industry a better, more inclusive place.
"I think that there's space for all of us," she says. "I really don't like the argument that a girl who does OnlyFans can't call herself an actual porn star.
"I don't think that we need to focus on trying to keep anybody out. In my opinion if you do sexy stuff for money you're a sex worker and that means you're a part of the family."
Kira says sometimes newer performers now ask for her advice—which she still hasn't gotten used to.
But if she were to share any wisdom with up-and-coming girls, Noir says, "I would tell them to make sure they have other real-world skills first, like a job in some other industry before getting into porn."
"I am a very lucky case where I didn't do anything before I started," Kira says. "Now I don't want to. And there's pros and cons to that. The pro is I'm lucky to have done this. The con is I've seen it happen in a bad way, too, where somebody like me has put all of their eggs in one basket and it doesn't work out.
"So the first point of advice is to make sure porn is not your entire life. 
"… Past that, we live in a new age for porn where you own your own content and you have so much more control over what you're putting out, how much you interact with fans, all of that.
"So I really would stress that people make their own content even if it's not their main source of income."
That affords a performer options, Kira adds, such as not feeling obligated to take every scene that's offered.
"The other thing to do is save money," she says. "It's something that's hard to do around here. It's very fleeting. Because you don't want to make decisions based on money. And testing is really important. Get involved with local SWOP organizations, APAC…"
***
Noir says that Lark from Larkly Lingerie, a seamstress and kink friendly stylist, helped her customize her AVN Awards dress that represented her marrying her career in adult.
"I told her that I wanted to have a classy wedding dress but I wanted to have a higher slit and the top part to be kind of off the shoulder. But I want the slit to be higher and that way it's very classy looking but my leg is still sticking out and I can put on stockings and gloves and have a little bit of slut factor to it," Kira explains. "I had an example picture of this model that I saw online. She was able to do it so fast and it was perfect."
She tells AVN that makeup artist Stephanie Madrigal told her about the company that made the dress.

Meanwhile, Noir reveals she would like to step behind the camera in the future.
"I definitely want to dip my hand in directing at some point," she says. "It's probably going to be far away, I'm really scared of it.
"I wrote a script and I showed it to my friends and we're going to see if I can actually do anything with it. My problem is I really like horror porn."
She adds, "I also want to try—not mentoring exactly—but putting more information out there to newer performers, especially people who are joining and don't know where to go for testing or what things to ask when they're going to do a professional scene.
"I want to make sure everyone's as well educated as possible."
Photography by @joce.james