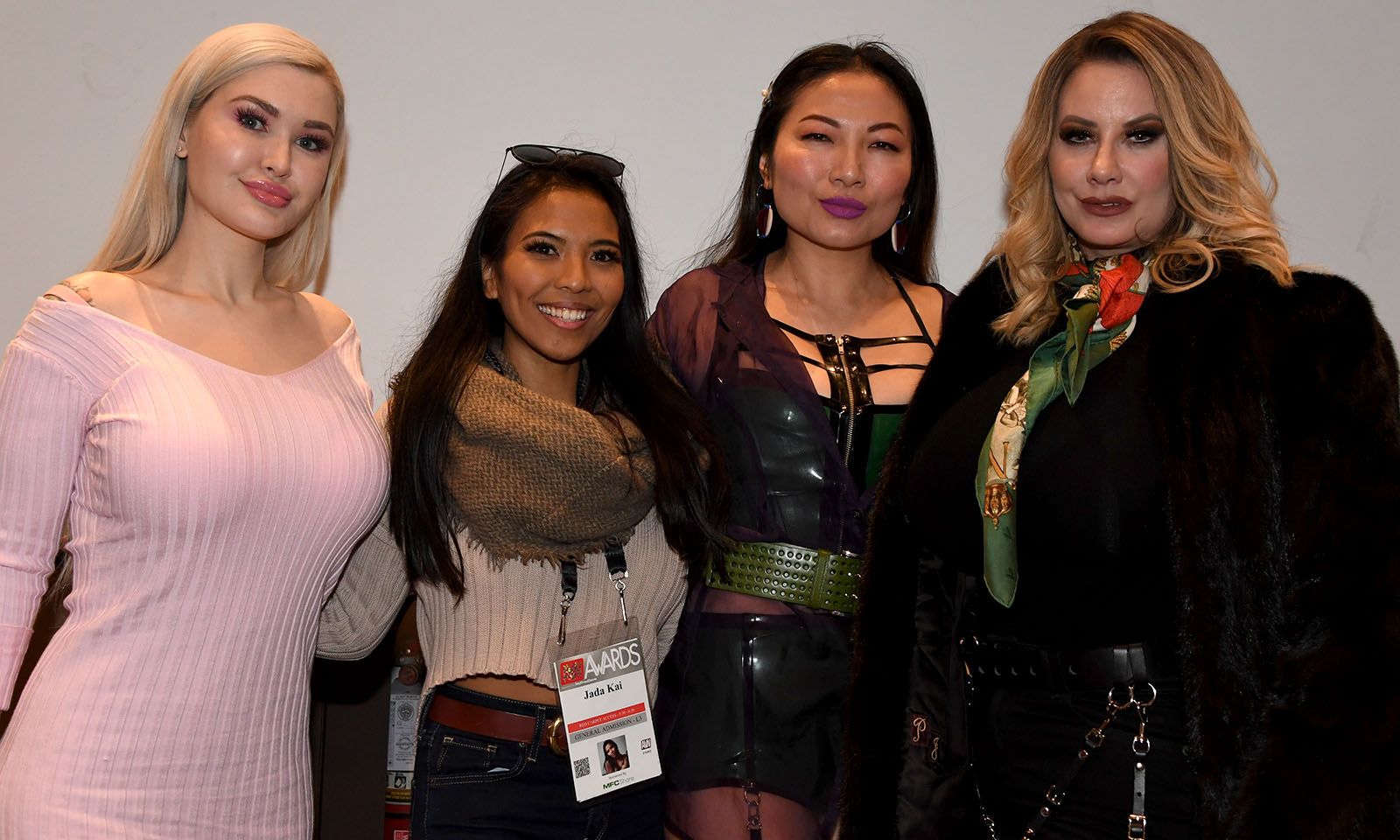 From left, Mz. Kim Lee, Jada Kai, Madeline Marlowe and Violet Doll. Photo by JFK/FUBARWebmasters.com
LAS VEGAS—The seminar room was filled Wednesday for the opening day of the AVN Adult Entertainment Expo (AEE) at the first in a round of informative seminars for those in the adult business. The afternoon panel, Camera Angles: Rolling Your Own, was moderated by industry veteran Glenn King and featured four experienced businesswomen focused on monetizing their brand on the internet: Violet Doll, Madeline Marlowe, Mz. Kim Lee and Jada Kai.
Discussing everything from what kind of equipment they use to how best to monetize their images, these pros shared accessible information to the attendees.
"I shoot on my Samsung Note 10," shared Kai, and others agreed that you really didn't need more than a decent cellphone to being recording. Some panelists felt it was necessary to edit their work, while Marlowe mentioned that many subscribers to her membership site enjoyed watching clips with a more amateur feel to them. She shared that earlier that day she made a live recording saying she was putting in a butt plug before venturing out to the AVN Expo. She demonstrated by showing how she simply held up her cellphone in her hand and laughed about the quick video.
The panelists all agreed that the most important aspect of their work was to connect with their fans on everything from custom content and and one-on-one engagement to creating larger, audience-driven content where they speak to several members at the same time. They stressed using importance of using customers' name, which makes them feel special and will ultimately add to the bottom line.
King's humorous industry insights, with frequent references to his own experiences in the adult business, kept the presentation fresh and rolling along.
The women continued to discuss platforms such as the newly created AVN Stars as well as OnlyFans, Pornhub, Clips4Sale, ManyVids and others, sharing a few attributes of each of the platforms. Skype, Snapchat and phone sessions were also mentioned as ways to monetize and engage customers on a more intimate basis.
The women generously shared their secrets about pricing their services per minute and per clip. There was discussion about the rates for their membership sites and what they considered fair. Interestingly, all supported various rate levels to allow fans who may not have disposable income to be able to subscribe to their content.
And their best advice to all in attendance was to have discipline and work hard, which can be applied to any business, especially when one is self-employed.
"This was the best [AEE] seminar I've been to," shared longtime attendee Rich Moreland, author of the book Pornography Feminism: As Powerful as She Wants to Be. The enthusiastic audience couldn't have agreed more.
Seminars continue today through Friday. Click here for details on AEE seminars. For AVN Novelty Expo seminars, click here.