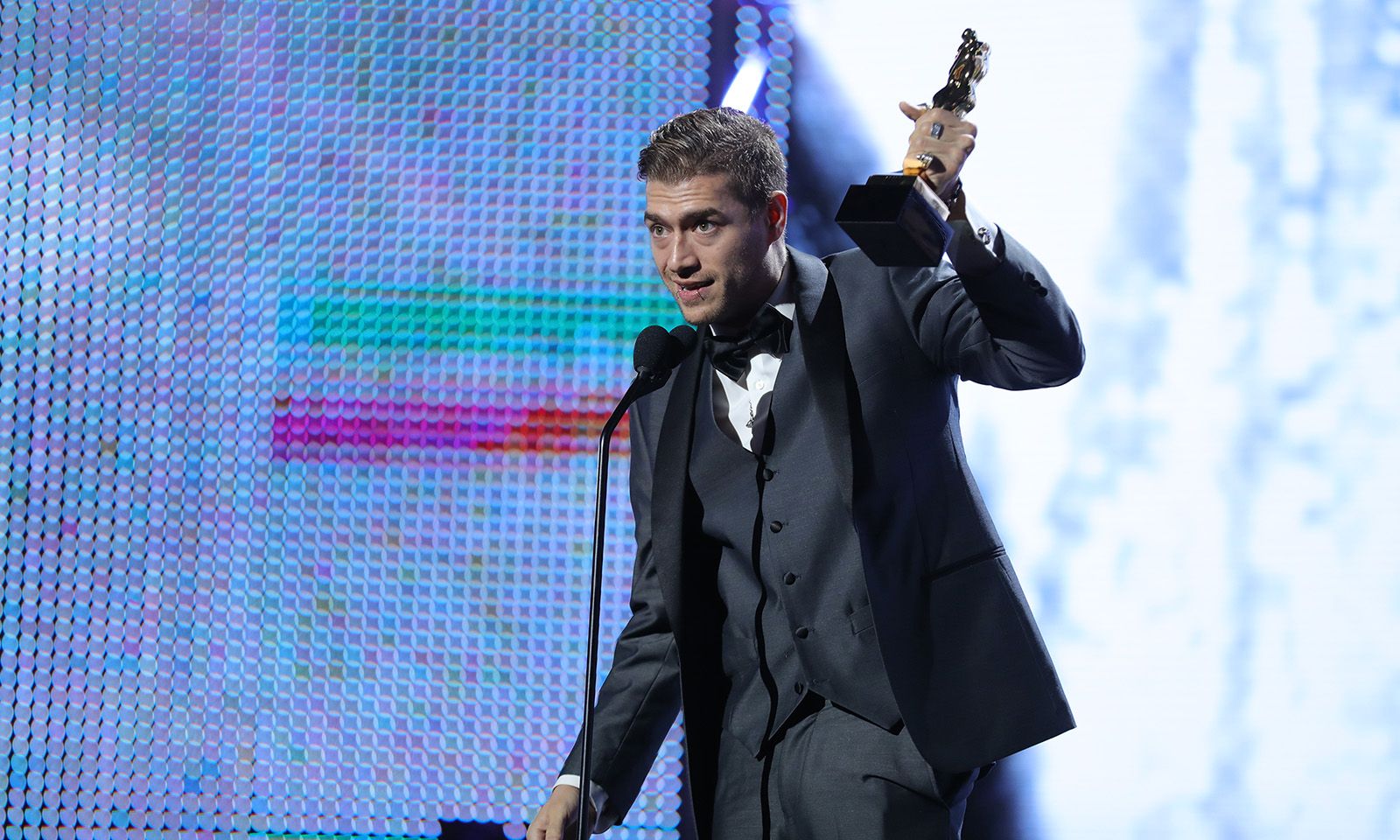 At this year's AVN Awards Show, things turned out well for Xander Corvus—just as director Brad Armstrong had predicted back when they were shooting The Preacher's Daughter for Wicked Pictures. Armstrong was pretty confident that Corvus would score his first Best Actor win from AVN, and that's just what happened.
Armstrong has more than a little experience with the mercurial actor, having directed Corvus in two roles that earned him Best Supporting Actor honors (Underworld and Holly … Would, both from Wicked). Together with his first Best Supporting Actor and Best Male Newcomer wins at the 2012 AVN Awards, Corvus has a nice collection going.
As the town bad boy, Corvus nailed his character—and also nailed titular preacher's daughter Mia Malkova in two sizzling sex scenes.
But as Corvus said in an interview with AVN on the set of The Preacher's Daughter, what he really wants to do is direct.
"I want to put my own vision of what I think is sexy into movies. I think it would be really cool. I could tell good stories. I've got a lot of good ideas I can use."
One of those ideas was just in the planning stages then. "I wrote a parody—it's a parody but it's not a ha-ha parody—and it's really good. That sounds extremely arrogant," Corvus said, pausing to make fun of his own earnestness. "It's the best fucking thing ever made, ever. But just believe me. So I want to shoot that for somebody soon."
That somebody turned out to be Joanna Angel, who co-directed the project with Corvus. And the end result, Cindy Queen of Hell, won Best Comedy at the 2017 AVN Awards.
Corvus described his debut as a co-director, saying, "It was basically like training wheels—or more like a ride-along, like you do with the police or fire fighters—where you don't know what you're doing, but the other senior fire fighter is there making sure you don't fuck it up. That's what Joanna was in that situation.
"There's the whole movie that you plan to make," Corvus continued, "but the final product is usually a lot different, you know. I learned a lot about the process of dealing when something doesn't go according to plan. You have to adapt and see what you can do to still get your point across and make your movie good. Joanna was there to help guide me through all that kind of stuff. Like when something that I thought would be cataclysmically wrong, some huge catastrophe, she showed me that you just adapt and see what happens."
The 2017 AVN Awards were also a big deal for Corvus because they came right before another big milestone: one year of sobriety. (His actual anniversary was on February 10, for which he posted a heartfelt message via TwitLonger.)
"I'm glad that I'm sober. It's awesome," Corvus said. "My first seven years in the industry I was doing a good job, I was good at what I was doing and making a name for myself. … If I could do as well as I did like that, I'm excited to see what I can do with a sober, clear head, and able to push myself to do something more."
Corvus shared some advice for male performers entering the business, and that boils down to this: Do your job and keep your head straight.
"So many guys come in and they lose their minds," Corvus said. "Be good at your job and then you can aspire to be something. ... It makes me so mad when people come and poison our well of good people with bullshit. They lose sight of what we're doing."
Corvus has lots of respect for the veteran performers who came before him. "These are guys who are great at what they do. They're not cocky or arrogant for no reason. These are people who busted their ass to get where they are."
He continued, "It's actually hard. It's not just, 'Fuck this girl.' There's a lot more to it than that. That's what I think a lot of these people who come into this industry don't get. They have delusions of grandeur and they think things are gong to be a certain way. You're talking all this shit and acting all cocky but now you're fucking on gravel and it's hot as shit outside and you have to maintain and do all this. Put your money where your mouth is, kiddo. You think you got this, champ? Let's see. Come in humble and respectful and you'll be fine."
As for the future, he's focused on two things: music and directing. "I'm going to be doing another thing for BurningAngel, two more things hopefully in 2017. I'm just going to be writing and hoping to direct for whoever thinks I can deliver what they want."
Photo of Xander Corvus at the 2017 AVN Awards by Rick Garcia/@IndustryByRick.