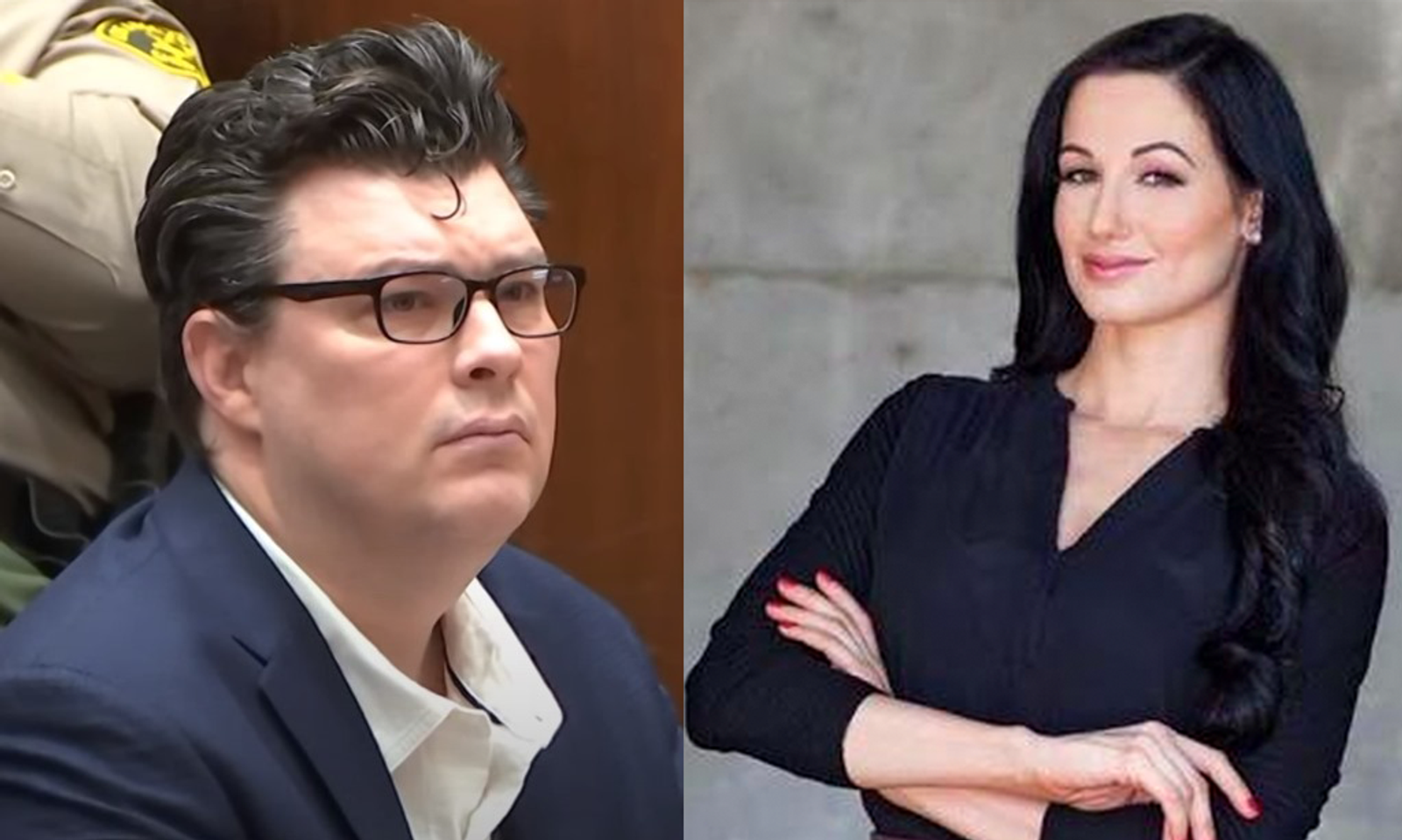 LOS ANGELES—One-time adult industry photographer Gareth Pursehouse appeared in a criminal court this week to face the capital case against him for killing Hollywood sex therapist and former model Dr. Amie Harwick. 
Presenting evidence to a jury at a downtown Los Angeles court Tuesday, Deputy District Attorney Victor Avila stated that Pursehouse "was obsessed with [Harwick]" and broke into her house armed with a syringe that contained a nicotine dosage that was "lethal." Pursehouse was arrested by the LA Police Department February 19, 2020, on a felony no-bail arrest warrant in the area of 92nd and Sepulveda, south of Westchester, after first posting bail when taken in following the crime four days earlier. The official charges for which he is now standing trial are one count each of murder and first-degree burglary.
According to a press release issued by the LAPD at the time of Pursehouse's initial arrest, patrol units responded to a radio call at the 2000 block of Mound Street in the Hollywood Hills area.
Officers were met by a roommate who was waiting in the street. The roommate told officers that Harwick was assaulted by an assailant in her residence. Reportedly, the roommate went out to call for help from neighbors. Avila told the jury that Pursehouse waited for hours in Harwick's residence and then "strangled" her after he surprised her upon her return from a night out.
Avila added that out of panic, Pursehouse threw her to her death from the third-story balcony before fleeing. Pursehouse and Harwick dated years ago for about 18 months. But then they broke up, with Harwick taking out a restraining order against him and completely cutting off ties.
Years later, Harwick encountered Pursehouse at the 2020 XBIZ Awards, held on January 16 of that year—a little over a month before her death. Witnesses state that Pursehouse was heard calling Harwick a "bitch" and saying that his life was ruined after the two broke up, Avila added in his statements to the jury.
Shortly after, Pursehouse texted Harwick after finding her cell phone number on the internet. He contacted her several times and left a voice message. She blocked his number, upgraded her locks, and invested in a security system. Unfortunately, the security system failed to prevent the entry of Pursehouse, who was caught on video from a neighbor's security camera wearing gloves the night before.
Harwick was transported to a local hospital, where she was pronounced dead due to her injuries.
DNA evidence found on a French-style door in Harwick's living room and other samples found under her fingernails linked Pursehouse to the attack. An autopsy conducted by the Los Angeles County Medical Examiner's Office determined that she died of blunt force trauma to the head and torso, and there was evidence of manual strangulation.
The evidence against Pursehouse includes witness testimony, DNA evidence, and an email Harwick wrote to herself shortly after the encounter with him at the 2020 XBIZ Awards.
"It terrifies me that he's been obsessed with me for nine years," she wrote in the email, which was found in a forensic examination of her computer and Gmail account during the investigation.
If found guilty, Pursehouse could spend the remainder of his life in prison without an opportunity for parole. 
AVN reported in February 2022 that CBS true crime docuseries 48 Hours profiled the case in an episode called "The Final Hours of Amie Harwick."
Harwick was educated at local universities, including her undergraduate degree at California State Polytechnic University, a graduate degree from Pepperdine University, and a doctoral degree from the unaccredited Institute for Advanced Study of Human Sexuality. She was a licensed family and sex therapist and began working with adult industry mental health nonprofit Pineapple Support before she died.
Also an author, Harwick wrote The New Sex Bible for Women: The Complete Guide to Sexual Self-Awareness and Intimacy, published in late 2014.