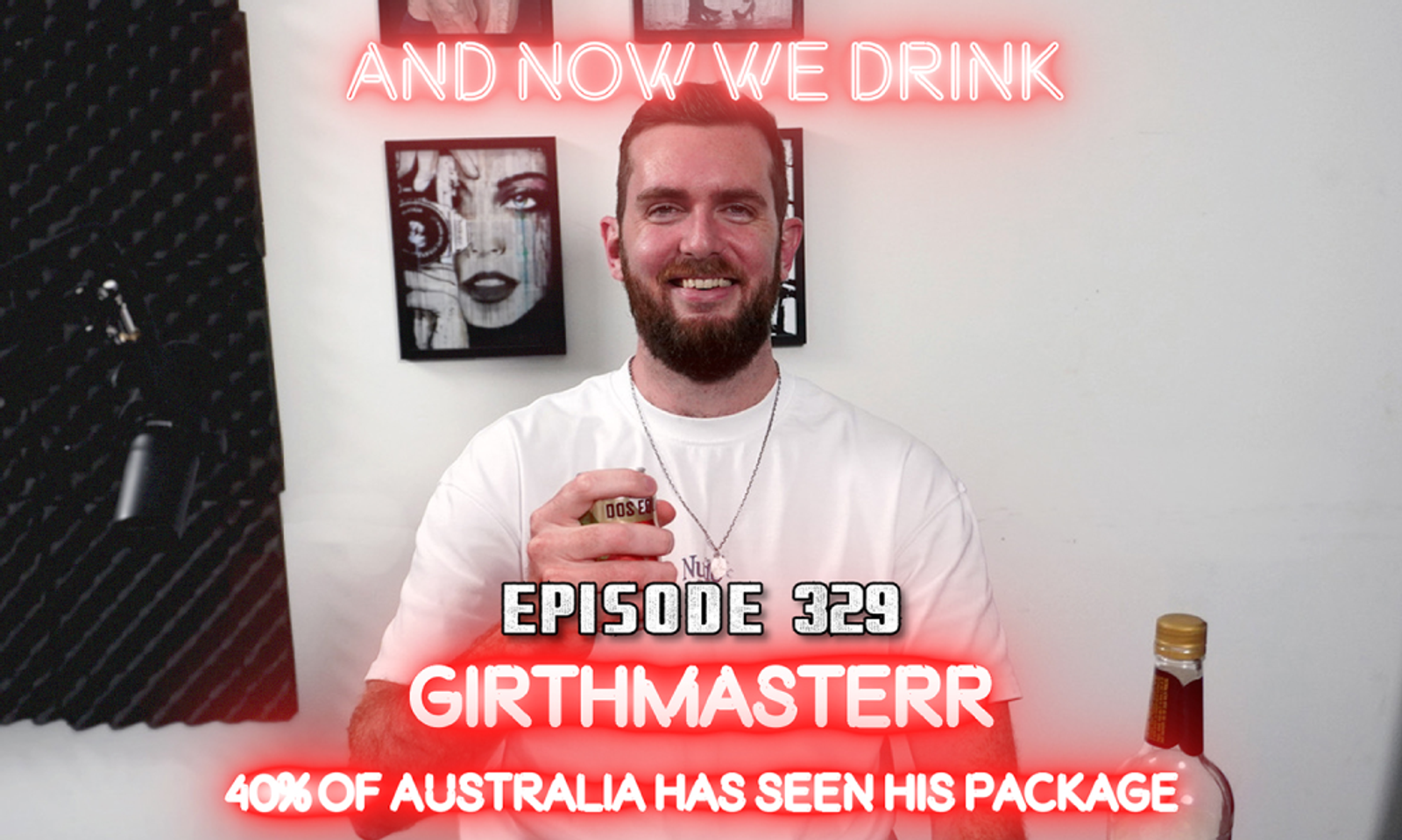 HOLLYWOOD, Calif.—Host Matt Slayer welcomes adult star Girthmasterr for a wide-ranging discussion on the new episode of the "And Now We Drink" podcast.
Hailing from Brisbane, Girthmasterr is the highest-profile male adult performer to come out of Australia. He started shooting porn a year ago at home and has since filmed with some of the biggest names in the industry and made it to the top 0.1% of creators on OnlyFans. Girthmasterr first brought his talents to the U.S. in March of this year and is the first Australian to have a Doc Johnson clone.
On "And Now We Drink" episode 329, Slayer delves into a candid conversation with Girthmasterr, who discusses the state of the porn industry in Australia, the intricacies of consent, his globe-trotting porn career, and the thrill of newfound Internet fame. The discussion even includes international politics to the sex-positive environment in Australia, life as a content creator, the balance between professional conduct and personal adventures, and the entertaining notion of Girthmasterr's potential political career.
"Girthmasterr regaled me with his global dick-slanging adventures," said Slayer. "This episode came together because a lot of my previous guests have worked with him, and every last one of them sang his praises. This episode was definitely a riot, and Girthmasterr's journey is a story I know my audience will appreciate. Pour yourself a stiff drink and listen in for an episode that promises to make you laugh, ponder, and maybe even blush—only on "And Now We Drink."
Girthmasterr commented, "Breaking the ice with a couple of drinks is a great way to get the conversation flowing. From the first minute, it felt like we were a couple of friends having a fun chat. I'm glad Matt had me on the show!"
The video version of Episode 329 with Girthmasterr will premiere on YouTube on Nov. 24 on the "And Now We Drink
"
YouTube channel
.
Video versions of all "And Now We Drink
"
podcast episodes are available via Slayer's
Patreon
 before they hit YouTube.
For a limited time, those who join Slayer's Patreon will also receive a free trial to Girthmasterr's
OnlyFans page.
.
Girthmasterr's OnlyFans features professional 4K HD productions every five days, daily feed updates, images and videos unavailble on his public accounts, and access to livestreams.
Read about the latest news from the "And Now We Drink
"
show on Twitter: 
@AndNowWeDrink.