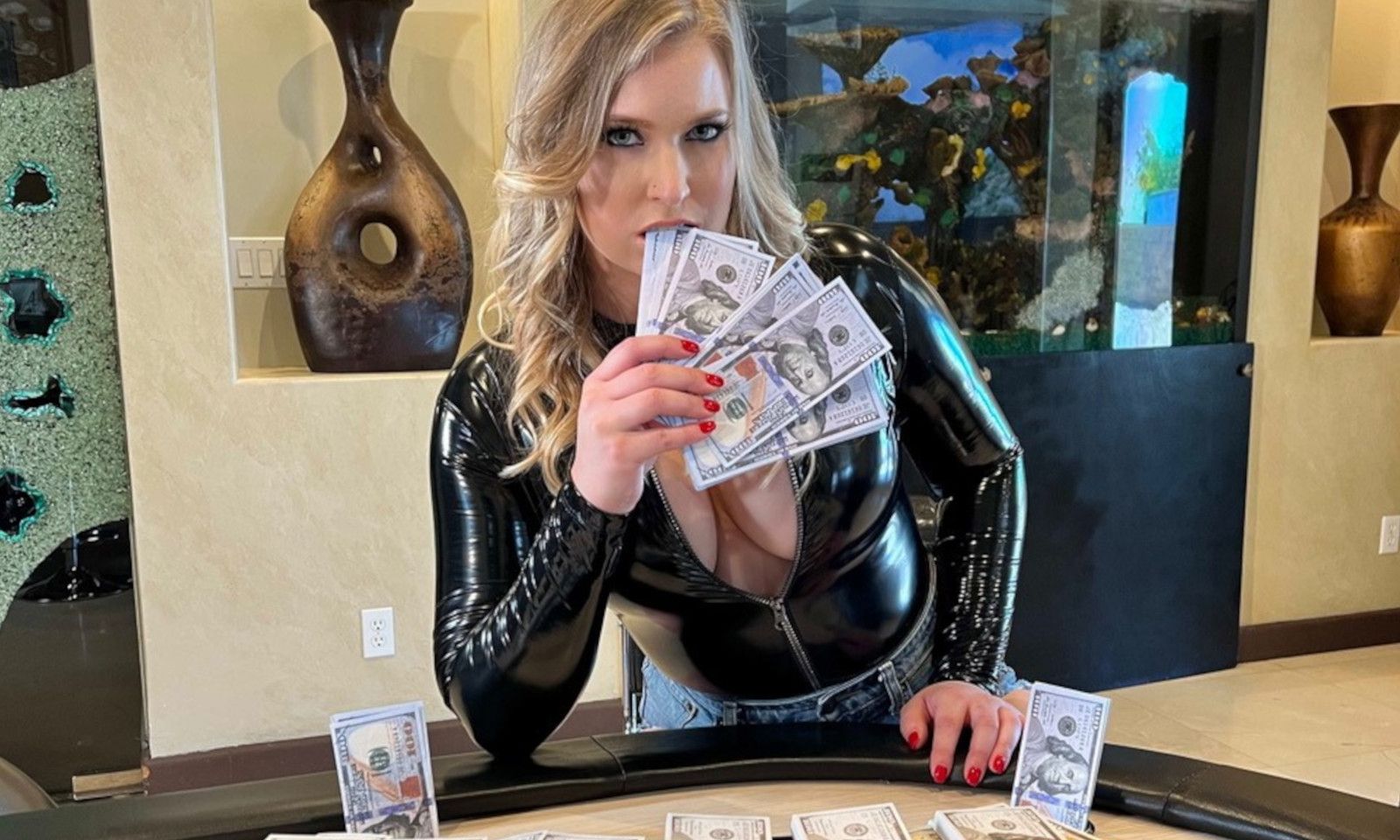 LOS ANGELES—The Flourish XXX has debuted a new amateur three-way scene, along with new episodes of two of its popular series and other content to kick-start the holiday weekend.
Flourish Amateurs gets things started with a Christmas-themed scene featuring busty blonde Lani Rails (a.k.a. HotSouthernFreedom) who takes on Brick Cummings and Jack Diesel in "Hot Wife Spit Roasted 3some Hotsouthernfreedom Lani Rails." In the scene, Rails is having issues putting up some lights when two gentlemen offer to help her. She invites them in for some lemonade when the guys find themselves taking turns banging her.
"Shooting with HotSouthernFreedom is always high-octane," Cummings said. "We've shot before but never BBG. I've witnessed a wilder side that was so hot to see for myself. And Jack Diesel is an excellent male talent with a lot of high energy."
To watch the scene, click here.
The Flourish has also released Episode 17 of its Captured series, starring Graycee Baybee. In the scene, Baybee is showing off her pad on social media when the crew shows up and forces her to pay up. Mr. Flourish explains that he sent Cummings, Don Sudan, Experience Black, and Phantom Strokes to retrieve her after she stiffed his casino. They rip off her string bikini and hold the blue-eyed blonde down on the pool table, but when she still won't tell him where the money is, he lets the boys give her a good banging.
"I just love The Flourish XXX," Baybee said. "The energy, the fun, how creative, and this was my first main exclusive shoot with them as I had participated in one of their content houses previously and made some fire content with Brick Cummings that TJ filmed. They called me and were like, 'We want to feature you in a major exclusive scene,' and I was all for it. I had no idea that a pool stick would be stuck in my ass, but when we went over the script, I was like 'fuck yes let's do it, don't change a thing.' And TJ informed me that I have two new scenes slated for release in early 2023 featuring me in some unique shooting destinations. I am so excited!"
TJ echoed the starlet. "She is the truth. Her personality, her laughter. She is a real one and we love working with her. She brings an element to a scene that I cannot explain, and she goes hard. Look for her across other mini-series that we have so the audience can see her range of depth in her acting."
The super hardcore version is only available on the Flourish website. To watch, click here.  
Also on Flourish Amateurs is "Sex Battle of Stephanie Love vs Don Sudan," starring buxom brunette Stephanie Love.
"I always love working with my Flourish team," Love said. "Together we bring forward my best content. And Don was a great addition to bring to the mix, his big cock knew just how to pound my little pussy!"
To watch, click here.
The Flourish XXX is thrilled to announce the released "The Pros Episode 7 - Poker Game for the Pro Boxer," starring Daisy Diva playing a sports agent pitted against fellow agent Isiah Maxwell for professional boxer's (John Legendary) contract rights. Maxwell has a proposition for Diva, full risk, and all the reward.
He suggests they play a single hand of Texas Hold 'Em poker with the contract going to the winner. However, Diva isn't willing to let it go, not until she's milked him for a hot facial.
"I had always wanted to shoot with Isiah, ever since I came into the industry and TJ made it happen," Diva said. "And I shot with John Legendary days before, so to include him as the boxer that me and Isiah were fighting over was very creative."
Diva went on to share how much she enjoyed the scene. "Both guys were extremely professional, and I couldn't have asked for a better shoot that day for The Pro's series. I think I am in over four or five scenes of The Pros and some are yet to come out."
Costar Maxwell agreed, saying, "Working with TheFlourishXXX is always a pleasure. This was the first time I got to work with Daisy Diva, but definitely won't be the last. And her acting skills are equally on part with her brand of sex."
TJ, who directed, complimented his cast for their work.
"Daisy, Isiah, and John all have range," he said. "And to appreciate this scene you may need to watch it over and over to pick up the gems that each of them dropped. Hot sex, amazing acting. And both Daisy and Isiah's characters will continue to expand and evolve over and across The Pros mini-series. Don't miss this one!"
To watch the scene, click here.
Flourish Amateurs also debuted two new releases starring Stephanie Saint, "Miami Double Penetration 3some Steph Saint," which features the starlet with Massage by Black and DollBreaka.
To watch, click here.
The other scene, "Asian Latina Stephanie Saint vs Don Sudan," is an all-out bang-fest between two hot and horny lovers, available here.
Meanwhile, The Flourish XXX will have a booth at the upcoming AVN Adult Entertainment Expo being held in Las Vegas from Wednesday, Jan. 4 to Saturday, Jan. 7, 2023, where fans can find their favorite Flourish stars signing for the studio in booth #2300. For more information, visit adultentertainmentexpo.com.
For more updates, follow HotSouthernFreedom, Jack Diesel, Brick Cummings, TJ, Graycee Baybee, Massage by Black, Don Sudan, Daisy Diva, Stephanie Love, Isiah Maxwell, Phantom Strokes and John Legendary on Twitter at  @hotsouthernfre1, @jackdieselbbc, @brick_cummings, @mrflourish69, @grayceebaybee, @Experience_Blck, @Donsudanxx, @DaisyDivaSub, @lovestephanie22, @isiahmaxwell, @PhantomStrokes, and @MrLegendaryXXX, respectively.
TJ is also on Sheer.com with a new POV account, available here.
For more information, visit TheFlourishXXX.com or follow the brand on TikTok and ManyVids.
Pictured: Daisy Diva.