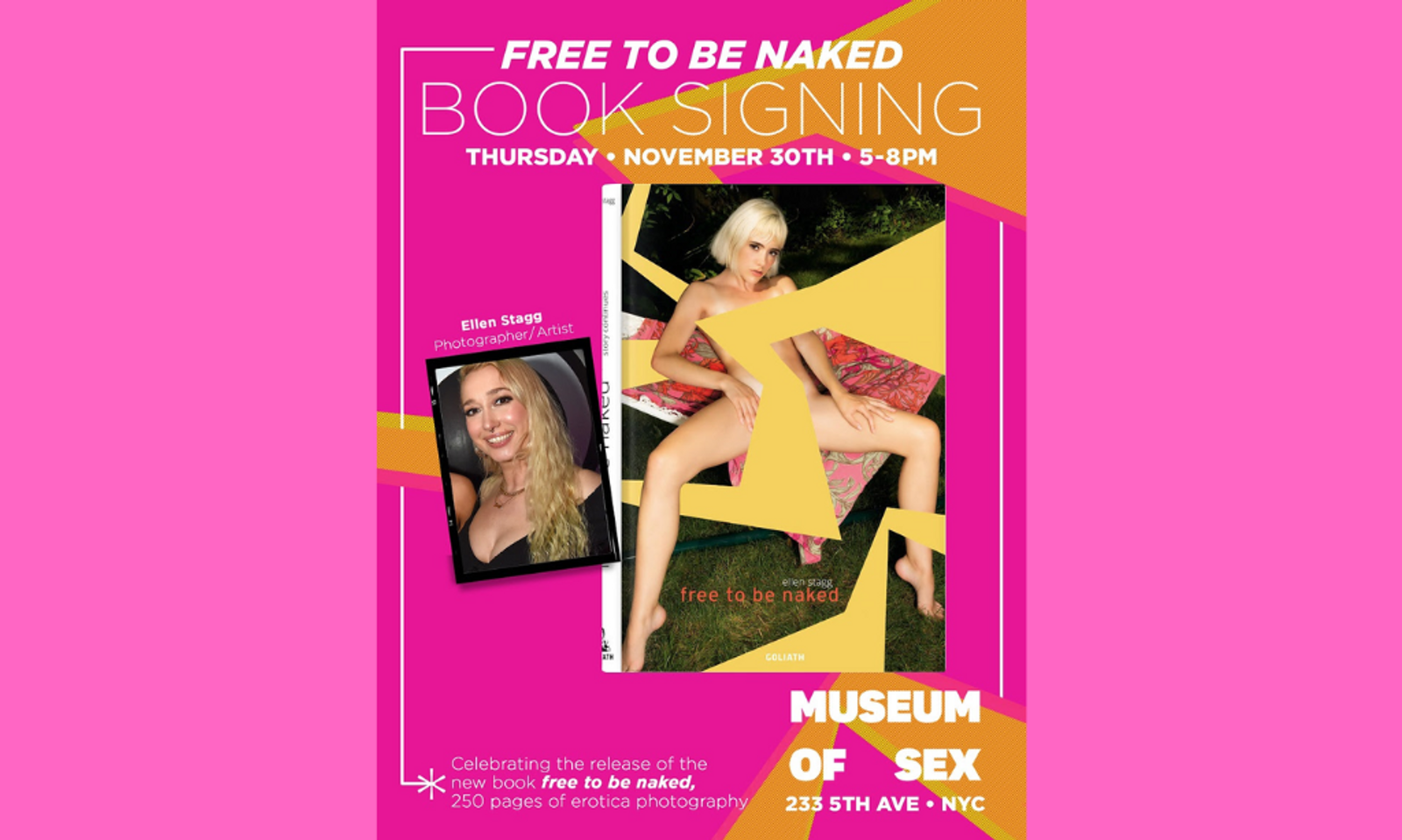 LOS ANGELES—Erotic photographer Ellen Stagg has been featured in the November issue of Hustler Magazine in a new interview, "Stagg Party," about her career, celebrity collaborations, and the release of her latest work, Free to Be Naked.
Stagg told writer John Blaylock that her third hardbound photo gallery "is pretty much all my work from the past four years. It's mostly stuff that I was shooting for Hustler, where I would do two sets and they would take one. But a lot of what you see I shot for my site, StaggStreet.com, as trade with my models."
Regarding what Free to Be Naked says about sex and sexuality in 2023, Stagg said, "Women posing naked, owning their own sexuality and having agency over their own body, might be the most punk rock thing that we can do today, especially in this kind of political climate. Recently, in the last ten years or so, there's been this visible pivot where people are really starting to take sex work seriously and respect sex workers. I think says a lot, particularly at a time when we're still seeing book burnings in the U.S. Why can't we just be naked and in our own skin?"
Stagg also talked about her late father's unconditional support, "He put me through art school, even took me to California to look at a bunch of schools there… I dedicate everything to him."
On turning a negative into a positive, Stagg shared, "I think my dyslexia is where I got my work ethic from; I always had to work harder to catch up with everybody."
Stagg also talked about her shift from commercial photography to erotica. She said, "I've been a pervert since the beginning; it was just a question of finding the right kind of perverts to collaborate with."
As for the secret to her success, she added, "I try to make my models feel as comfortable as possible to get all that awesomeness out of them… all I can say is that I treat models the way I would want to be treated. I believe in living by the Golden Rule, you know?"
To read Ellen Stagg's feature interview in full, visit HustlerMagazine.com.
Free to Be Naked from Goliath Publishing includes 255 pages of the industry's top models and performers. To order a hardcover copy, go to ShopEllenStagg.com and StaggStreet.com/shop for personally signed copies.
To learn more about Stagg, visit TheStaggParty.com, StaggStreet.com, and Linktr.ee/ellenstagg.
Stagg will be signing copies of her book at New York City's Museum of Sex on Thursday, Nov. 30 from 5:00 p.m. to 8:00 p.m.