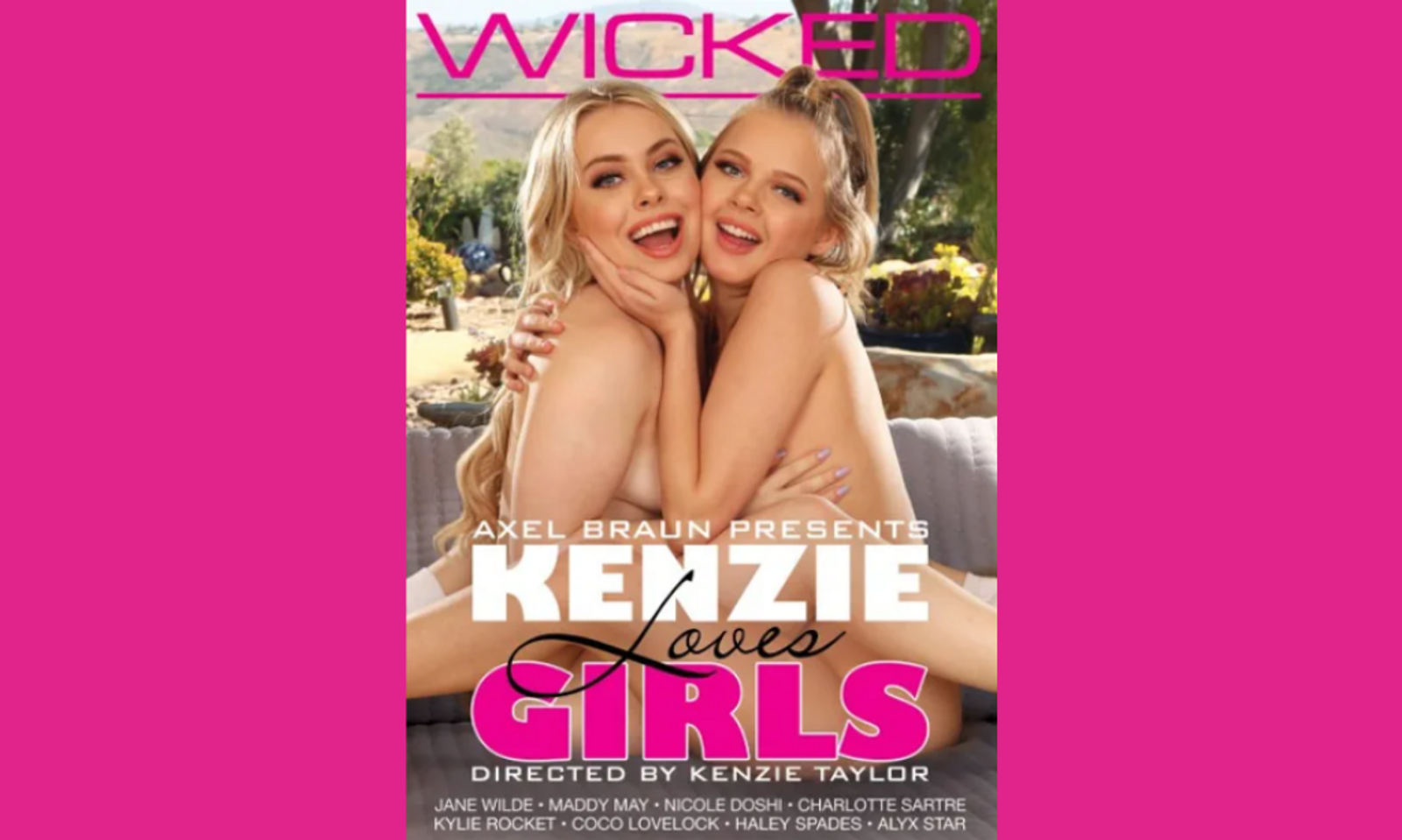 LOS ANGELES—Adult performer and director Kenzie Taylor announced that her Wicked Pictures Kenzie Loves Girls has received a 2024 AVN Awards nomination for Best All-Girl Movie or Limited Series.
Taylor stated, "To receive a 2024 AVN Awards nomination for Best All-Girl Movie or Limited Series is a huge honor. This recognition is a tremendous compliment, and I want to express my sincere gratitude to the countless individuals who played pivotal roles in bringing the movie to life. A special acknowledgment goes to Axel Braun, whose unwavering support made this incredible opportunity possible."
The now-retired Braun gave Taylor her career-defining role of Captain Marvel and also produced Kenzie Loves Girls. Said Braun, "I had the privilege of having Kenzie star in several high-profile projects and it was obvious to me that she had the talent, the drive and the dedication to one day become a successful and inspired director."
Braun added, "See, nowadays it's pretty easy to call yourself a director while letting the cameraman do your job, but Kenzie is of a different breed because she actually directs. She is incredibly organized, brings to the table very precise ideas, a clear vision, has an exceptional eye for detail, and she literally calls every shot. The fact that she genuinely loves girls and is a phenomenal performer herself only adds to her best quality: she cares. Getting a movie nominated by AVN on your very first directorial effort is no easy task, and there's a reason why Kenzie Loves Girls was. I am very proud of this movie and I am very much looking forward to seeing where Kenzie's directing career will take her. I have a feeling that it will be straight to the top."  
Taylor is married to reigning AVN Male Performer of the Year Seth Gamble, who is also having a breakthrough year as a top director with several Axel Braun-produced movies that just garnered 20 AVN nominations.
Taylor continued, "My heartfelt appreciation extends to Jessica Jasmin and the entire Wicked Pictures team who believed in me, and of course, the foundation of this incredible journey lies with the extraordinary cast, a group of remarkably talented women whose dedication surpassed all expectations. The commitment of Jane Wilde, Charlotte Sartre, Maddy May, Coco Lovelock, Nicole Doshi, Kylie Rocket, Haley Spades, and Alyx Starto went above and beyond and made this movie truly special, and I am immensely grateful for each of them. Equally deserving of gratitude is my outstanding crew, the unsung heroes of this production who are undeniably the best in the business. Miles Long's videography and photography were nothing short of exceptional, capturing the essence of my vision with unparalleled skill. Noelia's remarkable talent in hair and makeup left us all in awe, adding an extraordinary touch to the visual brilliance of the film. I must also acknowledge the exceptional organizational prowess of my production manager, Tiffany, who ensured that the shoot ran as smoothly as a well-oiled machine."
In conclusion, Taylor enthused, "To each and every member of this dedicated team, I am genuinely humbled by your contributions, and I extend my heartfelt thanks. And, of course, my deepest gratitude goes to my husband, Seth Gamble, whose constant support over the years has been my anchor throughout this incredible journey. Thank you all for making this dream a reality."
The 41st annual AVN Awards Show, to be co-hosted by Luna Star, Emily Lynne, and Kazumi with a live performance by Iggy Azalea, is set for Saturday, Jan. 27, 2024, in Las Vegas.
In addition to her contributions as a director and performer, Taylor has founded her own sexual health and wellness brand, FEELZ by Kenzie. Product offerings include the FEELZ Vegan Water-Based Lubricant, as well as mango, strawberry, and watermelon-flavored sexual elixirs. FEELZ by Kenzie is focused on better ingredients and better processes, and all products are vegan, organic, and cruelty-free. To learn more, visit feelzbykenzie.com.
Follow Taylor on Twitter, Instagram, MyFreeCams, and Reddit. 
Get the Kenzie Taylor stroker at kiiroo.io.