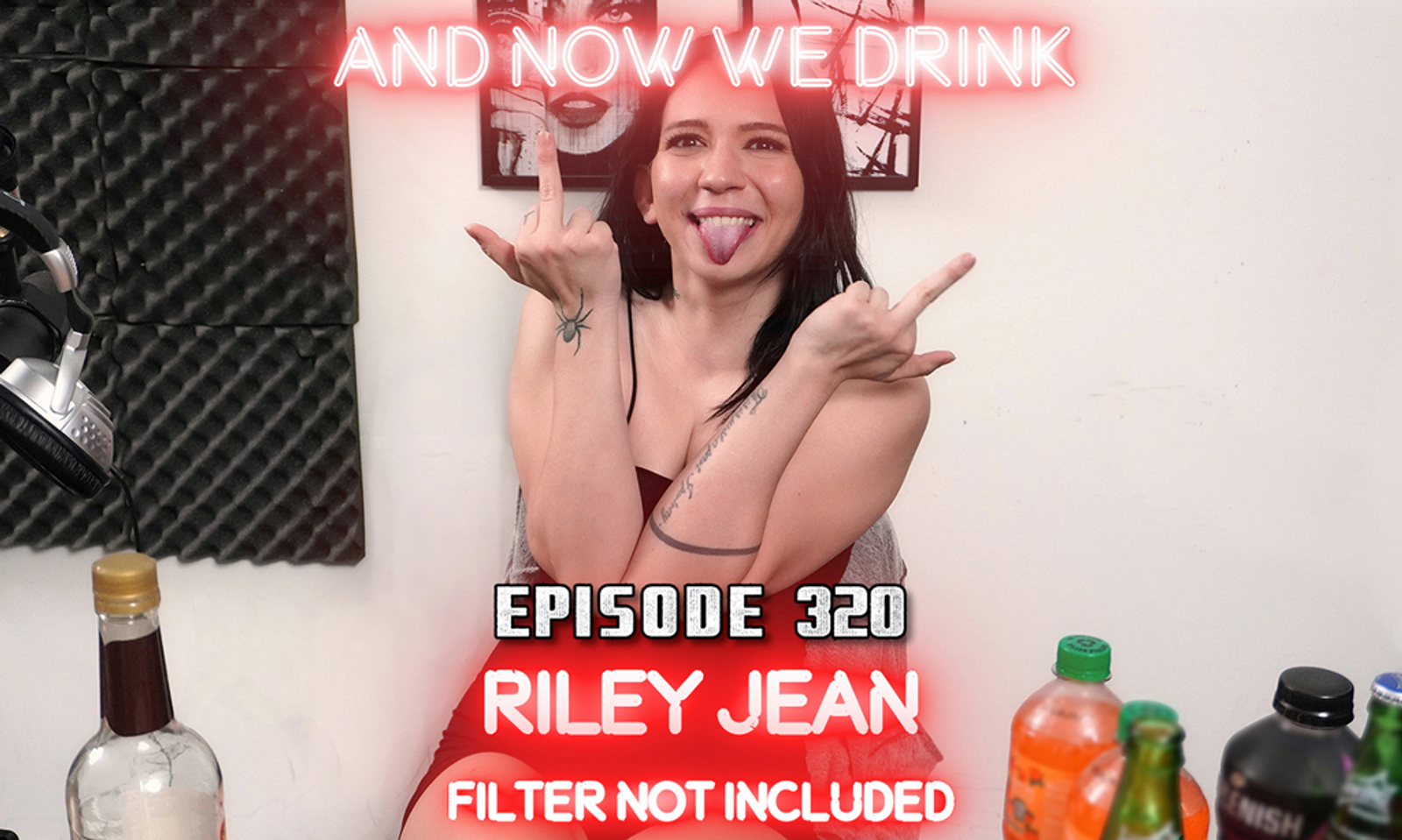 HOLLYWOOD, Calif.—Performer Riley Jean has helped shed light on issues rarely spoken about in the adult industry as in-studio guest on the new episode of Matt Slayer's "And Now We Drink" podcast.
On episode 320, Slayer welcomes Jean, a software developer turned adult performer, who discusses how she has navigated the challenges of her profession, and chats about her own struggles with substance abuse and toxic relationships, offering listeners a glimpse into her respective journeys to recovery and redemption.  
The duo delves into the concept of finding humor in tragedy, explores the often dehumanizing nature of Zoom podcasts and OnlyFans interactions, and transitions to the topic of mental health, addressing their own experiences, the stigma that surrounds many disorders, and the need for accurate representation in media.  
The conversation segues into their personal anecdotes about travel, drugs, and health conditions. Jean speaks candidly about her heart condition, giving listeners a raw perspective on her struggles and triumphs. The dialogue extends to topics such as bullying, OnlyFans, and personal tales that underscore their unique experiences. The listeners are privy to a frank discussion about difficult topics like death, dysfunctional family dynamics, and racism—all tackled with a potent mix of humor and candor. Listen in as they share a particularly hilarious anecdote involving a Flat Earth believer, a government photo shoot, and, evidently, a colander.  
Jean and Slayer shared laughter over biblical stories and foot fetishes, to serious discourses on the legality of adult content and the pressures of fame. 
Slayer admitted, "I didn't know what to expect with Riley. What I got was well beyond what I could have imagined. The two hours flew by, and I appreciated how unfiltered and honest Riley was willing to be. I think our senses of humor meshed well together; I know my drinking buddies will love this episode."
Jean enthused that her "And Now We Drink" session" felt like talking to an old friend, "I'm a little nervous for everyone to hear it because I was completely unfiltered—the result of Matt's ability to make anyone feel like they've known him forever—but I think the end result is something completely hilarious and unexpected."
The video version of Episode 320 with Jean will premiere on
YouTube
on Sep. 22.
Video versions of all "And Now We Drink" podcast episodes are available via Slayer's
Patreon
 before they hit YouTube.
Read about the latest news from the "And Now We Drink" show on Twitter
@AndNowWeDrink
.
Jean is available for professional adult film bookings through 
101 Modeling
.