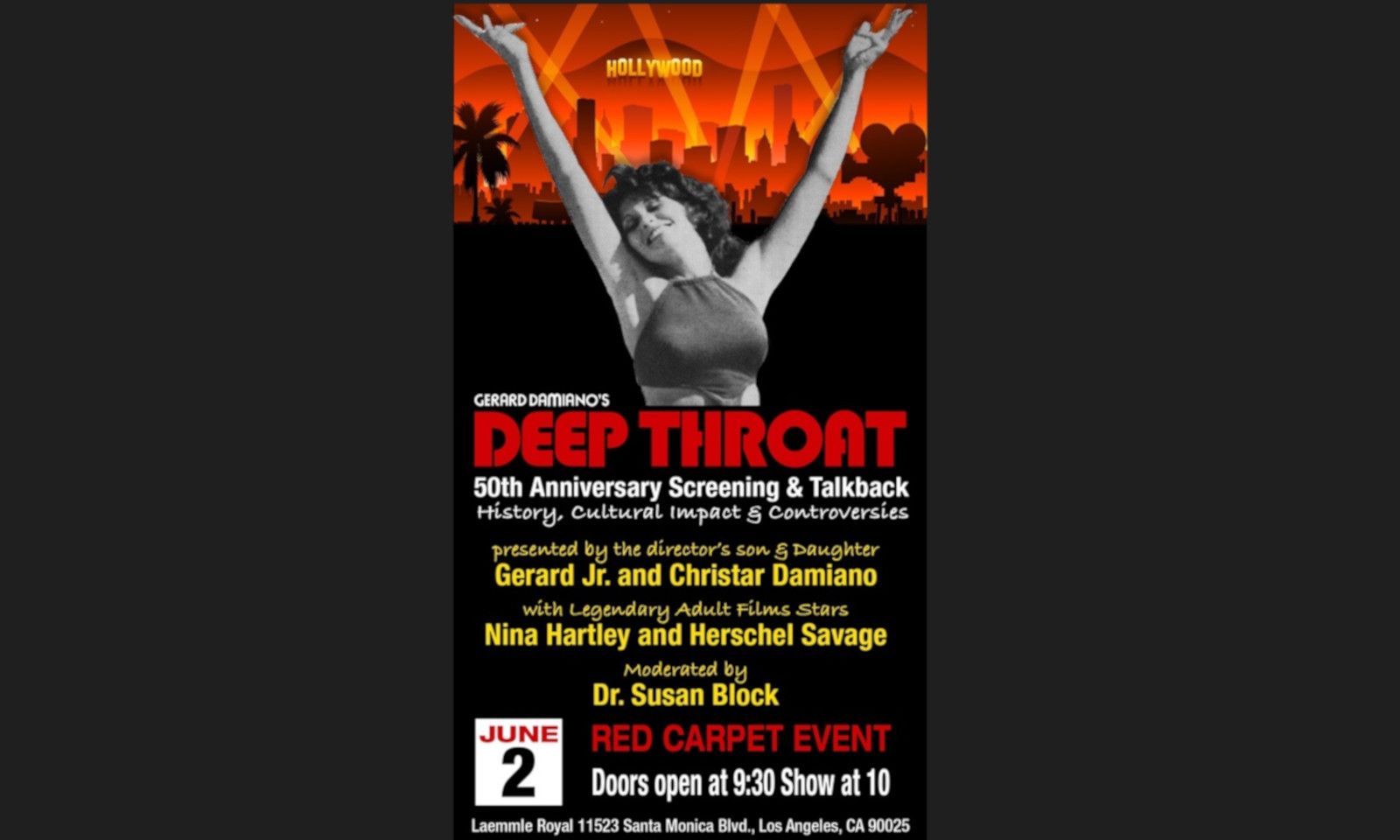 LOS ANGELES—Deep Throat, one of the adult industry's most renowned movies, is returning to Hollywood for a screening tonight as part of its 50th Anniversary World Tour.
The Laemmle Royal Theater, at 11523 Santa Monica Blvd., Los Angeles, CA 90025, will host a red-carpet event featuring a variety of adult stars and industry notables beginning at 9:15 p.m., followed by the screening of a 4K restoration of the feature at 10:00 p.m. The event will be presented by Gerard Damiano Jr. and Christar Damiano, the son, and daughter of the movie's late director Gerard Damiano. They will share their stories of being on location in Miami during the filming and being raised by the man whose original name for an oral technique is now in Webster's Dictionary.
For tickets, click here.
Sexologist Dr. Susan Block will moderate the talkback following the screening. They will be joined by veteran "Golden Age" performers Herschel Savage and Nina Hartley, whose career in adult films spans four decades. They will discuss the history, cultural impact, and controversies surrounding the film.
"Deep Throat entertained, aroused, and outraged the world—and it still does," Block said. "So, I'm looking forward to seeing the movie as its late director Gerard Damiano intended, and to discussing the issues surrounding this seminal film (in every sense of the word) on our post-screening panel."
"Deep Throat is synonymous with the sexual revolution of the 1970s. It captured lightning in a bottle, inspiring the intelligentsia of the day to embrace Porno Chic," Hartley said. "The subsequent legal battle laid the groundwork for adult entertainment's transformation from an illicit part of the culture to its current ubiquity. All of us who enjoy adult entertainment today owe a debt of gratitude to Gerard Damiano's vision."
A New York City native, Damiano died in 2008 at the age of 80.
"Some of the theaters have been reluctant to show Deep Throat out of fear of pushback based on comments the film's star Linda Lovelace made years after it came out," Gerard Damiano Jr. said. "Her story is a very complicated one, and there is no doubt that she suffered greatly at the hands of her husband. People assume that he beat her up because she didn't want to perform in the film, but the truth of what actually happened on the set of Deep Throat is very different.
"Linda's comments were made while she was being coached by Andrea Dworkin and Gloria Steinem and are often taken out of context," he continued. "She was further used by the Reagan administration whose very public anti-porn agenda helped to galvanize his conservative Christian base. Linda later rejected the 'anti-porn feminists' and made peace with her past. At the end of her life, she returned to porn, posing for Leg Show Magazine and attended conventions where she autographed Deep Throat memorabilia and took photos with her fans."
His sister Christar added, "Our father always dreamt of making films in Hollywood. We are proud to honor him by ending our Deep Throat 50th anniversary world tour in California."
The Damianos will present the film at 8:00 p.m. tomorrow night, Saturday, June 3 in a more intimate setting at 910 WeHo, located at 910 N. La Cienega Blvd, Los Angeles, CA 90069. A 70s-themed party will follow the screening and talkback. For tickets, click here.
Following the Los Angeles screenings, the feature will head to the Bay Area for the final leg of its 50th Anniversary World Tour.
Event organizers are also encouraging fans to vote for Deep Throat so it can be included among other classic American films in the Library of Congress' National Film Registry. To vote, visit votethroat.org.
For more information on Deep Throat, follow the movie on Facebook, Instagram, and Twitter. Damiano Films is online at DamianoFilms.com.