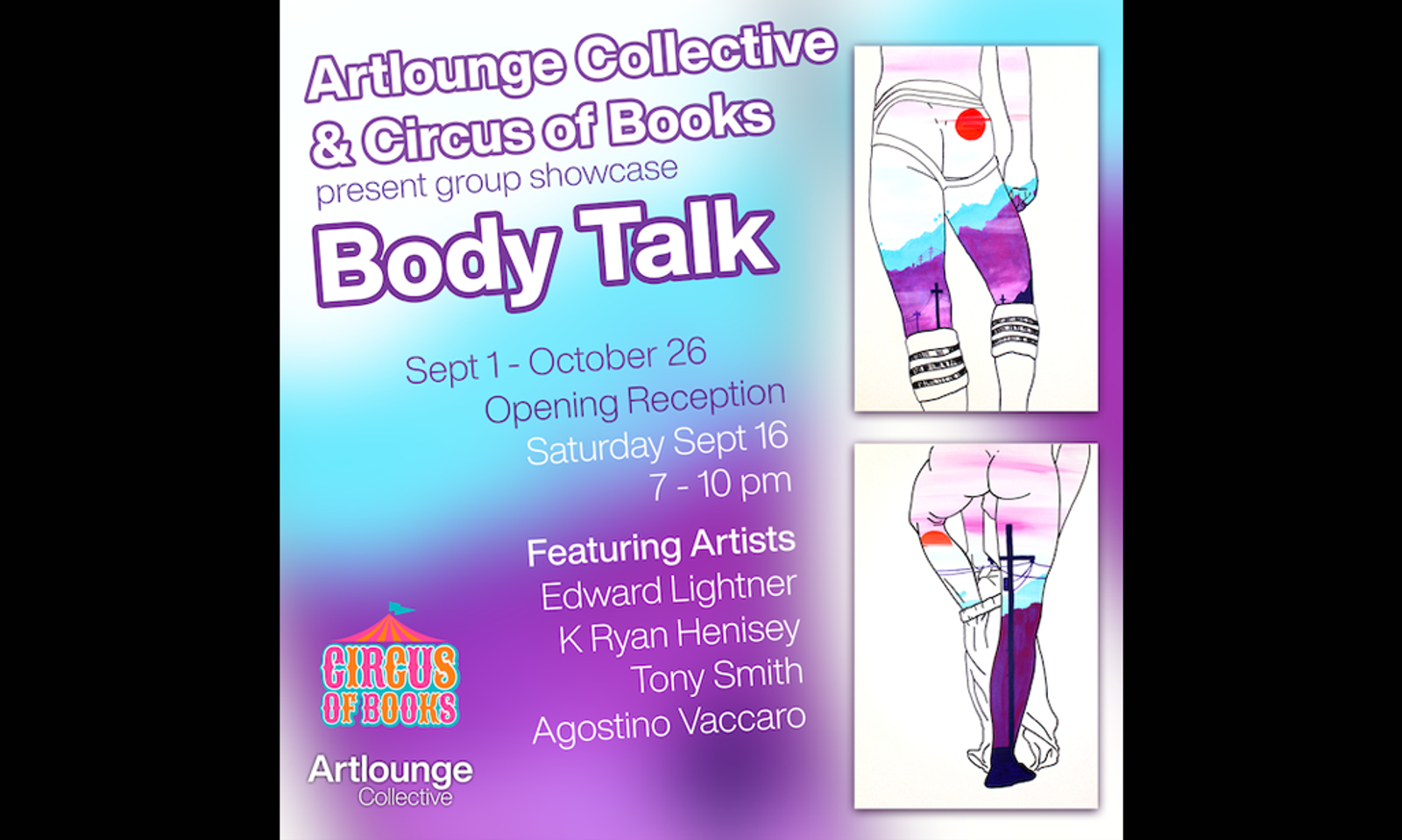 WEST HOLLYWOOD, Calif.—Circus of Books, a cultural hub in West Hollywood, has announced its latest art exhibition, "Body Talk." This showcase features an array of local artists who explore the human form through their unique perspectives, offering a journey into the realms of sexuality, identity, and desire.
The opening reception for "Body Talk" will be held on Saturday, Sep. 16, from 7:00 p.m. to 10:00 p.m., and will feature an opportunity to meet the artists and engage in a discussion about their work. Admission to the exhibition and the opening reception are free and open to the public.

Featuring the works of four local artists—Edward Lightner, K Ryan Henisey, Tony Smith, and Agostino Vaccaro—this exhibition challenges conventional norms and invites viewers to delve into the intricacies of human experience.

Lightner, a Pasadena-based artist, uses his status as an HIV-positive individual to inform his art, delving into the multifaceted aspects of consent. His provocative pieces often recontextualize imagery from pornography, religious dogma, and nuclear weapons testing, providing a fresh perspective on these controversial topics.

Henisey, an award-winning West Hollywood artist and recipient of the Creative City grant, offers viewers an opportunity to explore the intersection of the human form and idyllic imagery. His work constructs mythologies that celebrate queerness by overlaying human figures with symbols of place and tradition.

Smith, a self-taught artist from Ventura, finds beauty in the mundane and the simplest forms of pleasure. Through his artistry, Smith invites viewers to rediscover the joys of everyday life, creating a sense of intimacy that resonates with audiences.

Vaccaro, a Fullerton-based artist, creates stunning compositions that juxtapose graphic patterns against tightly painted forms. His high-color contrast compositions are intrinsically queer in subject matter, captivating viewers with their bold and vibrant expressions.
For more information about "Body Talk" and Circus of Books, click here or email [email protected].