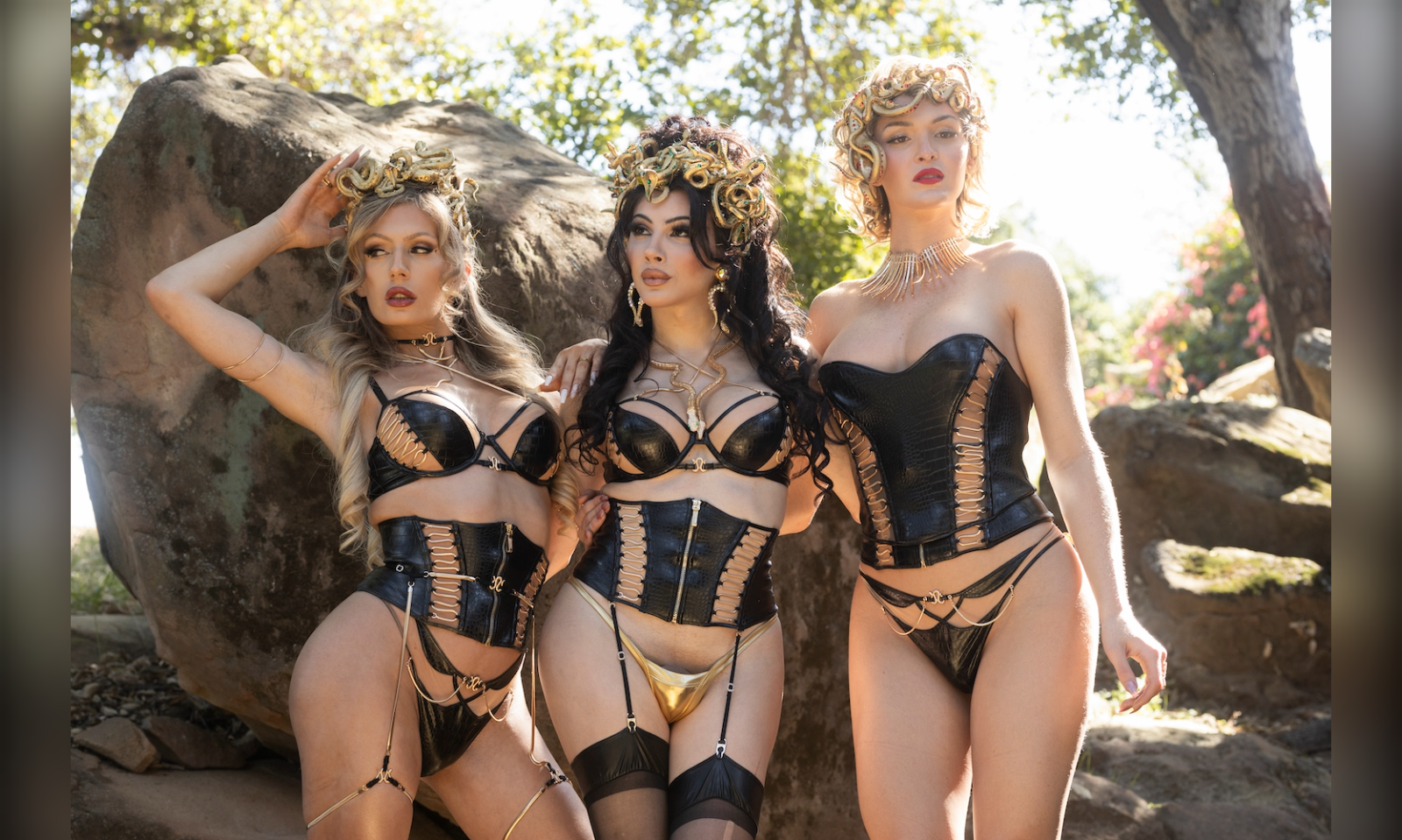 HOLLYWOOD, Calif.—Ariel Demure has opened a pre-sale for her "Gorgons and Goddesses" scene, which will be released next week.
"Gorgons and Goddesses" is based on Greek mythology. The Nine Muses carouse with Greek Gods Dionysus and Apollo, as the three Gorgon Sisters crash the party to take on the arrogant male deities. The Gorgon Sisters believe the Muses are more worthy of worship than the old gods. The snake-haired vixens seduce the muses, and an 11-girl, all-trans female orgy ensues.
"Gorgons and Goddesses" has an all-star cast of top trans performers, top gay male, and trans male performers in non-sex roles, and a reality-show celebrity/performer also in a non-sex role. Demure, Jade Venus, and Tori Easton are the Gorgon Sisters. The nine muses are Kasey Kei, Brittany Kade, Foxxy, Izzy Wilde, Khloe Kay, Eva Maxim, Leilani Li, Emma Rose, and trans fashion model/actor/musician Gia Gunn, who appeared on multiple seasons of RuPaul's Drag Race. Michael Boston and Austin Spears star as the Greek Gods.
"Gorgons and Goddesses" was directed by Michael Vegas and photographed by Inamorata Photo. Demure also co-wrote the scene with Charlotte Rickard, designed all the costumes, co-produced the project with Ten15Group, and assisted with hair and makeup.
The "Gorgons and Goddesses" pre-sale is available on Ariel's OnlyFans and on the OnlyFans of the ten other trans adult stars for $30. 
On Nov. 23, the scene will also be unveiled on the other stars' OnlyFans. The VOD version is set to be released on multiple platforms in January, and the DVD will be released in the summer. 
"Originally, this project was to celebrate my birthday on November 26th, but it became much more than that. It's a labor of love with so many incredible stars and an award-winning director, photographer, and scriptwriter connected to it. I'm so fortunate to work with such amazing people, and the scene will definitely blow everyone who sees it away," says Ariel Demure.
Demure is self-booking. For inquiries, email [email protected].