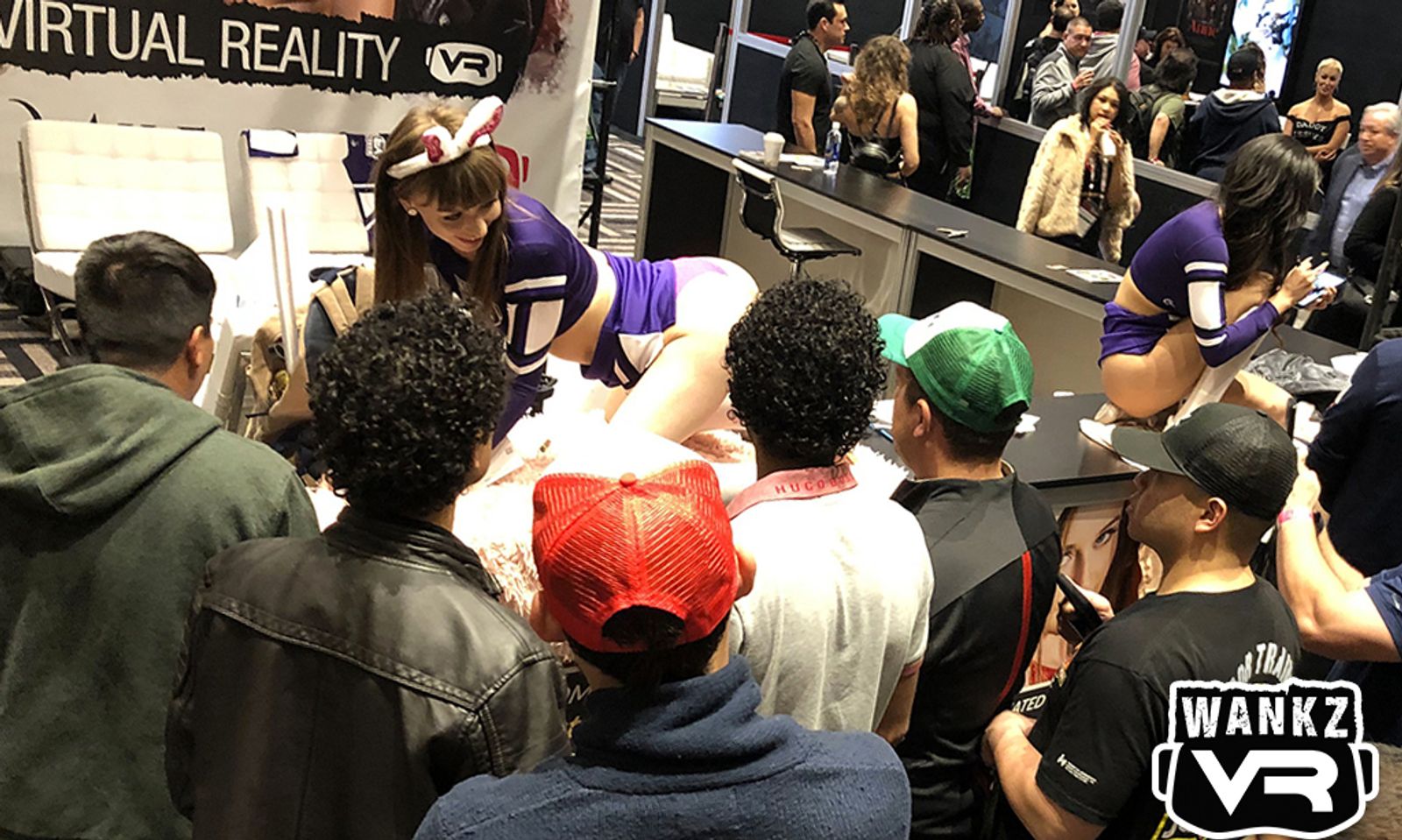 This past January, the Hard Rock Hotel & Casino Las Vegas was packed with fans and adult performers during the annual AVN Adult Entertainment Expo. WankzVR was in attendance, and and last week's release, "Bang the Booth of Them," delivers a virtual threesome experience with a unique twist. Viewers can actually be part of the fun like they were in Las Vegas at the AVN Show.
"The AVN Expo is the ultimate showcase of all the world of adult entertainment has to offer and we wanted to incorporate some footage of the event in our newest release," said Phil from WankzVR. "The crowd loved interacting with Alex and Maya and we knew that the two of them would be fantastic in a scene together."
In "Bang the Booth of Them," you (the viewer) will meet Alex and Maya at the WankzVR booth at the AVN Expo and they immediately take a liking to you. They are wearing matching cheerleading outfits and are busy working the showroom floor. You are invited up to their room to have the ultimate AVN Expo sex experience.
Adult starlet Maya Bijou is a relatively new addition to the WankzVR roster and has quickly become a hit among fans in the WankzVR discussion forums. Phil from WankzVR describes her rise in popularity. "Working with Maya has been great," he said. "We always try to bring our viewers the hottest new starlets and when they have a professional attitude like Maya, it makes it a win-win for all of us."
This release marks the the 13th appearance in a WankzVR production for Alex Blake, a popular contract model with the established VR brand. She can be enjoyed in a wide variety of feature-length scenes, including one-on-one experiences such as "Sweet Dealz," threesome scenes including "What's Yours Is Mine" with Gracie Green, and group scenes such as "Make America Cum Again" (released on July 3, 2018). This 104-minute feature-length scene also showcased performers April Aniston, Athena Faris, Casey Ballerini, Esperanza Del Horno and Jenna Reid.
WankzVR scenes are optimized for Oculus Rift, Oculus Go, HTC VIVE, PlayStation VR, Daydream, Gear VR, Cardboard and most MR headsets. Combining 180-degree true 3D and binaural sound, it bring porn to a new level of sensory engagement. Two new VR productions are added each week with 250 performers and more than 315 full-length scenes to choose from.
See a selection of photos from the set of "Bang the Booth of Them" here.