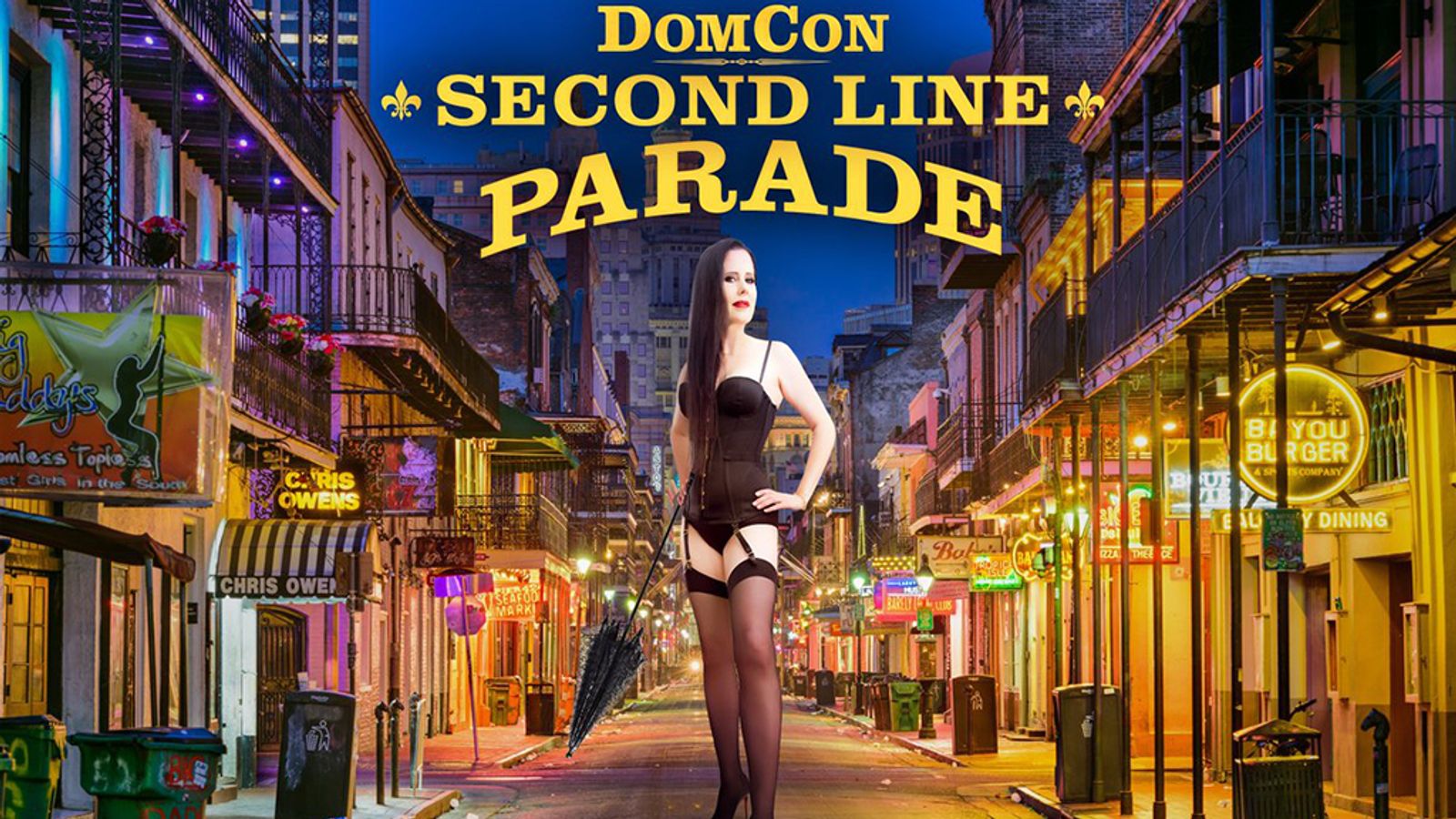 NEW ORLEANS, LA—Mistress Simone Justice will be leading a "Second Line Parade" in the French Quarter as part of DomCon New Orleans. One purpose of the parade will be to honor Pro Dommes and leather family in the BDSM scene who have passed away recently.
The parade is sponsored by Fetpros.com and will start Friday, October 5 at 8:00 P.M. with a gathering at the Canal Street entrance of the DomCon host hotel, Astor Crowne Plaza. The parade will go through the French Quarter for about a half mile, and return after about 45 minutes to the host hotel for DomCon Friday night play party.
A Second Line Parade is a tradition in New Orleans, where mourners follow the lead of the First Line funerary jazz band and dance group. In this case, the procession will be in memory of those in femdom and the BDSM community who have recently passed on. While the band will begin with a sad dirge, it will then break into joyful music to celebrate life as the parade goers dance behind them.
Among those named in the procession will include the late January Seraph, Domina Carmen Moriarty, Mistress Benay, Mistress Dometria, Mistress Demonic, Mistress Coral Korrupt, Master Aryn and Natali Demore.
"Following the tradition, we will begin by paying our respects in an international memorial," said Simone Justice, organizer of the parade. "Then along with full police escort, 7-piece brass jazz band, Grand Marshall, and the dominatrix crowned Parade Queen, we will proudly march with those who are still with us. Anyone on the street is welcome to join in the revelry as everyone dances to celebrate being alive. This is our chance to honor those we have lost, and to live life to the fullest with our community…in high style."
Parasols, handkerchiefs, and of course public fetish attire is encouraged. For those wishing to remain discrete, masks are welcome. However, those attending are asked to leave leashes and toys back at the hotel.
This parade is a part of DomCon New Orleans, a convention for a better understanding of BDSM in the adult alternative lifestyle and to bring the BDSM, leather, fetish and professional communities together. The event is October 4-7, 2018 at the Astor Crowne Plaza hotel. The Parade Queen will be crowned during the convention. For more information on the convention, go to Dom-Con.com.