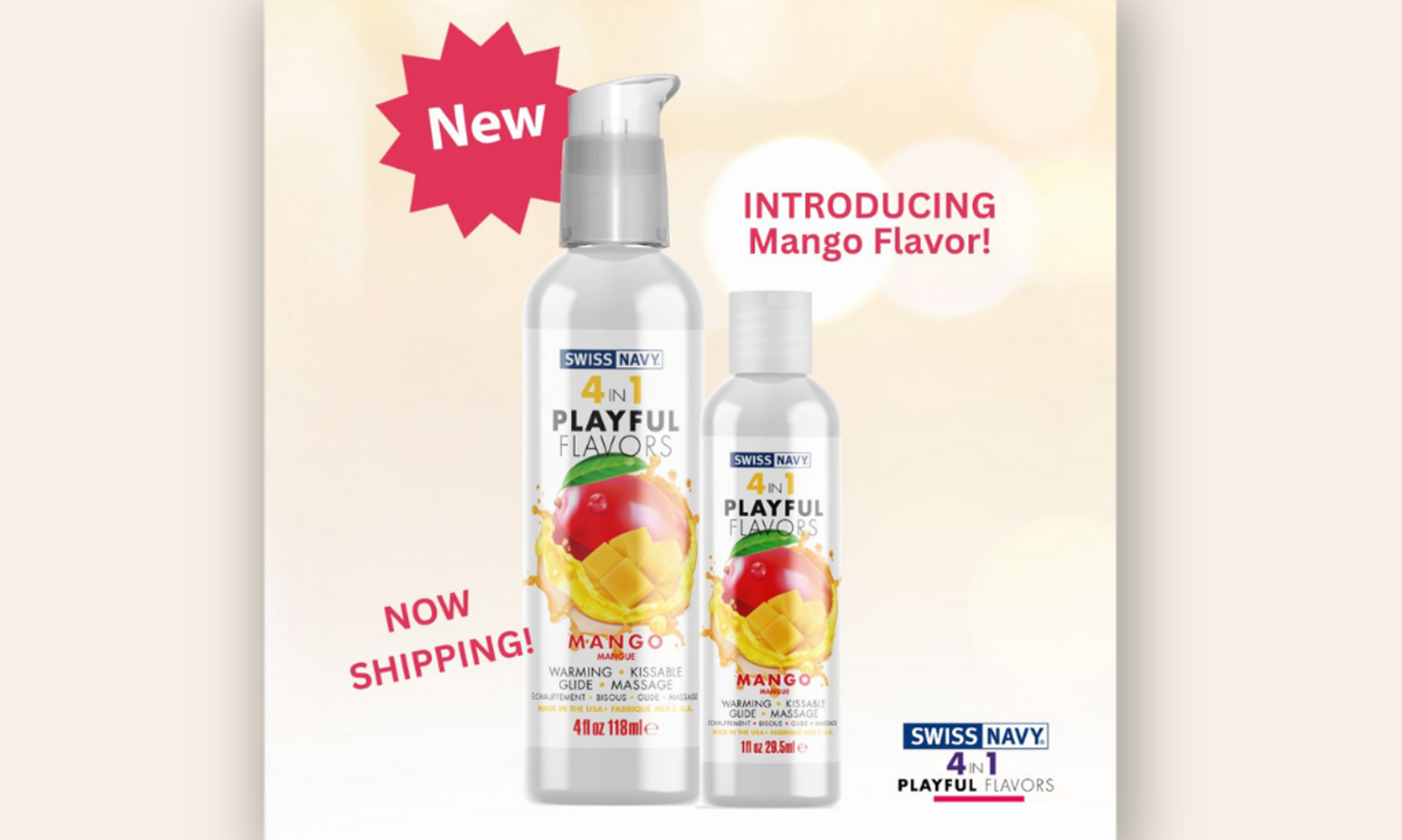 POMPANO BEACH, Fla.—M.D. Science Lab, maker of the Swiss Navy brand, has released mango as the new flavor profile in its award-winning 4 in 1 Playful Flavors collection of water-based lubricants. This item will be available in one-ounce and four-ounce options.
ACS, M.D. Science Lab vice president of sales and marketing Briana Watkins said, "Retailers say that Playful Flavors are proven top sellers and they've been requesting that we continue to expand this line. Since we introduced our 4 in 1 Playful Flavors collection it has been a huge success, especially with more consumers seeking multi-purpose products. We have additional flavors in the works and are paying attention to the feedback we're receiving from our retailer partners."
Swiss Navy's 4 in 1 Playful Flavors line was launched in early 2021 with four flavors—Straw-Kiwi Pleasures, Wild Passion Fruit, Chocolate Sensation, and Poppin Wild Cherry. Salted Caramel Delight was added in late 2021, and Watermelon and Cotton Candy flavors were introduced earlier this year.
All 4 in 1 Playful Flavors' unique water-based formulas offer multi-purpose pleasure options: warming, edible, lubricant, and massage. 
To place an order for this new 4 in 1 Playful Flavors product, contact a Swiss Navy sales representative.
To see the latest Swiss Navy product range, visit swissnavy.com.
For sales and marketing resources, visit Swiss Navy's B2B Resource Center at b2bswissnavy.com.
To learn more about becoming a Swiss Navy Certified Expert with free online certification, visit swissnavycertifiedexpert.com.