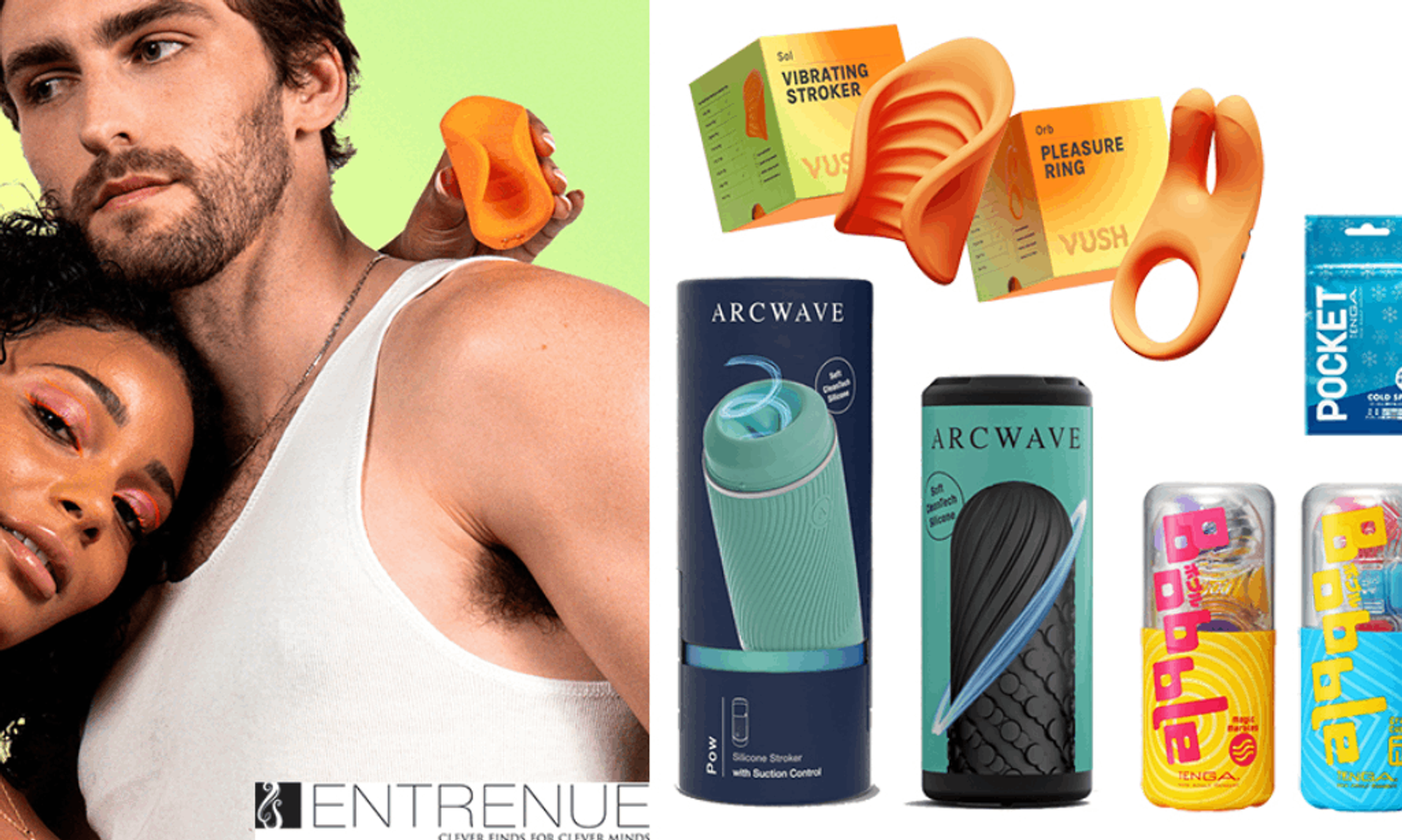 PHOENIX—Entrenue has expanded its selection of penis-centric pleasure products with brand-new releases from top brands Tenga and Arcwave, whose colorful strokers provide more than just a simple sensation. The new offerings also include the very first penis products from Vush, whose foray into the category comes with a fresh, modern look.
Since bursting on the scene, Vush has captivated consumers with its unique sexual wellness products including vibrators, menstrual cups, wipes, and the new consumer-favorite Curiosity Cues deck of 50 sexual discussion prompts. The company is now offering two new products aimed at penis pleasure:
The Orb Pleasure Ring: a waterproof, rechargeable c-ring with 10 levels of vibration that is designed to be the perfect starter toy for couples wanting to explore.
The Sol Vibrating Stroker: a waterproof, rechargeable stroker that features 10 unique vibration patterns. Ribbed in all the right places, Sol was designed to provide a non-intimidating, beginner-friendly sex toy option for people with penises. The versatile design features flexible wings allowing the grip strength to be easily adjusted for different sizes and sensations.
Brand new from Tenga is the Bobble, a new kind of stroker that utilizes recently developed molding technology, allowing for firmer elastomer elements to be attached inside of the soft stroker material. Offering a whole new kind of stimulation, the ultra-soft and highly elastic materials combine for contrasting sensations. The Bobble is available in two designs: Crazy Cubes featuring firm cube shapes, and Magic Marbles featuring firm stimulating orbs. 
Also from Tenga is the Pocket Cold Spark, a portable pocket-sized Tenga stroker featuring a new slim-stretch material that allows it to stretch to fit almost any size.
New from high-tech brand Arcwave is Pow, a premium manual stroker with suction control that features a textured CleanTech Silicone sleeve with dual entry. Pow's intuitive silicone pleasurably tightens during use, while the air pressure release valve creates intense suction for an incredible climax. Pow is available in three colors: Black, Blue, and Mint. 
Also from Arcwaveis Ghost, a reversible textured stroker made from skin-soft, CleanTech Silicone for a smooth, enhanced orgasm. Ghost's reversible ridged surfaces vary sensations, while the durable yet lightweight design makes it practical, portable, and innovatively simple. Ghost is available in three colors: Black, Blue, and Mint. Additionally, retailers have access to a Ghost counter display stocked with three strokers in each color. 
"Products made specifically for penis pleasure continue to grow in demand and we regularly expand our catalog to include the latest and greatest," Entrenue CEOwner Joe Casella said. "We know that for folks with penises, toy shopping can sometimes be underwhelming, and we are thrilled to help change that by introducing the latest from brands that customers trust—and when it comes to penis products, Arcwave and Tenga are at the top of the list. And we're especially excited to see Vush bring their bright and fresh approach to this growing category.  These new products give retailers even more options for shoppers to choose from during this busy shopping season." 
To view the new additions as well as all of Entrenue's newest catalog, log into entrenue.com.
To place an order, call (800) 368-7268, email [email protected] or visit Entrenue.com.