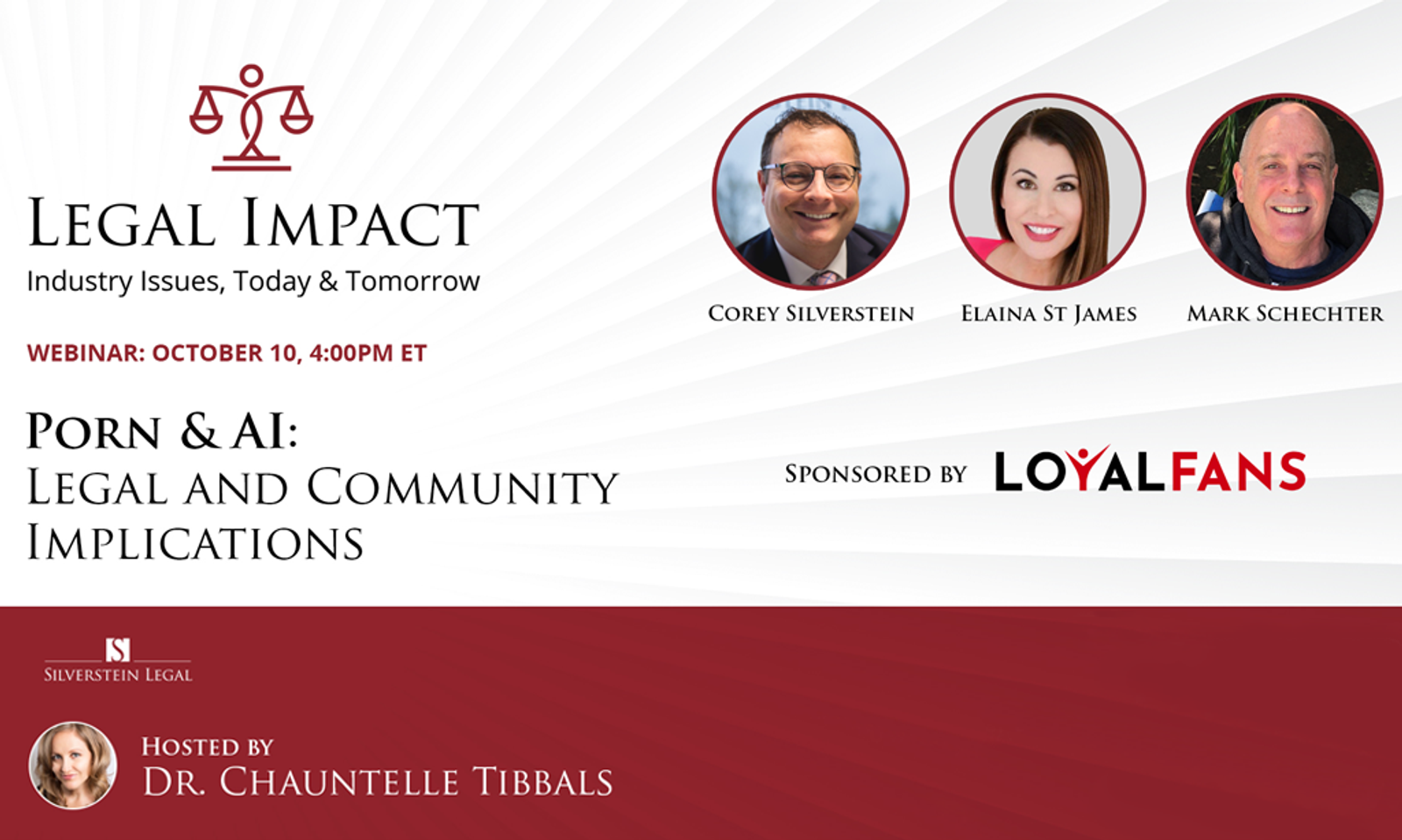 CYBERSPACE—The recording for Silverstein Legal's "Legal Impact" series, "Porn & AI: Legal & Community Implications" live discussion that took place on Oct.10 is now available on YouTube.
Adult industry attorney Corey D. Silverstein, the driving force behind MyAdultAttorney.com and Adult.Law, was joined recently by ATMLA owner Mark Schechter and influencer/podcaster Elaina St. James at the event.
Though not exactly "new," Artificial Intelligence (AI) is currently having a cultural and commercial moment, dominating headlines and inspiring new product launches.
Silverstein and guests explored issues related to AI, including emerging opportunities, potential community implications, and associated legal rights and responsibilities, during the event. 
Silverstein said, "This live webinar was a massive success and I'm grateful to the speakers for their incredible insights. For those of you who couldn't attend live, you can now watch the webinar at your convenience. The feedback from this event has been amazing and will most likely result in a follow-up AI presentation in the near future."
"Porn & AI: Legal & Community Implications" was sponsored by LoyalFans.com.
"Legal Impact" live webinar events are hosted by sociologist Dr. Chauntelle Tibbals. All live events are free to attend for all members of the adult entertainment community and will be posted subsequently on MyAdultAttorney.com and Adult.law.
Silverstein is the managing and founding member of Silverstein Legal. His practice focuses on representing all areas of the adult industry. He is also the founder of the subscription service Adult.Law. Those interested in subscribing to Adult.Law's services can learn more about subscription tiers here.
Join Silverstein on Twitter @myadultattorney and on Instagram @coreydsilverstein.