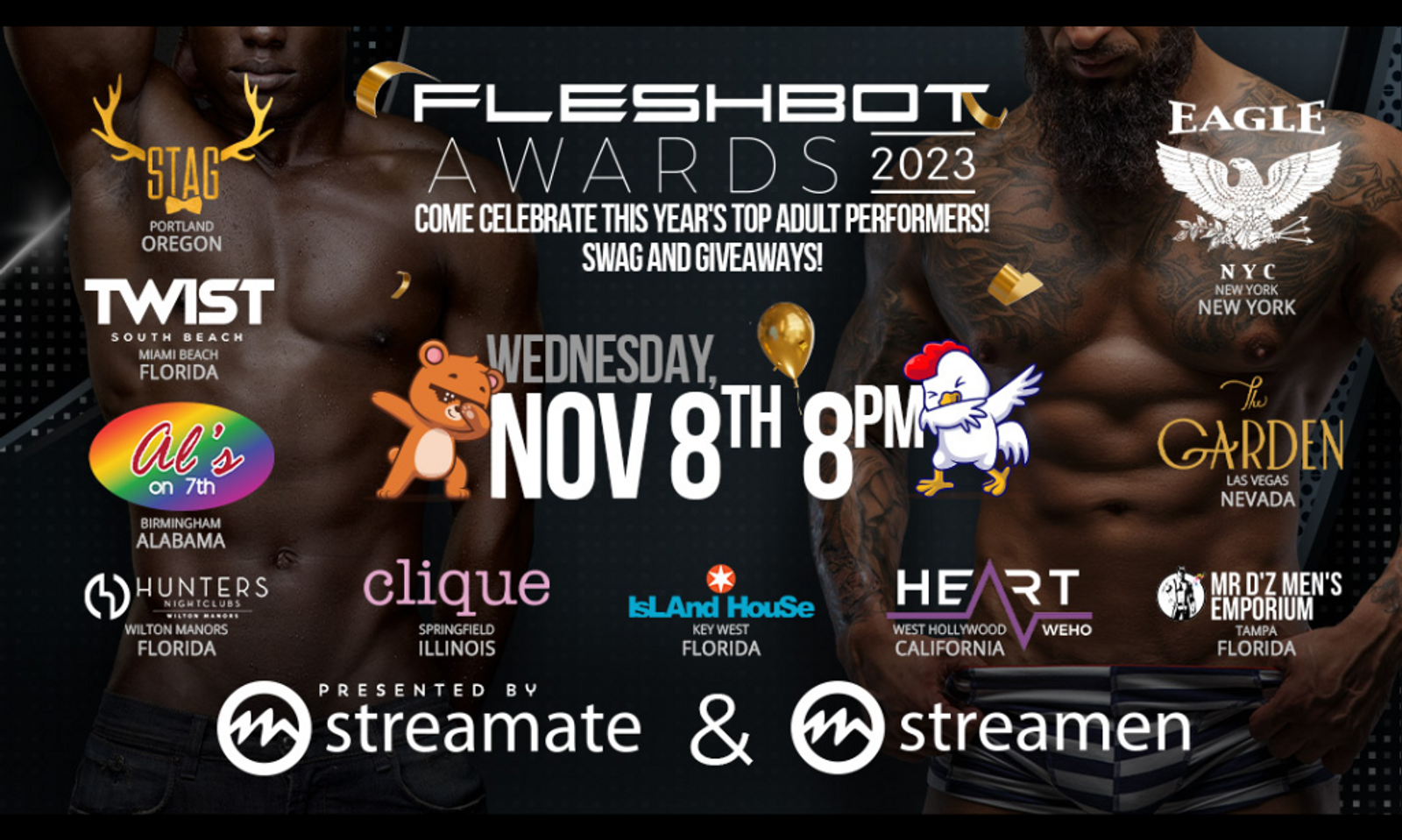 CYBERSPACE—The winners of the 2023 Fleshbot Awards sponsored by Streamate and Streamen will be announced online at FleshbotAwards.com on Nov. 8, and fans can celebrate in-person at one of the 10 clubs around the U.S. that will be celebrating simultaneously, from 8:00 p.m. to 10:00 p.m. PT.
The participating clubs include:
• Heart WeHo, 8911 Santa Monica Blvd, West Hollywood, Calif. 90069
• Island House, 1129 Fleming St., Key West, Fla. 33040
• The Garden, 1017 S 1st St #180, Las Vegas, N.V. 89101 
• Twist, 1057 Washington Ave. Miami Beach, Fla. 33139
• Al's on 7th, 2627 7th Ave S Birmingham, Ala. 35233
• The Eagle, 554 W 28 St., New York, N.Y. 10001
• Hunters, 2232-2238 Wilton Drive, Wilton Manors, Fla. 33305
• Clique Bar, 411 E Washington St. Springfield, Ill. 62701
• Stag, 317 NW Broadway, Portland, Ore. 97209 
• MR D'z Men's Emporium, 1510 N Nebraska Avenue, Tampa, Fla. 33602
The Heart in West Hollywood is designated as the evening's headquarters. Winners will be announced on stage every hour, and the venue will serve as a gathering spot for content creators, fans, and business partners to celebrate. 
Fleshbot and its sponsors Streamate and Streamen, will supply participating venues with exclusive swag and branding materials to enhance the party atmosphere. Each venue has been carefully selected for its dynamic vibe, diverse crowd, and strong community ties, reflecting the inclusive spirit of the Fleshbot brand.
Fans can cast their votes for their favorite stars in each category. Voting is open until Nov. 8 at 6:00 p.m. PT at fleshbotawards.com. 
For more information, visit fleshbot.com.
Follow Fleshbot on Twitter @Fleshbot and @FleshbotGay.