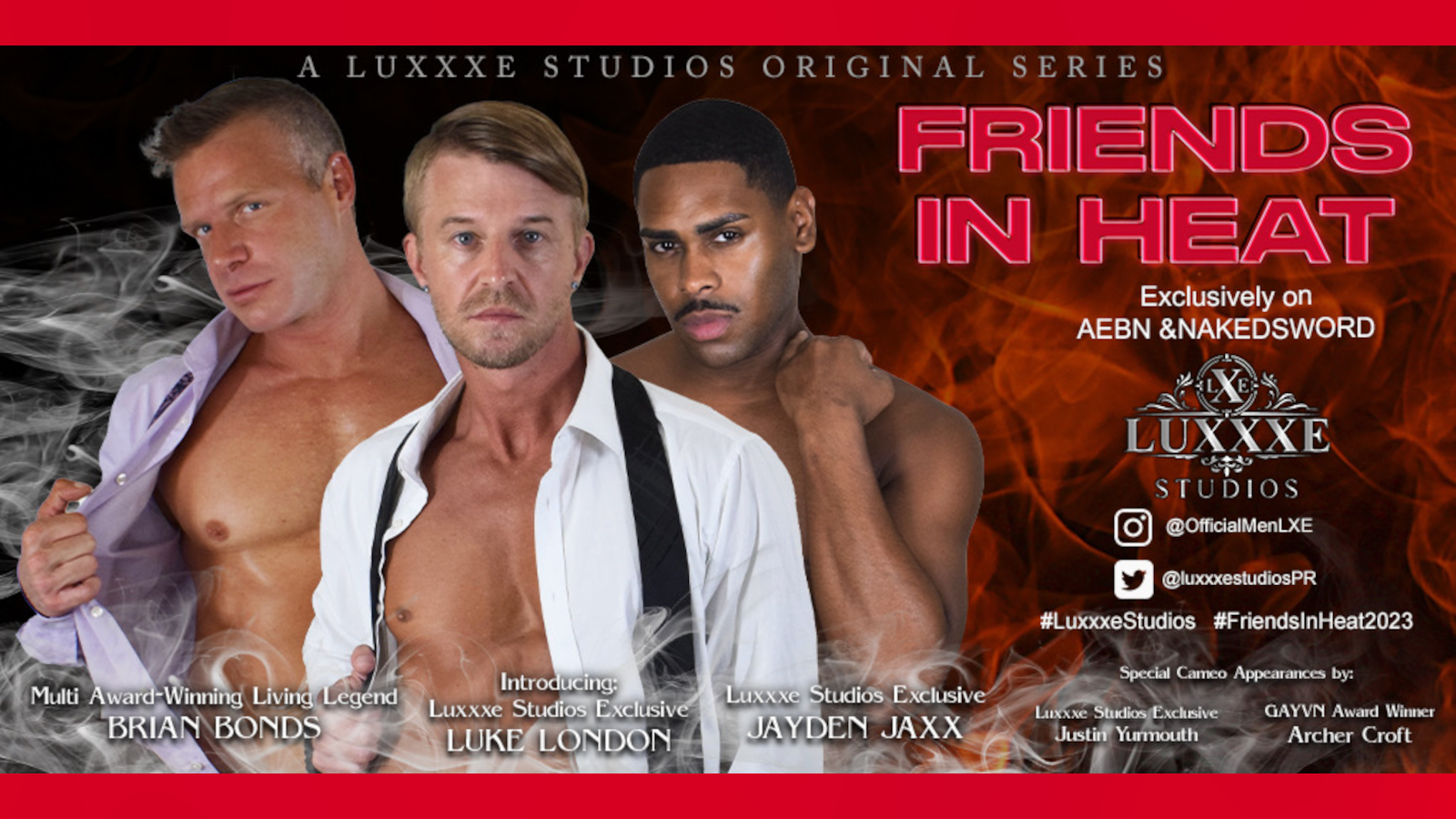 LOS ANGELES—The third episode of Luxxxe Studios' Friends in Heat Season 2, titled "Revelations," premieres today exclusively on AEBN.com and NakedSword.com.
In this episode Judge Zach Ramsey, played by Luxxxe Studio exclusive Jayden Jaxx, takes a meeting with Darryl MacDaniels (Brian Bonds) and district attorney Brad Harrington, (Luxxxe Studio exclusive Luke London) to discuss the fate of Jake Carmichael's brother, Allen Carmichael. 
Serving as an intermediary for Darryl and Judge Ramsey, Brad shows he's willing to do anything to get his client—and them—off. A plan is made and the deal is sealed with more than a kiss. 
In cameo appearances, Allen Carmichael, played by GayVN award-winner Archer Croft, and Jake Carmichael (Luxxxe Studios exclusive Justin Yurmouth), are celebrating Allen making bail over cocktails. Jake learns he's not the baddest boy in the family, and that his little brother has his own plan to stay out of prison.
"Working on this movie has been a lot of fun," director Jasun Mark says. "[Luxxxe Studios CEO and executive producer JD Daniels] has allowed me to really get in and make the movie we wanted to see. And I think we're all going to be very proud of the end result.
"Storytelling in porn is a hard balance to make and we've really managed to make a movie with a moral that's still hot and entertaining."
"Revelations" marks the introductory scene for new Luxxxe contract guy Luke London, who was discovered by Mark E. Hersh.
London remarks, "I am thrilled about my debut scene in Friends in Heat Season 2, which premieres this Friday. Working with Luxxxe Studios has been an incredible experience, and I have had the pleasure of collaborating with JD and the entire staff at Luxxxe.
"This being my first role in a porn series, I was fortunate to be surrounded by a talented cast of porn stars with impressive resumes. They have been supportive, nurturing, and made me feel comfortable and welcomed. I am eagerly looking forward to seeing the final result and excited about what the future holds now that I am an official exclusive at Luxxxe Studios."
The "Revelations" episode also marks the studio directorial debut of JD Daniels alongside Mark.
"Where can I begin?" Daniels says. "Not only was I the executive producer and the producer, but I also had the role as co-director of this episode.
From start to finish this scene was a jaw-dropper. Me and Jasun Mark have collaborated in the past with Friends in Heat, but this is the first scene where I got to really work with Jasun Mark actively as a co-director.
"In this particular episode I had the opportunity to share my vision and participate in the creative process with Jasun. We were able to create extraordinary magic that we couldn't before by joining both of our visions together." 
Daniels continues, "I've directed fan content in the past, but this is my first time doing it for a studio. I can't thank Jasun Mark enough for mentoring me. His skills and talent in directing really helped make Season 1 of Friends in Heat stand out. That is now up for a Movie of the Year nomination from Fleshbot, and you can see it in Season 2 that same brilliant work. I can't wait to work on future projects with this iconic director."