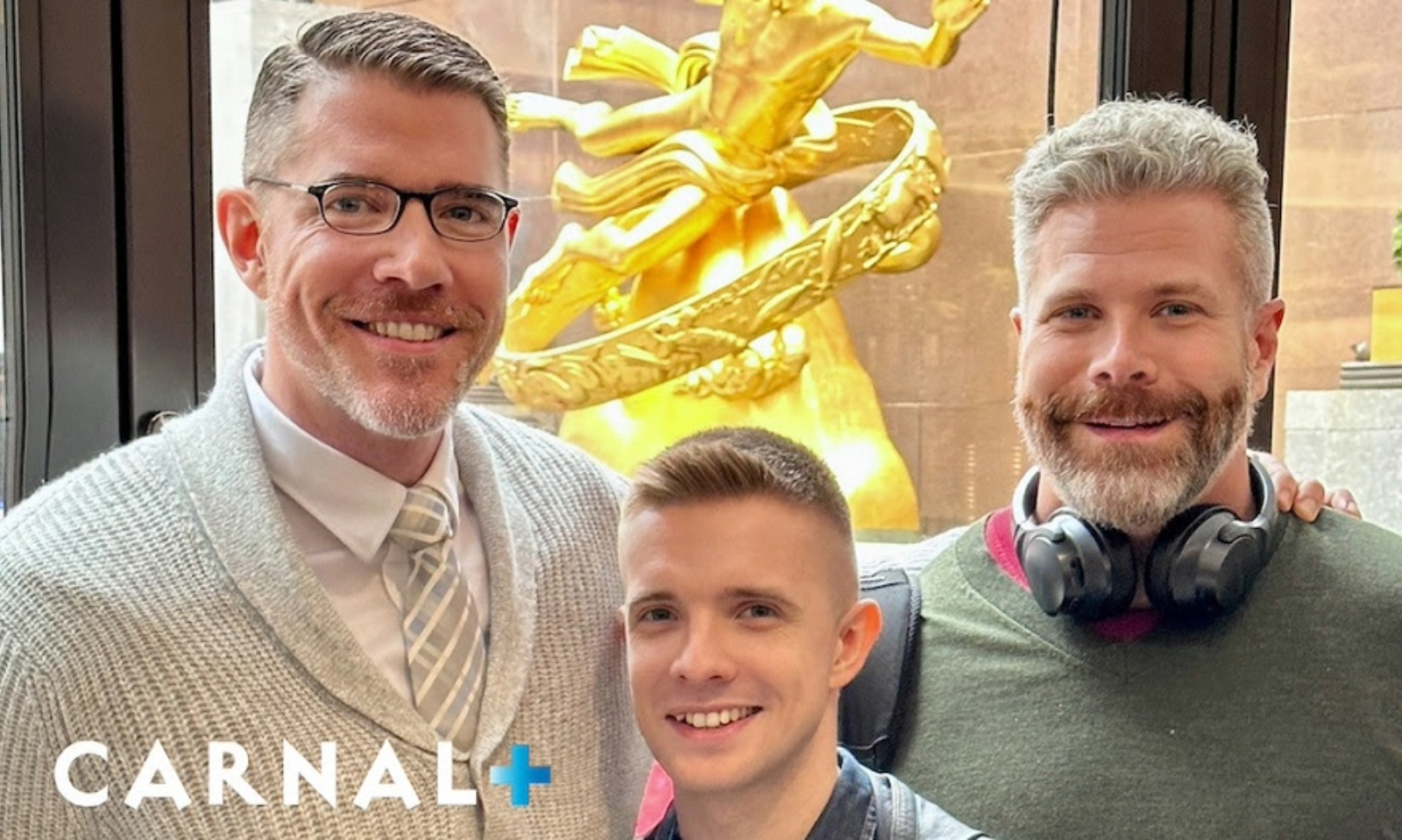 LOS ANGELES—Gay performer Serg Shepard stars in the latest scene for Carnal Media's Gaycest imprint. In the scene, 25 years ago, Legrand Wolf fathers a child on his Mormon mission in Ukraine. "Serg Shepard is what is known as a mission baby," according to Carnal Media's head admin Danny Gregory-OShea. That's when a Mormon missionary has unsanctioned sex, resulting in pregnancy.
Six years after launching his site (now rebranded as
gaycest.com
), Wolf and Shephard present their story in the scene "Reunion" on CarnalPlus.com. Serg Shepard, playing himself, comes face-to-face with a shocking fact… his father is Dr. Legrand Wolf.
As a father who never knew he had a son, Wolf gets the surprise of a lifetime. A casual Kyiv hookup between his brother, played by Cain Marko (Of FunSizeBoys, TwinkTop fame), and a mysterious Ukrainian boy unravels a jaw-dropping secret. Hidden in Shephard's phone is a photo his mother had of Shephard's father—a picture of a very young Wolf from decades ago. 
As Wolf and Shephard meet in the NYC airport, they're swept into the whirlwind of emotions sparked by their newfound connection, igniting a blend of love and then unexpectedly of lust that neither of them is prepared for.
Gaycest.com
is an adult website depicting relationships between voluntary participants in taboo dad-son play. "Reunion" is the most recent chapter in Gaycest's
The Ties That Bind
series, which follows Shepard, his father Wolf, and his uncle Marko—and the complicated familial and sexual dynamics that bind them.
Carnal Media CEO and lead star Legrand Wolf commented, "Gaycest.com indulges in taboo relationship fantasies. That's not new to porn—the very idea of 'taboo' is what makes porn come alive—but series like 'The Ties That Bind' are so successful because at the heart of its storylines are themes of both deep emotional and physical connections. I've worked with Serg before in BoyForSale's 'The Auction.' We signed him quickly for that because he's such a perfect fit for us, and a dream to work with. After you see 'Reunion,' I think you'll agree."
For more information on this and other Carnal Media projects, visit CarnalPlus.com or follow the brands on X (formerly Twitter)
@RealCarnalPlus
and
@CarnalMedia
.