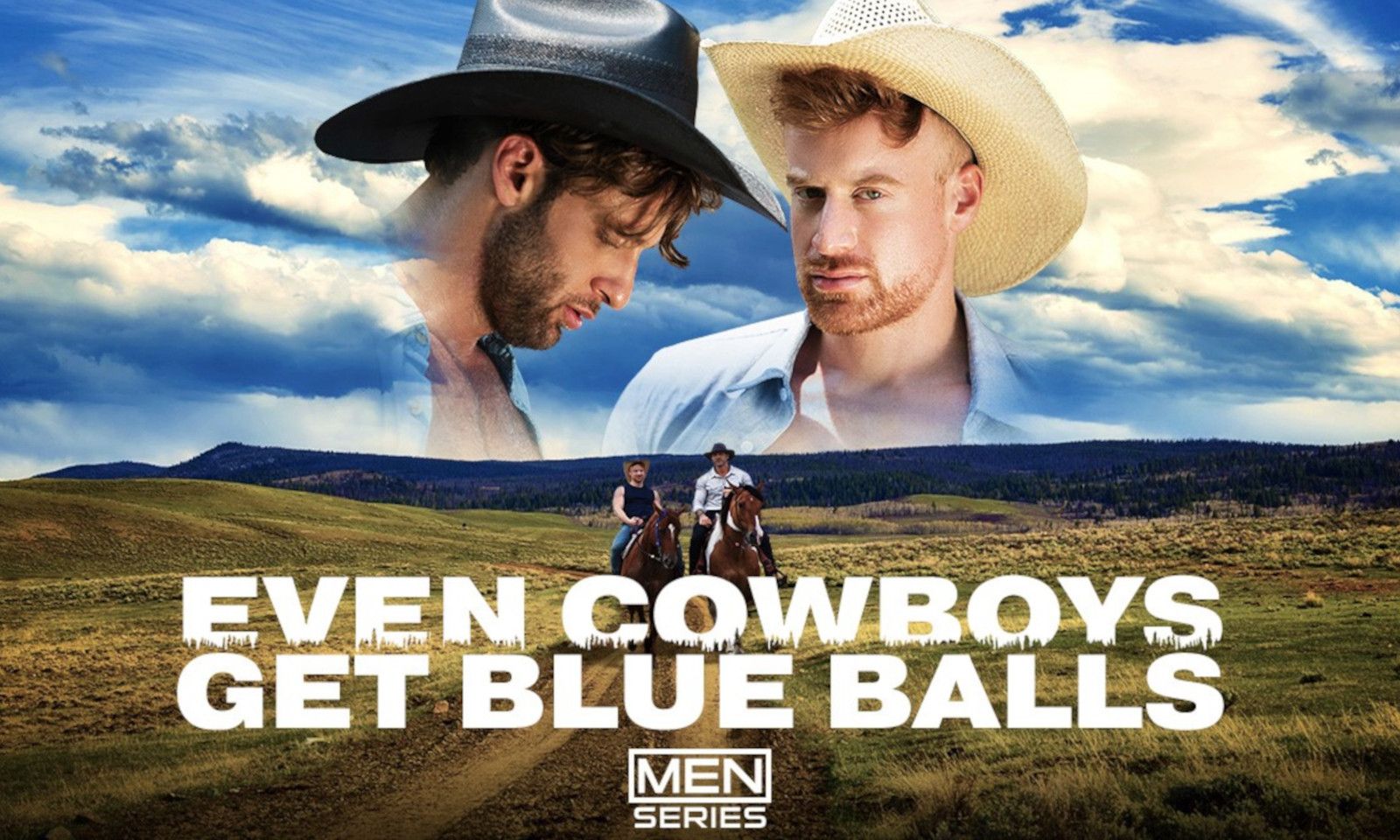 LOS ANGELES—Dom King and Tim James star in Even Cowboys Get Blue Balls, a new three-part series produced by Men.com. The first episode is set for release on Nov. 22.
Directed by Iza L, the series also stars Chuck Conrad, Austin Wolf, and Olivier Robert, with a special guest appearance by Angellica Good.
Shot on location in Canada, the series tells the story of James, after leaving his home in the country without saying goodbye, finally returns years later. However, he won't be accepted so easily.
In the first scene, James strikes up a flirtation with ranch hand (Conrad) and the big burly hunk takes a break from his labor to blow him, then bangs him over a hay bale.
In the second scene, James hasn't quite readjusted to country life, so he rests in his bed until noon. The new neighbors (Good and Wolf) pay a visit, and James can't believe it when Wolf touches his bulge under the table. Later on, they hook up behind the women's backs.
The guys then take a ride out to the barn where they have a heart-to-heart about banging men in the country, and Wolf pulls James in close for a kiss before a hookup session.
In the third and final scene, King isn't used to his brother being back home, but he takes his mind off his complicated feelings with some shooting practice with his best friend (Olivier Robert). Afterward, the guys spend time together, and King confesses that he envies his brother for being openly gay. Following the conversation, one thing leads to another...
For more updates, follow Wolf, King, Conrad, and James on X/Twitter, at @aw4mf, @dom_king91, @TheChuckConrad, and @timjamesfit, respectively.
For more information, visit Men.com or follow the brand on Instagram and X/Twitter.