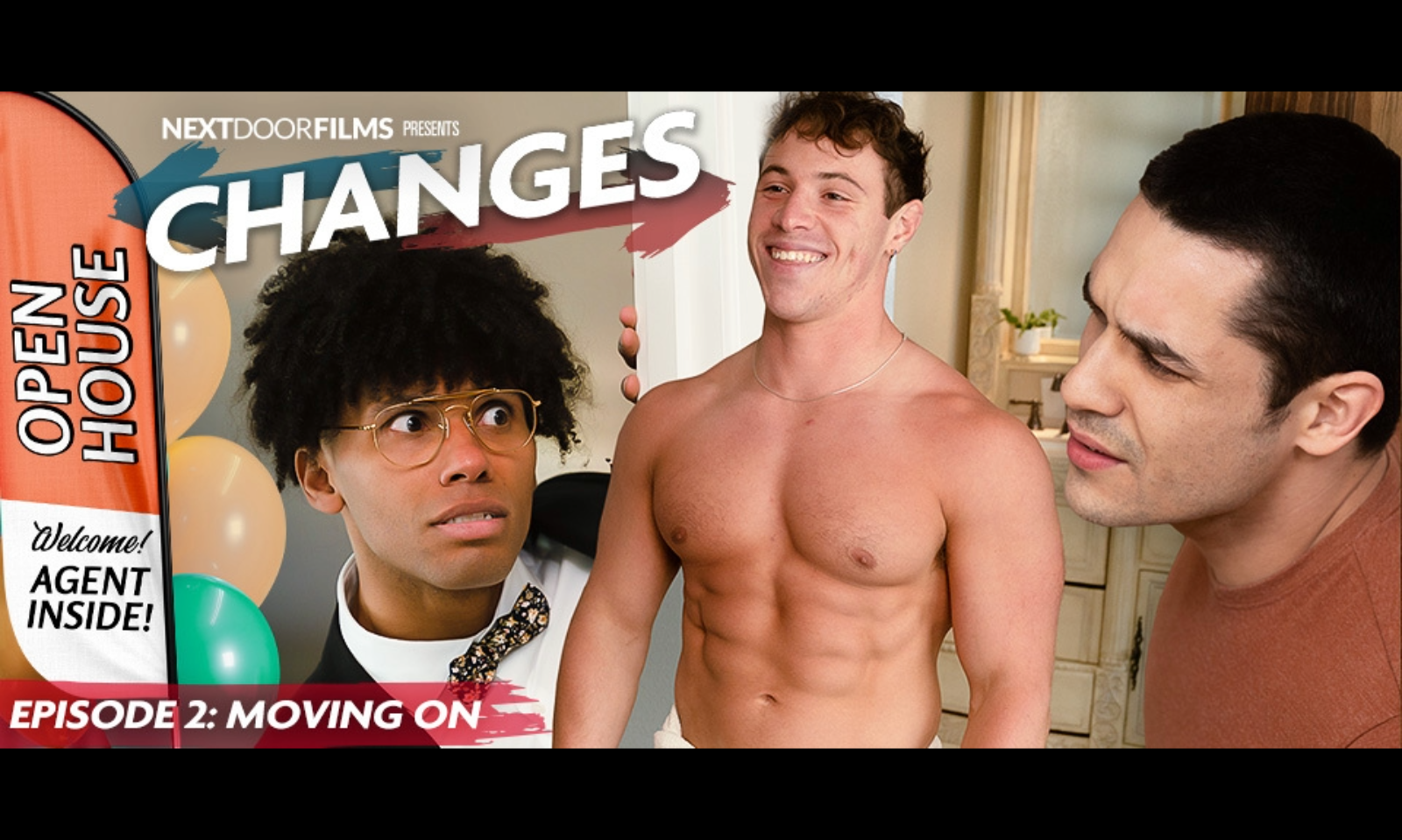 LOS ANGELES—Next Door Studios' sub-brand Next Door Films continues its three-part Changes feature with episode two, titled "Moving On." The change-themed story continues with Tony Genius, a realtor entrusted with selling the home being vacated by Jayden Marcos in episode one. Genius encounters a quirky customer in Kyle Fletcher, and ASG exclusive Andrew Miller eventually enters the picture, continuing his character from previous Just Curious movies.  
"Being a part of Changes was an absolute blast," said Fletcher. "Everyone on set, from the crew to my scene partners were such good energy throughout the entire shoot and I think that shows through in the amazing video we were able to create together."
Genius enthused, "Such a heartfelt cast and crew that really helped bring this episode to life. I am an improv actor and I loved the ability to dive into a comedic role, while also perfecting the sexual act with two great men. I've worked with both Kyle and Andrew multiple times and it was a breath of fresh air to have these 2 as my co-stars in this hot series.
"Jeremy Babcock was amazing, his vision was amazing for this shoot, and couldn't have been more honored to bring my character to life."
"We took an unusual chance on this one, aiming for something more comedic for our second episode, but I was blown away by Tony's comedic timing and instincts," director Jeremy Babcock praised. "Kyle and Andrew were so fun giving quirky characters for Tony to react to, and the reactions are priceless. I laughed constantly watching these guys work together."
Miller stated, "It was a blast working with the both of them. Kyle and Tony were both great actors and brought a lot of life to the film and made it a very great shoot."
Next Door Studios is now a part of the ASGmax network of sites, including Disruptive Films, Active Duty, Rod's Room, Pride Studios, and more. Stay tuned for the romantic finale to Changes coming on Sept. 23, 2023.
Find Next Door Studios at ASGmax.com or on X (formerly Twitter).