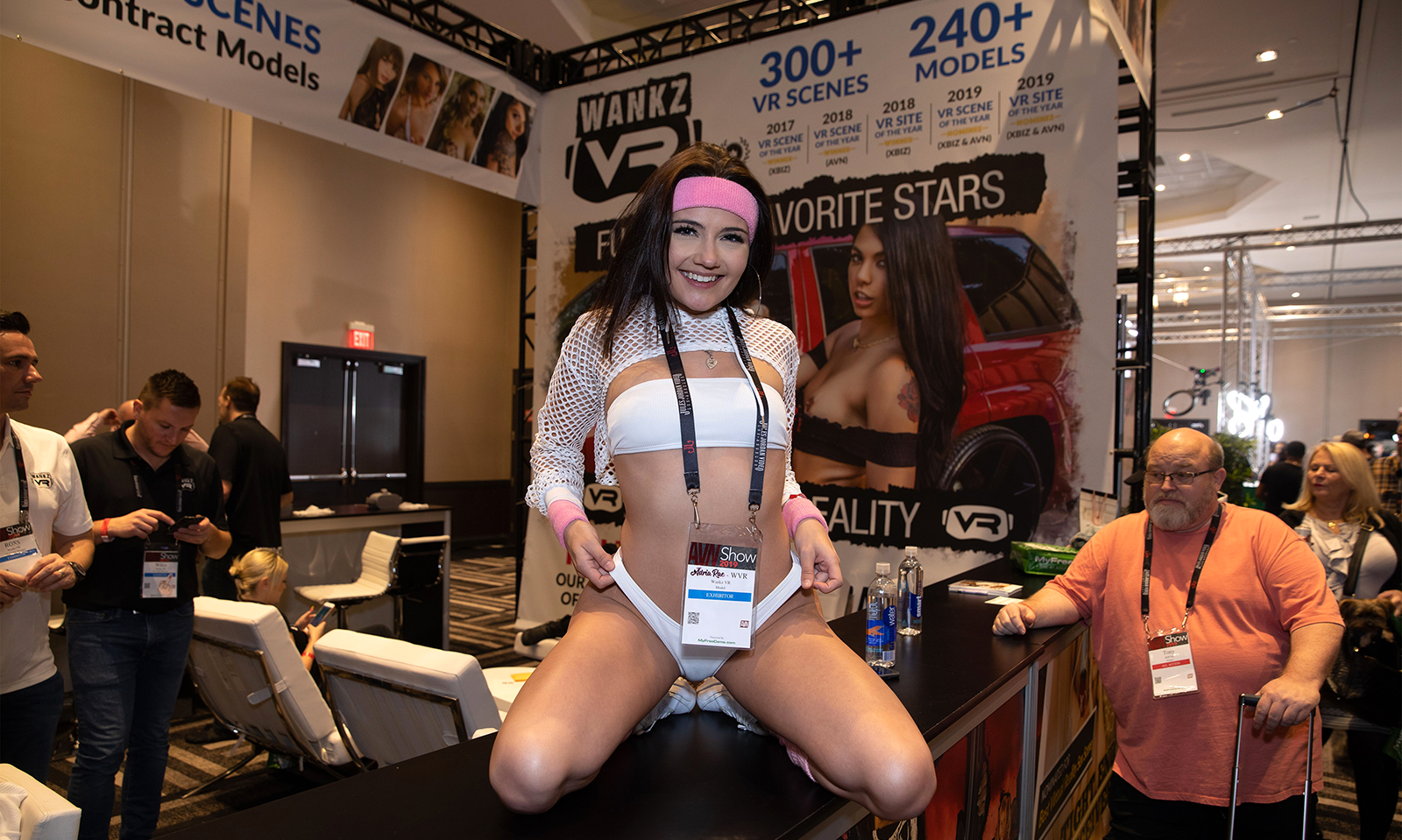 Above, Adria Rae in front of the big WankzVR booth inside Muse Hall at the 2019 AVN Adult Entertainment Expo. Photo by Rick Garcia.
LAS VEGAS—It's a truism that even mainstream society accepts: When technological advances are made in almost any area of human life, someone will try to figure out how to use them to get off sexually. Hence, it's hardly a surprise that cam companies are now dominating the AVN Adult Entertainment Expo when, just a few years ago, they were nowhere in sight and DVD producers were all over the exhibit floor.
Recorded sexual acts featuring beautiful women and buff men haven't gone away—not by any means. But in a bow to technology, at the 2019 AEE, producers of virtual reality (VR) content were as prominent on the show floor as traditional adult studios.
One exhibitor who embraces the VR revolution is Phil from WankzVR. For several years now, he's been paying attention to the changing attitudes of AEE attendees.
"We're really impressed with the amount of people interested and knowledgeable about VR as compared to years past, and that'll definitely continue, and not just with respect to adult," he told AVN. "VR is becoming a mainstream thing. They tried to launch VR in the '80s and it was bullshit, right? And it went away pretty quickly. But it's a good product now and it's growing like computer power: exponentially every year, and it's here to stay."
Phil noted that WankzVR, though it doesn't manufacture headsets or other viewing equipment, is working to develop its own VR cameras and lenses, and has several patents pending regarding VR technology, all in the service of VR porn.
"You know, shooting virtual reality for porn is quite a bit different than it is for action sports. Our users don't really care about being able to look around 360 degrees; it's the immersiveness of 3D that is most important to them. We feel that the products being developed by mainstream companies are much more geared toward the 3D action sports environment, so we're trying to take the lead and help develop products that are specifically built around virtual reality 3D video that allows you to not only experience someone else's world but to kind of lose yourself into it."
Phil noticed that many VR porn users are also into the latest in video gaming.
"With respect to our current member base, it's definitely a younger crowd, a gaming crowd, a heavily intense gaming crowd," he said. "Generally, the older gentlemen are gentlemen who are into gaming as well. And a lot of gaming is VR these days, especially with respect to Playstation, but on top of that, it's definitely an early adopter thing; there's a large percentage of people out there that are early adopters; they coincide with the type of people who hang out on Reddit and it's a great community. And for us, one of the big differences we see, as opposed to the traditional adult model, is that VR users are not timid about sharing, about being open, about giving their name. They're proud to be members and they want to give feedback and they want to be part of a community and help grow the product. A lot of these guys who are early adopters, they're the type of people who feel they have the power to help grow an industry or to help shape the way new technology evolves.
"Ninety percent of all the decisions we make are based not necessarily on research with our members but based on feedback we get every day," he added. "We have a community among our members that's bigger than any community we've ever built. We've seen several thousand posts a day just providing feedback as to things our users like, things they don't like, girls they'd like to see, scenarios they'd like to see, but also the direction they'd like the technology to go, where we should be focusing our technological energies with respect to advancing the technology."
One of the things he's discovered through his user feedback is that they're interested in longer scenes, so of the roughly 300 VR scenes that WankzVR currently has available, many are between 55 and 70 minutes long—almost as long as some storyline features on DVD.
"We regularly shoot two-hour-plus scenes," he noted. "For example, on Halloween, we shot a three-part, six-hour feature, featuring 11 girls and several guys and it was a several-day shoot.
"I think a natural next step for us and for the VR industry is allowing people to develop their own storyline," he opined. "Certainly the process will be a lot more intense for us, but it just makes sense that if you're able to immerse yourself in a situation, the next step is for the user to have some degree of control over what happens in that environment, so for us, I don't think the necessary next step is to be able to move within the environment but more to be able to have a choice in what happens within the environment you are in."
Above, the SenseMax booth at AVN Novelty Expo. Photo by Rick Garcia.
Different Strokes
Interestingly, manipulating the VR environment has been the focus of another VR content producer—though it's better known as a novelty company—SenseMax, which introduced its Sense Band at the AVN Novelty Expo, held concurrently with the AVN Adult Entertainment Expo.
"What we've done is, we've created an experience where the user can interact with the video," explained SenseMax founder Carmen Miller. "So the idea is that the user who wants to please himself would go to his favorite video on whatever site that is and he would look at the video on his iPad or his phone and he would take care of business, basically. What we've created is a band—we're calling it the Sense Band—that goes around the user's arm and while he is masturbating, the video is duplicating his strokes. The faster he goes, the faster she rides. The slower he goes, the slower she rides."
The company also offers an even easier way to interact with its videos, the Sense Tube.
"We also have a masturbation stroker, the Sense Tube, that has a washable removable sleeve that's good for up to 70 uses," she said. "It has ten different modes; it vibrates and it has suction, so there are two ways of interacting with the videos."
Interestingly, since SenseMax is basically a novelty company, it's giving away its content practically for free.
"The videos are our content but that's really not our project. Our project is the toys themselves and the creators of the toys—the stroker, the sense tube and the sense band—have created some well-known brands here in the U.S.," she noted. "We have an app that is free that you can download from the app store or go to our website, SenseMax.net, and download the app onto your phone. Once you've done that, it will ask you for user name; you will sign up like a regular account, which is free. There are about 40 videos, all content that we've created. Some of them are free videos and some of them are VIP based on fetish content and preference. Once you sign up for the app, you can download any of the videos of your choice and there is a user guide within the app so if you forget everything that's been told to you, you can go back to that user guide and figure out how to use your products."
Another perk for some users: The performers in the SenseMax videos aren't well-known XXX talent.
"The people that we use, they're not known actresses; they're just of the legal age, and the content was made specifically for our videos," Miller said.
And what is SenseMax working on for the future?
"We have some amazing projects in front of us," Miller assured. "We'll have a women's version that will be a little bit different from the male perspective. Right now, the toy controls the video. For the women, our videos will control the toy, and so the action that she will see on the video will be happening to her, the user. That's our next step. Also, in the very near future, I would say in a year or so, we'll have developed another band that will be more of a FitBit. Our idea is that we don't just want you to wear the band in the bedroom; we want you to take it out so it's going to monitor your heart rate, monitor some other things, so it's going to have multiple uses, not just for our videos."
SenseMax products are available through several well-known adult distributors and retailers, including the Romantix and Lion's Den chains, as well as at all Adam & Eve stores.
The BaDoink booth inside The Joint at the 2019 AVN Adult Entertainment Expo. Photo by JFK/FUBARWebmasters.com.
Bada Bing, Bada BaDoink
But perhaps the VR creator/exhibitor with the most varied content was BaDoinkVR, which has been in business as an online content provider since 2002, but has been going full steam ahead on VR for nearly the past four years.
"We started VR back in 2014," explained company rep Xavi. "We tried one of these Oculus Development Kits and we wanted to do something related to porn, and we thought that shooting VR porn was something no one did before, so we thought, why not? Let's try it! And yeah, we spent one year understanding how VR works, and after that year, we released our first VR in 2015.
"We think VR is the future," he added. "We stopped producing 2D content; we are just focusing on virtual reality. Once you try it, there's no way to go back to normal porn."
Currently, BaDoinkVR supplies VR content for five sites, each covering a different adult niche.
" We launched two sites this year; last year, two more sites," Xavi said. "We have BaDoinkVR, which has big porn star names. We also have VRCosplayX, which deals with costumes and video games, movies. We also have 18VR, which is more teen, European teen style; also BabeVR with solo girls; and the last one we launched one month ago is KinkVR, which is a joint venture with Kink.com, so it's kinky stuff in virtual reality.
And what's coming up for BaDoinkVR?
"The future will give an even better experience, much more immersive," Xavi assured. "We're always working on improving the video quality, our 3D effects, better sound, adding teledildonics so you can feel—the haptics should be happening before summertime, so it's going to be an interesting year."
But of course, virtual reality isn't the only technological front on which the adult industry is pushing forward. In fact, one seminar at AEE was titled "Domo Arigato, Mr. Roboto," and even though that lyric is from a 1983 Styx song, at least one of the panelists, Caleb Thompson of Motorbunny, is at the forefront of the haptic sexual revolution.
"Motorbunny is a ride-on-top vibrator. It is Bluetooth-enabled. There's an iOS and Android app that controls it. It allows internet control, so you can actually text a link to a partner anywhere in the world; they open up that link in a browser wherever they are, and they can take control of that Motorbunny," Thompson explained. "That technology is a thing that customers asked for. One thing I love talking about is military couples. We have military couples that would purchase this just as a deployment gift, and now that we have the internet control piece, we actually have customer testimony of them actually being able to have a physical connection and maintain it while he's in Kandahar. And talking about the integration of technology, things working together, in the not-too-distant future, there'll be situations where there's a Motorbunny at one end and then there's a person with a haptic stroker at the other end, and they're actually mirroring across the physical distance."
Above, Caleb Thompson, Kim Airs and Beth Liebling on a panel held during the AVN Novelty Expo; photo by JFK/FUBARWebmasters.com.
One of the problems with the "tech revolution," though, is that not everyone is up-to-date on it—or even necessarily pays any attention to it, as adult retailer Beth Liebling, the former attorney who owns the Darling Way store in Houston, recounted.
"I get so many people that have never even used a vibrator, that have never been to any sort of adult store or anything, so those people, they really have no idea how these things can actually impact their lives," she noted. "I would say, one of the benefits of sex toys is, people travel so regularly—military, certainly for longer periods—but there are so many people who travel regularly for jobs, even for a week or two, and one of the ways I explain how these things can help is the use of the sexy Skype in keeping connected. ... If they can look forward to getting back to their room at night and getting on the call and having that sexy conversation with the person they love, it can really strengthen things."
And speaking of Houston, it was inevitable that someone would bring up the fact that the legendary Texas city is the first one to have banned sex doll brothels. The ensuing discussion, aside from broaching the subject of whether using a sex robot could actually be considered prostitution, led Liebling to voice her concerns that if people were able to rent a sex robot in a brothel or hotel room and use it to express their kinky side, be it sadomasochistic domination over the device, or if the robot were small and young-looking enough, their pedophilic fantasies, would those users be able to leave the orgasmic-like feelings at the brothel and not try to act them out with their real-life partners, who may not be into such role-playing?
One important concern that was brought up was whether overuse of some of the new devices could adversely affect existing relationships.
"I think it comes down to what your goal is," Thompson stated. "Is it getting off or is it intimacy with a partner? And ultimately, it's not about the tool; it's about where you're coming from and what you're trying to achieve."
"I don't like it because it disconnects from the actual physicality of actually having sex," adult retailer Kim Airs succinctly noted.
And how to avoid that?
"Be cognizant about what you're doing and why you're doing it," Liebling suggested.
Liebling also had a suggestion for how sexual technology would create at least one new job.
"As a lawyer, I tell all young people, if they want to go into law, going into sex law now is absolutely the biggest niche," she advised, "because I promise you, in five years, we are going to have a huge series of cases like we can't even imagine, between all of the sex dolls, the sex robots—I'm telling you, they're going to need a gazillion lawyers and tons of money because we don't know what to do with any of this."