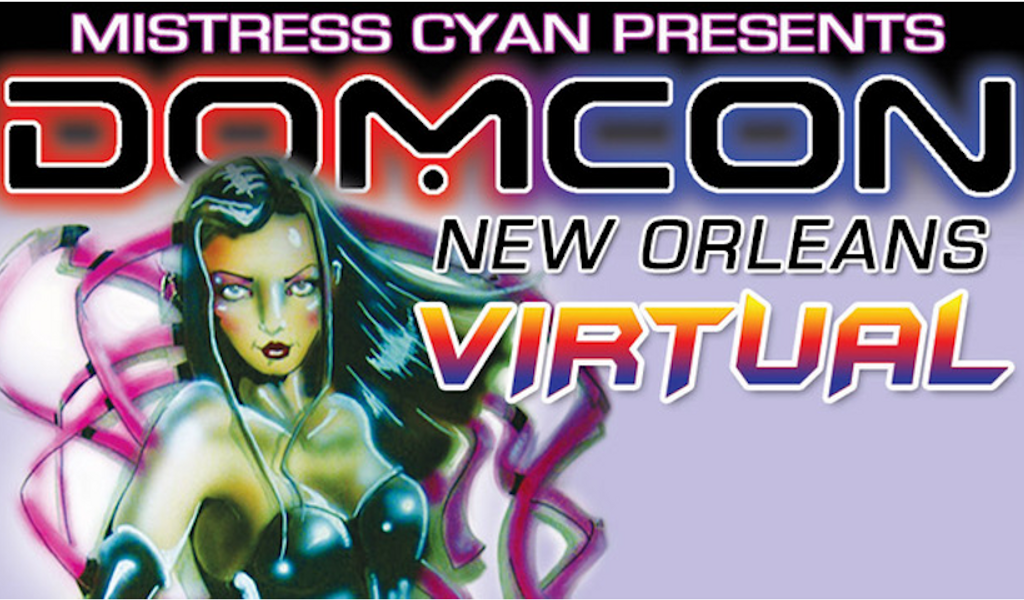 LOS ANGELES—"If any sex worker could make Zoom work for them, it would be a domme," was the unofficial theme of this year's DomCon NOLA, a virtual celebration that still packed a wallop.
Founded 17 years ago, DomCon, like AVN's Adult Entertainment Expo, serves multiple purposes: allowing people interested in the craft, art, and lifestyle of Dominant/submissive roleplay to learn from the pros, to sell the tools of the trade, and to give the fetish/BDSM community a place to network, regroup, and compare notes. This year's NOLA event, featuring attendees from across the United States, Europe, and Australia, coincided with when the in-person New Orleans DomCon would have happened in a non-pandemic year.
"The board and I talked about it," says Mistress Cyan, who also founded the flagship DomCon Los Angeles, "and we knew we couldn't not do it; we're a community that needs its community."
Presented for that community was a series of seminars as well as the virtual dance parties and chatrooms that have become the norm this year for adult conventions forced to move online.
The well-attended "Traveling Sex Work," hosted by Lady Linni & Madame Rose, offered comprehensive advice —and the occasional grim reality—to BDSM practitioners on the road.
"You need to research the city you're traveling to until you're exhausted," says Lady Linni. "Know the laws, and contact people in the city. In places like Arizona, offering masochistic services is treated like prostitution."
Linni and Rose detailed vetting clients, methods of keeping themselves and their money safe, and numerous practical tips to minimize risks both physical and financial.
"And don't expect to get a good hotel room in Indianapolis when there's a Colts game," Linni says.
"Trust your instincts about people," says Rose. "And don't be afraid to walk away."
Adds Cyan, "If it doesn't feel right, it probably isn't."
Considering the porn industry so often trades on younger women, Linni remarked that the BDSM world rewards age and experience. Indeed, many of the presenters appeared to be over 50.
"A really young 'domme' would stand out, and not in a good way," says Linni, referencing what might attract the attention of local police. "It's hard to be discreet at that age. Give it some time! Wait!"
In her "developing Your Submissive Side" lecture, L.A.-based Queen Ana Algos argued that submissives shouldn't "lay there like a starfish" but instead actively engage in negotiations in their sessions, insisting on open communication as well as consent that could be revoked if the sub didn't feel right about it.
"Just because you're a submissive doesn't give anyone the right to do anything they want to your body," says Algos. "But it's also important to be realistic. One of the biggest turnoffs (to a domme) is people who say, 'Oh I don't have any limits.' Yeah, you do.
"Just like in the real world, you have to be a person that other people can trust," she adds.
In "Verbal Domination Skills," Madame Rose presented her own list and solicited suggestions from the eager dominatrices in the audience, none of which would be alien to an attendee of a weekend motivational seminar (albeit with more instances of the word "bitch").
"Speak clearly. Make eye contact. Lean closer. Have zero affect. Lean. Feign disinterest," Rose says, noting that the role of a domme is also to build people up afterwards, offering validation according to the submissive's preferences.
DomCon's closing day featured a TED talk-level presentation by the Australian domme and scholar Anne O Nomis, whose ""From Ancient Goddess Rituals to Female Flagellants & The Bizarre Underground: The History of the Dominatrix" drew on research that took "Nomis" to little-visited museum collections and forbidden tomes in search of the sacred and ritualized ancient origins of what would only much later be called the dominatrix.
Her 2012 book The History & Arts of the Dominatrix collects art and documentation from Egypt, Sparta, and Pompeii before it gets to the 1960s, when the term "dominatrix" became de rigeur. Before that, words like "governess, whipstress, flagellant, bizarre lady," or "strict madam" were common.
If staging panels and webinars through a series of small windows ever seemed overwhelming to the planners and staff, the occasional technical glitch quickly submitted to a series of incandescent personalities. Danny, the craftsman/owner of gear supplier Leather by Danny, says, "Virtual is easy—you can't get slapped!"