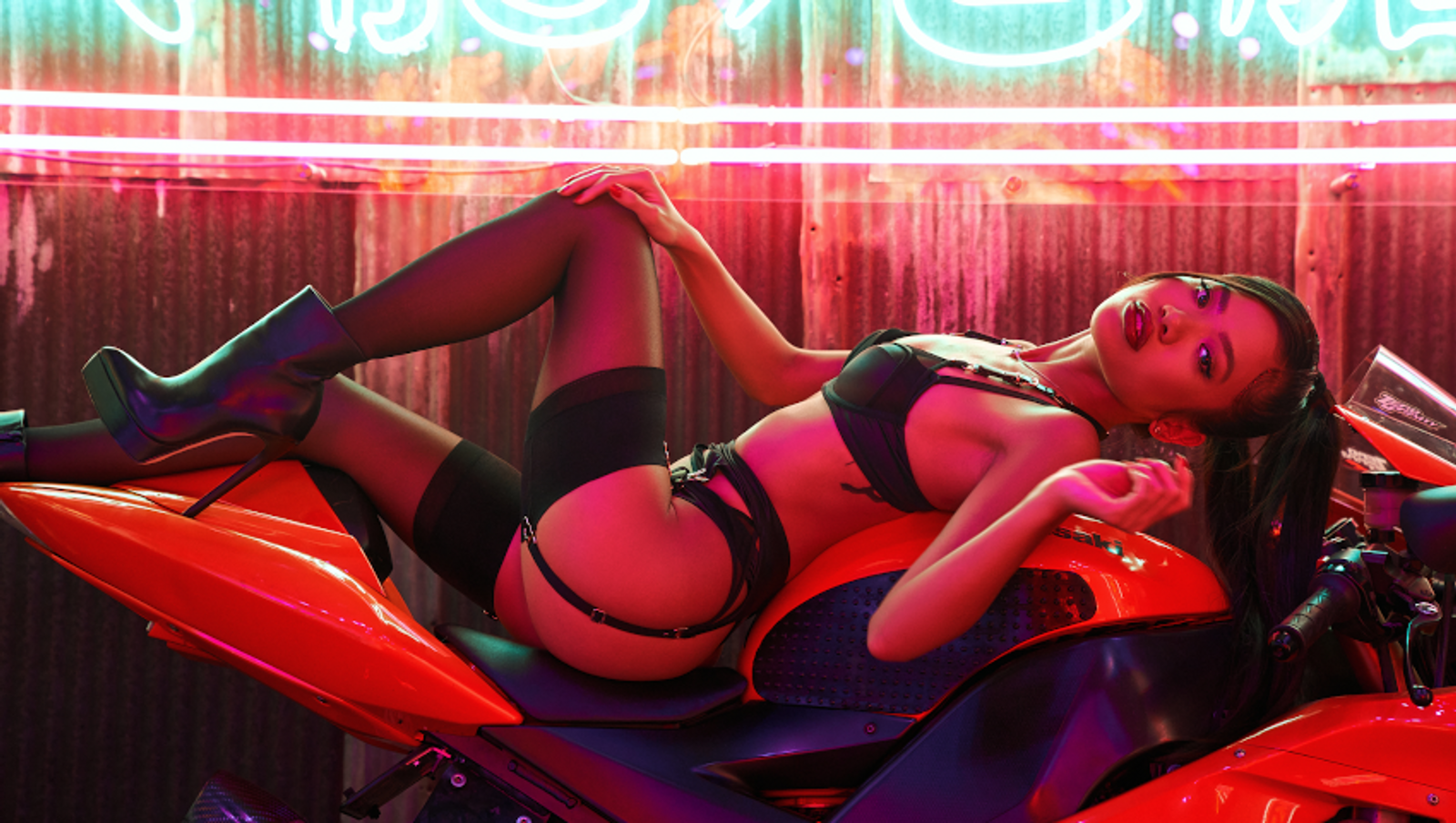 This is the cover story of the November issue of AVN magazine. Click here for the digital edition.
LOS ANGELES—Vina Sky goes into her sex scenes with one goal in mind.
Dominate.
"I love that I have a reputation that I didn't even realize I was building for myself," Sky says. "I'm here to just kill it and do my job.
"I love when I can go to the set and just kill the day."
It's why the Vietnamese performer has become one of the fastest rising stars in adult entertainment in the past three years. She may be slight in physical stature, but she delivers towering performances when the cameras roll.
The 5-foot, 95-pound sexual athlete in October lined up opposite two of the top male performers in the world—Dredd and Manuel Ferrara—and gave as good as she got.
"She's amazing," says Ferrara, the French deal-closer who is the only six-time winner of the AVN Male Performer of the Year award. "She's like the full package. She's what you look for in a performer.
"She's beautiful and she loves sex. It's like the perfect girl in the industry."
Ferrara performed an anal scene with Vina under the direction of Jules Jordan.
"I'm a big boy and I have a big dick and when you see such a small body like hers, I didn't know how good she was with anal," Ferrara recalls. "But it comes down to one thing—do you enjoy anal and do you do it for the right reason? Obviously she does, and it shows. And that makes everything so simple.
"Girls like Vina make things not a job for me. You forget about the camera and just have great sex."
Sky tells AVN that Ferrara did not realize their scene included butt sex when he arrived on the set.
"And all he did was give me a fist bump," Vina says. "I think people know that I'm a strong performer because they don't really doubt like, 'Can she do it? Can she take it?'
"After the scene Manuel said 'I can't believe I've never worked with you.' Obviously, he's an amazing performer and when I met him it just validated all that."
When Sky collided with Dredd for their fan sites in early October, the result was the same. She handled the veteran stud's XXL package with ease.
"She was great," Dredd tells AVN. "We have two other things lined up and both of them are in early December—one thing for Jules and then we're gonna do something else. That's how well things went.
"I knew she was great, but I hadn't shot with her yet so I couldn't really vouch but she is a helluva performer. I gotta give her all the credit. She just really came and killed it that day. … She's all that."
The New York native Dredd, who has shot porn full time for about seven years—in two stints—says Vina made sure it was a no-doubter from beginning to end.
"There was no moment where it was like, 'Hold on, this may not work,'" Dredd continues. "She just really went in hard. That's why I was so quick to say, 'We gotta run this back.'"
Stay tuned for the rematch.
"A lot of my fans were dying to see this matchup with me and my size and her and her size and she couldn't have handled it any better," Dredd adds. "We made the most of it. But everybody knows Jules is gonna take it to another level."
The Hall of Fame shooter Jules Jordan has captured Sky in action no less than 10 times since 2019, featuring her in two volumes of Slut Puppies (13 & 15), Invasian 5 and in the 15th installment of his iconic series, Flesh Hunter, that was released earlier this year.
In several of those scenes, Jordan personally did the honors with the Asian sensation, sometimes along with frequent tag-team partner Steve Holmes.
"In the past few years there has been a bit of a drought with Asian talent, but Vina has been a shining star in the industry," Jordan tells AVN. "She has a tiny but curvy body with great contours. She can switch between nasty and classy very easily…
"It's common for her to be on a Playboy set one day and an Evil Angel/Jules Jordan set the next… She loves what she does and it really shows. I try to shoot her as much as possible when she is available."
He's not alone.
Any time Sky's name appears on the call sheet everyone knows it's going to be a good day.
Just ask seasoned director/glamour photographer Holly Randall, who calls Sky "definitely one of my favorite girls to work with."
"Not only is she beautiful and an incredible mover (I don't have to give her much direction at all), she's a true chameleon who can embrace any role you give her," Randall tells AVN. "She's also very professional and completely focused on whatever project she's working on.
"I've shot her in some pretty uncomfortable scenarios and she never complained once. Her devotion to her craft and her fun personality make her an absolute pleasure to shoot."
Dean Capture agrees. The popular erotic photographer remembers first working with Sky when he shot her February 2020 "Cherry of the Month" feature content for CherryPimps.
"She was so beautiful and creative," Capture tells AVN. "We brainstormed about her shoot and since it would be showcased in February, she wanted to shoot a Valentine's feature, which turned out beautifully.
"Since then I've shot her numerous times for her fan site and for promotion of her signature Fleshlight. 
"Vina is one of the hardest working performers that I've ever worked with. She's constantly on the move creating beautiful scenes for either her fan site or for some of the biggest studios in the industry. I will forever jump at the chance to get her in front of my camera—she's amazing."
Represented by East Coast Talent since the beginning of her career, the 22-year-old native of Houston has amassed almost 350 credits since 2018.
"It is a pleasure to represent Vina, she works hard and gives every scene her all," says East Coast Talent owner John O'Byrne. "I am very proud of her and stoked that others are seeing her commitment to the industry and her rabid fan base. I look forward to her continued success and helping her along the way."
***
Sky hustled at multiple part-time jobs before adult. She worked as a waitress at Sonic, held down drive-thru shifts at McDonald's and then got behind the desk as a receptionist at an engineering company.
But the one job where she never found herself clock-watching was at Cindie's, an adult retail chain in Houston.
"I would work overtime there," Vina says. "It would be 6:40 and I'd still be there doing something. That kind of triggered everything for me."
While she worked at Cindie's, she also briefly dabbled with webcamming on Streamate and even gave some of her customers the link to check out her live streams when she wasn't at the store.
"I didn't grow up like sticking toothbrushes in my pussy. I was never that kind of girl," Sky continues. "I was mellow and shy, but somehow at the sex shop I just knew what everything was for. I knew exactly what everything was, what this toy was used for or what the reason was for this toy…
"And I started realizing that for some reason I must be into this stuff. A lot of guys would come in and joke with me, 'Are you in any of these DVDs?' And I would smile and laugh and it was flattering."
Three-and-a-half years later, Vina stars in more than 300 DVDs and has established herself as one of porn's A-listers with a fanbase that includes 343,000-plus followers on Twitter alone and what would be about half a million on Instagram if she hadn't already been deleted eight times.
"I almost feel in a sense this was meant for me," says Sky, the first-generation Vietnamese American who already has her own Fleshlight.
Unveiled this past June, the arrival of her signature toy marked a surreal moment for the performer who used to stock the shelves at Cindie's with them. Sky received interest in molding her privates from another novelty company early in her career, but she opted to hold out. 
"I never was in contact in with Fleshlight, but I decided to wait and almost just manifested it. I just thought about it and the energy was there," she says.
"I didn't see why I didn't deserve to be a Fleshlight Girl and now I am one—and I think aside from Asa Akira and Tera Patrick I'm the only other Asian girl with one.
"… It's an honor for me. Plus I was able to shoot for Playboy, which was always a goal of mine. The Playboy set is one of my favorite sets I've ever done—Holly Randall shot that. … So I'm just checking off my bucket list for the industry."
Perhaps what makes Sky's rapid rise even more impressive is the way she manages her earnings. For starters, she just bought her first house in L.A.
"It really does feel unreal," Vina admits. "I'm always shooting consistently and saving my money. I'm very much of a businesswoman at a very young age.
"A lot of people that meet me are very shocked that I'm this young and have my shit together.
"Honestly, I love what I do and you have to treat it like a business if you want to do well—I caught onto that really quick. I'm very blessed. I'm always very thankful for my opportunities."
***
It's safe to say Sky got the hang of things quick after beginning her career in July 2018 in Miami, where she made the rounds for a month-and-a-half before coming to L.A.'s Porn Valley.
She was booked every day she wanted to be for months before Covid hit, leaving an impression on her colleagues everywhere she went.
"After all my scenes the director would say, 'You're amazing' and all this stuff," Vina says. "And I started realizing that this is coming really easy for me, I'm getting a lot of work and I'm saving all this money. I'm young and I'm good at what I do.
"I'm so passionate about it. I really genuinely think I was given this opportunity for a reason. It's always going to be a big part of my life, whether it's for the next 10 years or 15 years or a few more years."
When the pandemic took hold last year, Sky was grateful to be in a position to ease some of the burden it caused her family.
"There were some financial aspects that were hard for them and I had to step in," says Sky, who was able to put her older sister through nursing school and help her parents. "That's one of the things I was able to do through this industry."
Indeed, Sky enjoys nothing more than "taking care of business" on and off the set.
"That's what I love doing," she continues. "I thrive off the fact that I have this opportunity and I never want to fuck it up. I also want to prove people wrong. There is this mentality that young porn girls don't have their stuff together or are lost in the world or not businesslike.
"I don't want that reputation. I'm not saying you can't have fun, but you need to balance it."
***
An honor student in high school who excelled in AP college-level classes before graduation, Sky was "almost like an overachiever."
"I was always pretty good in school," Vina says. "My whole life I thought I was going to be a doctor or lawyer."
She didn't play sports or do any extra-curricular activities outside of joining the "Sideline Sweethearts Club," where she baked cupcakes and cake pops for the football, basketball and baseball teams on game days.
"The guys loved it," Vina recalls. "That's what got me into baking a lot."
Now when Vina isn't making content, she unwinds with baking, cooking, reading, working out and art directing her own sets at home.
"I love being creative and building sets," Sky says. "I have a pretty big house—Vina's Villa—so that's giving me a chance to be creative and decorate with certain backdrops."
Sky loves Italian food and has "a huge sweet tooth."
"When in doubt you can never go wrong with pasta," Vina says with a laugh. "I would like to make my own red sauce one time—that's a goal."
The distinctive tattoo on her left shoulder blade is a Japanese cherry blossom.
"I've been recognized in person for it and I think a lot of my fans know it's my signature piece," Vina reveals. "I always look over my left shoulder to open it up for the camera!
"It doesn't really have any special specific meaning aside from just loving flowers and Japanese art. I hope to go to Japan one day where I can actually see the Japanese cherry blossoms bloom once a year!"
Photography by @evan.richardson.photography (photos 1-6 & cover) and @julesjordanx (7-10)