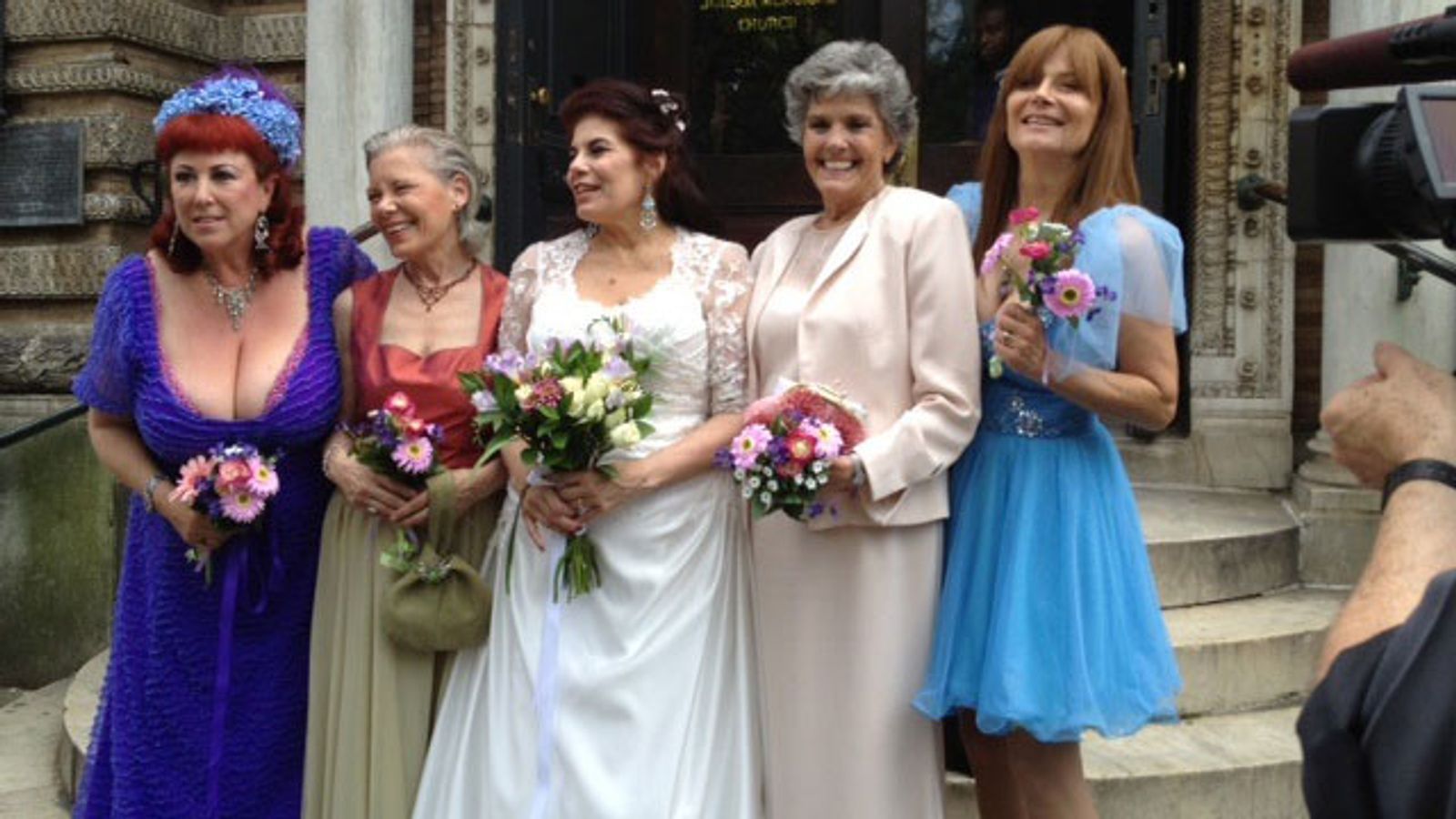 LOS ANGELES—By all accounts, Gloria Leonard was a prime example of the best the adult entertainment industry had to offer. A survivor of what actress/director Veronica Hart described as a "really rough childhood," Leonard became, by turns, a Wall Street executive; a single mother; an adult film actress; an adult film director; publisher of High Society magazine; creator of the multi-million-dollar phone-sex industry—and one of its defenders before the U.S. Supreme Court; a board member of and, later, president of both the Adult Video Association of America (AVAA) and its successor, the Free Speech Coalition (FSC); and an outspoken defender of Americans' free speech rights in college lecture halls and public debates, even after her "retirement" from the adult industry in the early 2000s.
And through almost all of it, Leonard helped found, and was a lifetime member of the industry's earliest adult actress support group, dubbed "Club 90," after Leonard's home at 90 Lexington Avenue in New York City, which served as the club's first meeting space. Other members of the group, which has continued in existence since 1984, include former actresses Veronica Vera, Veronica Hart, Annie Sprinkle and Candida Royalle, with Kelly Nichols and Susan Nero having joined for a time during the club's early years, but who later withdrew.
But let's not get ahead of ourselves.
"Gloria told me she didn't speak until she was about four years old, and then she didn't stop," said Veronica Hart. "She said, 'I didn't have anything to say.' She had her own talk show on NYC cable, and she was just an exceptional woman. I believe she was the grand dame of our business. She always represented a certain sophistication and elegance and good taste, very well-spoken, and outspoken. She really told it like it was. She suffered no fools gladly; she had no patience for baloney, and she wasn't easy on the men."
"Gloria always said she was the baby of the family; she was a late-in-life baby in the family, so I think she made her friends more her family," opined Vera. "Except for one sister—and she didn't really have a close relationship with that sister, so it was really all of her friends that made up her family; very huge."
Leonard grew up in The Bronx, and Vera recalled that she was interviewed about that time for a New York magazine article titled, "The Parkway All-Stars," after Mosholu Parkway, one of the main thoroughfares running through The Bronx.
"The article revealed that she was one of the group of overachievers who grew up together within a 15 block radius in an area of The Bronx known as Mosholu Parkway," said Vera, who then quoted from the article, "They also included entertainer Robert Klein, actress Penny Marshall and her brother, TV producer Gary Marshall, Herb Mannes, fashion designers Calvin Klein and Ralph Lauren and more... Recently Gloria tells me Robert Klein was the MC at an awards ceremony for Video Review, and Gloria was one of the presenters. 'When he introduced me,' she said, 'he told the audience, "For 15 years, I walked to school with this woman and I saw more of her in three minutes of Misty Beethoven than I saw in all of those 15 years."' She was always very proud of that article. She would say, 'Yeah, I knew Ralph Lauren when he was Ralph Lipschitz.'"
Following her teen years, Leonard stepped right up into the big leagues.
"One of the main jobs Gloria had in the 1960s was for a Wall Street brokerage firm, a venerable old Jewish firm of bond traders called Schweickart & Company," said adult historian Ashley West, based on an interview Leonard gave to his website The Rialto Report in the summer of 2013. "She was a registered representative for that company on Wall Street, which was very much a man's environment in those days. She then left for a career in public relations. She started out by working for Elektra Records, which became one of the big record companies of the '70s. They started out with a lot of Jewish-themed records, then became big in folk music, and Gloria got hired to write copy and even some of the liner notes for some of the early Jewish records, when the company had just a one-room office in the West Village here in New York.
"She also did a lot of PR," he continued. "She was a loudmouth, but she was very good at doing PR. She actually worked for a PR company that did the PR for Johnny Carson, and she got to know him a little bit. She said he sent her Christmas presents for two or three years, which suggests that they were more than just passing acquaintances. Then the '70s came along, and she went to the Caribbean, I believe, and joined a film production company there that specialized in commercials, and she was a production assistant on these filming sets, which got her interested in film. She became a bit of a line producer, production assistant, Jack of all trades.
"Her daughter was already born by this stage," he added, "and Gloria was a single mother; she'd left her husband [whom others identified only as "Chickie"]. She eventually came back to New York to seek more regular employment, and as a single mother, was anxious to get some good work, and was recommended to—I believe her first acting job came through the agent Dorothy Palmer, who was a major agent for porn performers. She used to tell actors that she had a great part of them, but wouldn't tell them it was an adult part, and they would go to the set, and by the time they found out, it was too late, and history was made, and that's really what happened to Gloria."
One of Leonard's first movies was Radley Metzger's The Opening of Misty Beethoven, which she enjoyed making—"A fantastic experience," she called it—and which reportedly cemented her decision to make a career of acting in adult movies. Of the two movies she made in 1975, that was likely the first, because she reportedly had a horrible time on the set of Farmer's Daughters, directed for VCA by actor Zebedy Colt, who also appeared in Misty Beethoven. According to the Internet Adult Film Database, Leonard had five sex scenes in that movie, including one with famed monologist, the late Spalding Gray.
Leonard was one of the industry's first MILFs, having made her first movie at age 35. Other memorable Leonard titles include Fiona On Fire, All About Gloria Leonard, Legend of Lady Blue, October Silk and Three Daughters, which contains one of her last hardcore performances.
"She was very proud of the fact that, in '86, she won the Best Actress award for the 1985 film, Taboo American Style," West recalled. "She said that meant a lot to her because by now, she was ten years into the industry, she was in her mid-40s, and here she was going along and actually winning Best Actress at that age, and also after a lifetime of not having perhaps the most glamorous roles."
In all, Leonard only made about 60 adult movies, and in many of the later ones, she either did girl/girl scenes or had non-sex roles, perhaps because they otherwise might have interfered with her "day job" as publisher of High Society magazine, which she began in 1977 and which lasted for about 14 years.
"When the magazine started up in 1976, they had this other porn actress named Sue Richards, and Sue had become very unreliable with drinking and drugs and just not showing up," West explained. "So Carl Ruderman, who was the owner of High Society, gave Gloria the job, expecting her to be somebody who was just a figurehead, but Gloria really would visit wholesalers herself, had relationships with all the distributors, would hire and fire staff, would supervise layouts, would recommend and decide upon the content, so really became a hands-on editor, at least in the first five or six years of her stint at High Society.
"That proved to be a real symbiotic relationship with her film work," he continued, "because she could advertise the films that she did in the pages of the magazine, and advertise the work of all her colleagues in the industry there. All the girls at the time passed through those pages and were interviewed, and sometimes she got them writing work as well, and that became one of the biggest magazines in New York at the time."
"I think she was the first female publisher of a men's magazine—and by the way, she kept us all working," recalled Sharon Mitchell (another contemporary of Leonard's) who recalled working on the now-lost film Les Nouveaux Teens. "Now, this was not an easy task, because we all back then had very specific, definitive looks, but Gloria would come up with these crazy themes for photo spreads. Like we'd be in drag as men, as the Beatles one time, or we'd be painted gold, or as 'Star Whores' or whatever was at the top of the news; she would keep us working every month, but we'd be in disguise, not as ourselves, and it was just so much fun."
Leonard also directed several films during her days at High Society and for a time thereafter, including a short for Candida Royalle's Femme Productions, which was later incorporated into the vignette production, Sensual Escape.
"For Gloria's movie, my partner was Richard Pacheco," remembered Nina Hartley. "It was 1988, when HIV was breaking out of the 'gay ghetto' and into the general population. Richard was pretty much retired and this part made him very nervous. Since we didn't know how HIV was transmitted, Richard was uncomfortable even kissing, which threw Gloria for a loop, as she wanted a lot of sensual kissing between us. Being a pro, she went forward and did a work around."
Pacheco, who's become known by his real name Howie Gordon as he promotes his autobiography, Hindsight, recalls the shoot more fondly.
"It was a year after the crossover headlines of AIDS into the heterosexual community, when 'safe sex' became part of the lexicon," Gordon told AVN. "So it was 1988; I was invited to New York for the first time in my whole career. I had always been contacted by New York [directors], but when I told them my rate, turned out I wasn't as good as they told me I was when we started the phone call. But Candida wanted me to be in her movie, and I was really, really pleased to be invited by that crowd of Club 90 women, who I viewed as the best of the women in the business; the ones that could be a lever for humanizing the men's room of adult film. So I was honored to be there.
"I'd stayed at her house during the filming, and Gloria wrote in my diary at the end of the movie," he added. "She wrote, 'Dearest, dearest Howard—I resent the vast distances geographically separating us. Though we've only recently become friends, I sense we've really known each other a very long time. You are a rare and lovely human being, and I only wish for you the things that I wish for me and mine, and I like to think that now you're my friend. I'm proud to be with you. You are a prestigious peer. Blessings on your life, your wife and your kiddies. Stay in touch, Glo.'"
Leonard's next directorial efforts took place three years later, for Vivid Video, with scripts written by the multi-award-winning Raven Touchstone, also an accomplished photographer and art director.
"Gloria and I first got to know each other back in '91 and '92 when she directed some films for Vivid: Vow of Passion, Two Hearts, Slow Dancing," Touchstone said. "I wrote the series for her and worked on set to support her and help in any way possible. [Ron] Sullivan [aka Henri Pachard] was also on hand for support. Gloria alternated between confidence and terror, one minute organized, the next scattered. We had fun and laughs, but the best of it was after we wrapped. Then she and I would sit in her car and talk long into the night. We had much in common and I simply loved her—for her courage, her intelligence, her sense of humor, her humanity. She was a broad, a dame, a lady. A friend. During that time we began calling each other 'Toots.' She was 'Toots 1,' I was 'Toots 2.' Why? Because we had both had a relationship with Ron Sullivan and he called all his darlings 'Toots.' Since Gloria had him first, she was 'Toots 1.' I was 'Toots 2.' Actually, I was probably 'Toots 1,625.'"
Leonard had apparently been Sullivan's paramour for several years, even as her marriage to director Bobby Hollander was coming to an end. Sharon Mitchell recalled a telling incident from the late '80s, after she and Leonard had moved to the West Coast.
"We became very good friends throughout that time, and also out here in San Francisco, particularly when she was with Henri Pachard," Mitchell said. "I remember us getting pulled over by the cops and franticly stuffing a whole bunch of cocaine in our pussies—and talking our way out of the ticket, of course. I think Ron had not put toll money in the basket on the Golden Gate Bridge on the way to the airport to pick someone up, and I mean, these were just various things that we'd go through, and Gloria was always there for me; she was a tremendous support, regardless of what I was going through, and just a life-long friend."
In the meantime, Leonard was involved in two highly-publicized events stemming from her tenure at High Society.
"I forget who the first person was, but Gloria published some very low-res nude pictures of a celebrity," Ashley West recalled. "I can't remember if it was Suzanne Somers or somebody before that, but she realized when that was splashed across the front cover [of High Society], sales rocketed. Somers either threatened to take them to court, or did, or it was settled outside of court or something like that, but it didn't dissuade them from realizing that this content of 'celebrity skin' was a hugely profitable one, and they put more and more people in there, and soon was born Celebrity Skin. I suppose the celebrity sex tapes we have nowadays are the bastard stepchild of that."
Celebrity Skin, whose first issue was in the fall of 1986, was published for more than 25 years—and it was only one of Leonard's huge moneymaking ideas; the other was phone sex.
"In the early '80s, these 900 numbers became available for people to buy, and nobody knew quite what to do with them," West recounted. "Gloria at first recorded her own voice on these numbers so she could sell the next issue of the magazine; you could phone up and hear what would be in the next magazine and so forth. But the premium nature of them made them so popular that she soon recorded other people like Annie Sprinkle talking sexy, and they became just a license to print money. And she was sort of a pioneer, because people hadn't realized the power of harnessing the numbers for those purposes at that stage, so she got in behind that. She persuaded Ruderman to buy up a number of these, and it was pretty rudimentary in those days; people just dialing into different answering machine-type of equipment, but the premium nature of them meant that she had a lot of money."
The 900-number "phone sex" lines made money in two ways: They carried a small connection fee which went directly to the phone company, plus the number's owner could charge whatever amount it liked per connected minute, and most of those weren't cheap. But the service was very popular—and quickly came to the attention of Congress, which in July of 1988 passed the Telephone Decency Act, which made it a crime to use a "telephone ... directly or by recording device" to make "any obscene or indecent communication for commercial purposes to any person," punishable by a $50,000 fine or six months in prison."
Since the Federal Communications Commission was charged with policing the 900 numbers for obscenity/indecency, Sable Communications of California, the company formed by Ruderman to offer the phone-sex recordings, sued the FCC in federal court, seeking to overturn the Telephone Decency Act. On July 19, 1988, U.S. District Judge A. Wallace Tashima ruled that the prohibition against "indecent speech" on 900-number recordings was unconstitutional, though its ban on "obscene speech" could stand. (Interestingly, the FCC was represented in part by then-Assistant Attorney General John R. Bolton, an ultra-conservative Reagan appointee who would go on to become U.S. ambassador to the U.N. for 18 months via a recess appointment by President George W. Bush.)
The case went all the way to the U.S. Supreme Court, which on June 23, 1989, ruled that obscene speech, even in commercial telephone calls, was not protected, though indecent speech was, and moreover that the Telephone Decency Act did not establish a national standard for obscenity, leaving Sable to worry whether one of its sexy phone messages could be found obscene in one community and blameless in another.
"There is no constitutional barrier under Miller to prohibiting communications that are obscene in some communities under local standards even though they are not obscene in others," wrote Justice Byron White for the high court's majority. "Sable, which has the burden of complying with the prohibition, is free to tailor its messages, on a selective basis, to the communities it chooses to serve."
With phone sex now legal, if somewhat tamed by the threat of obscenity prosecutions, Leonard turned her attentions to other aspects of the adult industry. She had long been active on the speakers' circuit, speaking at colleges and universities and before any civic groups that would listen to her. She referred to herself as "the stand-up constitutionalist," and also engaged in several debates, some with members of the New York-based group Women Against Pornography, and got to know several anti-porn feminists quite well.
"Back then, it's no secret that we all thought we were feminists, because we thought that we were taking control of our sexuality and our individuality and our finances and we were independent," recalled Sharon Mitchell. "And we were all extremely shocked to find out that the feminist community didn't embrace us, and they had this whole thing called Women Against Pornography, and they used to go on talk shows, and it was a big issue and we were just shocked to find that out. And that just kind of put Gloria into action even more."
"She was very, very smart," assessed Annie Sprinkle. "She was also one of the first on the college circuit. She used to debate the Women Against Porn and win, right when Women Against Porn were really hot and happening. She would go to the colleges, and there was about three years when she was very actively debating Women Against Porn."
"She was the original freedom fighter," Hart added. "She was all about freedom of speech, and she's been a long-time pro-speech debater on our side against the far right. She would go to so many colleges and do so many of these debates that often, her and the lady she was debating against, the anti-porn person, they became great friends. They sat together, would go out to lunch with each other, and then they would come to the debate and be on opposite sides. It was pretty funny; she used to tell us stories about that."
Leonard is also remembered as the mistress of the bon mot—what are called nowadays a "sound bite"—most notably her oft-quoted line, "The difference between pornography and erotica is the lighting." It was also said of her, in a phrase she often repeated, "She's as famous for what comes out of her mouth as what went into it."
Several of her friends provided other Leonard quotes they found memorable and/or inspiring, including, "I guess I'm just a classic dame. I'm the kind that likes to keep my man's brand of liquor in ready supply. I like to give to the people I care about."; "Sex is the great equalizer. Everyone has some attitude about sex, even if that attitude is celibacy. Since I understand that, I think it helps me to relate to people more easily."; and "Everything in moderation—including moderation."
Leonard also appeared in Melissa Monet's documentary Porn—It's A Living, where she delivered the work's opening line: "Not too many people are going to be proud saying, 'Look at my daughter, look how good she sucks cock.'"
Leonard was elected president of the Adult Film & Video Association of America in 1986, and served as its administrative director from 1989 to 1992, when that organization became, first, the Free Speech Legal Defense Fund, and shortly after, the Free Speech Coalition. Leonard served on FSC's board for several years, and served as its president from 1998 to 2001.
"Gloria Leonard was the face of the Free Speech Coalition when she served as the President for several critical years," said current Free Speech Board Chair Jeffrey J. Douglas. "She was a lifelong activist for the adult industry and what it represents: freedom of thought and expression, positive sexual ideas and freedom from government intrusion into our minds and bedrooms. Being President of FSC gave her a forum for her passionate advocacy. She gave so much of herself to the organization, only one of several in which she participated. Typically the organization's President has been a "captain of industry"; instead, Gloria was industry royalty. Her loss is a tragedy for all of us who knew and loved her, and an irreplaceable figure in the history of sexual expression."
It was shortly after her FSC service that she retired from the industry altogether to live in Hawaii and help her daughter Robin run an art gallery. Although she and the other Club 90 members continued to keep in touch via letters, email and phone calls, the last time they were all together physically was at Veronica Vera's wedding in 2012. Though Leonard had been married at least three times—"Bobby Hollander was, I think, always her big love," opined Sprinkle, with Vera agreeing, saying, "It was beautiful to see them. They were just really, really happy together. She cared for Bobby when he was dying, even though they were divorced, but they still maintained a very close relationship; a volatile relationship, but she was there for him."—Leonard still managed to catch Vera's wedding bouquet.
Sadly, in recent years, Leonard became nearly penniless, surviving mainly on Social Security, and was only able to attend Vera's wedding due to the generosity of Arthur and Steve Morowitz of Distribpix, who flew her to New York for the wedding, for a roundtable discussion with other Club 90 members at NYC's Museum of Sex, and to record commentary tracks for some of her classic movies.
She will be missed.
Pictured, l-r: The Club 90 attendees at Veronica Vera's wedding: Annie Sprinkle, Candida Royalle, Veronica Vera, Gloria Leonard, Veronica Hart. Photo by Edward Mapplethorpe, used with permission.