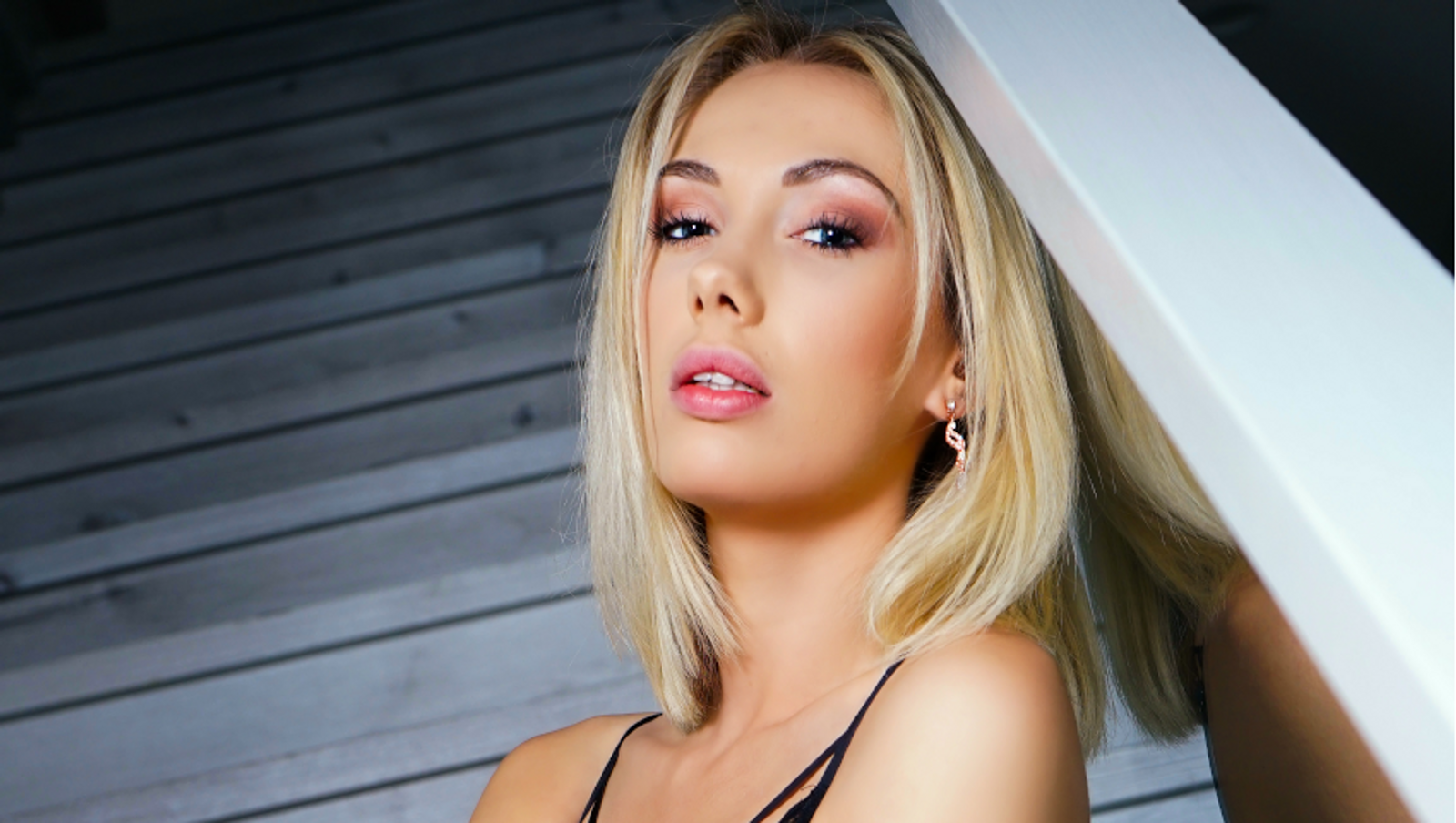 LOS ANGELES—In the midst of working on her brand while home in Canada this past year, Sky Pierce found something else that drives her.
Inspiring others.
"In Canada there's a lot of talent who don't really know about how to make the step into this industry, they don't really know what to do or they have a lot of questions," Pierce explains. "I want to help and motivate other people who have questions, do lots of [content] trades and help them get their foot in the door."
The native of Kelowna, British Columbia, remembers how she could've benefited from a few more pointers before she took the leap into adult in early 2019.
"Maybe I wish I had somebody that I could've asked more questions at the beginning but I did it all myself," she says.
So far, so good.
Pierce is among the 15 nominees for the 2021 AVN Award for Best New Starlet—the industry's most coveted prize for a new female performer. The winners in 120-plus awards categories will be announced this Saturday night at the 38th annual AVN Awards Show in a live-streamed broadcast on AVNStars.com beginning at 8.
"I'm super excited," Pierce tells AVN. "I was so shocked when I saw my name come up on the screen," Pierce says, referring to the AVN Awards Nominations Party on Nov. 18 when the finalists were unveiled.
Pierce has racked up more than 75 credits since her debut, shining in a variety of sex scenes for popular studios such as Deeper, Evil Angel, Mofos, Nubiles, Vixen and AMKingdom, among dozens of others.
When she got her opportunity to work for two-time AVN Director of the Year Kayden Kross for the AVN Award-winning Deeper.com, Pierce made the most of it, throwing down a sizzling scene with two-time AVN Best Actor winner Seth Gamble.
The scenario entailed Pierce playing a dancer at a ballet company, where Gamble was the alpha.
"I really like working for Deeper," Pierce says. "That was one of my better performances. … I liked all the acting and I really liked working with Seth. He could kind of read my body and we had good energy together.
"Kayden actually directed that scene, so it was super fun meeting her. I've always wanted to meet her. Brooklyn Gray and Markus Dupree actually had an anal scene, too, that day. So it was a long day of shooting but I got to meet a lot of people who wanted to meet. The acting and the script was what made that scene super cool."
In fact, Pierce reveals that Kross actually asked her who she wanted as her scene partner.
"I've always wanted to work with him and honestly he's one of my favorite guys that I've worked with so far. He just knew my body really well. He had me squirting a lot."
In what was a most unusual year for the adult industry, Pierce decided to keep herself occupied with shooting her own content. She had relocated to L.A. as her porn career took off but decided to stay closer to family in Canada as the pandemic affected everyone in 2020.
"I've just been laying pretty low," Pierce says. "I've been shooting some stuff for my website [SkyPierceOfficial.com], and then I shot with some companies out here.
"I actually shot for a company IntheCrack in my hometown, which was super cool. One of the scenes was just released. … They traveled to me here and we shot a bunch of different solo scenes over a couple of days. We did some nice outdoor stuff. I hiked to the top of a mountain and shot some beautiful things."
A natural exhibitionist who did lingerie and nude modeling in Canada—not to mention her fair share of being naked in nature—it didn't take long for Pierce to find an enthusiastic audience on OnlyFans and her premium Snapchat before she ever decided to take her talents to Porn Valley.
"I love doing stuff outdoors, being nude in public and going on adventures. I like hiking and traveling and shooting content. That's something I love doing that is kind of mixing all my hobbies into one."
The resourceful starlet recalls how through her own research she found Chris Cane's Foxxx Modeling, answering an ad on SexyJobs.com.
"I met up with him before I did my first scene. I came out [to L.A.] right after the AVNs in 2019," Pierce says. "Then within the next couple days I did LANewGirl."
She followed that first scene with almost 50 more in her first year—and the fans took notice. At press time Piece had more than 61.1K followers on her official Twitter @skypierce_. Recently, she created a new Instagram page at @skyflypierce after being deleted at 46K. But to Pierce's credit, it's her fast-growing official website that without question is one of her signature accomplishments in adult entertainment so far. The vibrant SkyPierceOfficial features all her latest photoshoots, naughty videos and social media info.
"I wanted it to be bright and colorful and have all my links because as we know social media is always shutting down accounts," Pierce says. "You can always find all my accounts here. We made it so it could also link to my Instagram and in the last year I made it so I could start selling all my videos off of it as well. So people can buy a video without subscribing. I've had my website since I started in porn but I've added just added selling videos in the last year."
She says she teamed up with "someone who is really talented" to build the site.
"Now I'm capable of running most of it myself," she adds. "I edit all my own videos as well. It's crazy. It's a lot of work."
Pierce held down shifts at Perkins, where she was her restaurant's youngest-ever server at 16—for two years before finding her way into adult. She also worked part-time at a vape shop.
"And I liked that more. It was more fun than serving. I liked interacting with different people and I found there was a bit less pressure."
As she looks toward the future, Pierce says she has only just begun warming up.
"There is still so much I want to do," she says. "I'd love to work with so many people still—like Twistys… I'd really love to work with Hustler, Playboy and Penthouse."
She's eyeing several future co-stars, too.
"We could be here all day talking about that," Pierce jokes. "Abigail Mac, Elsa Jean, Melody Marks, Riley Reid…"
Photography by @okvalleyentertainment