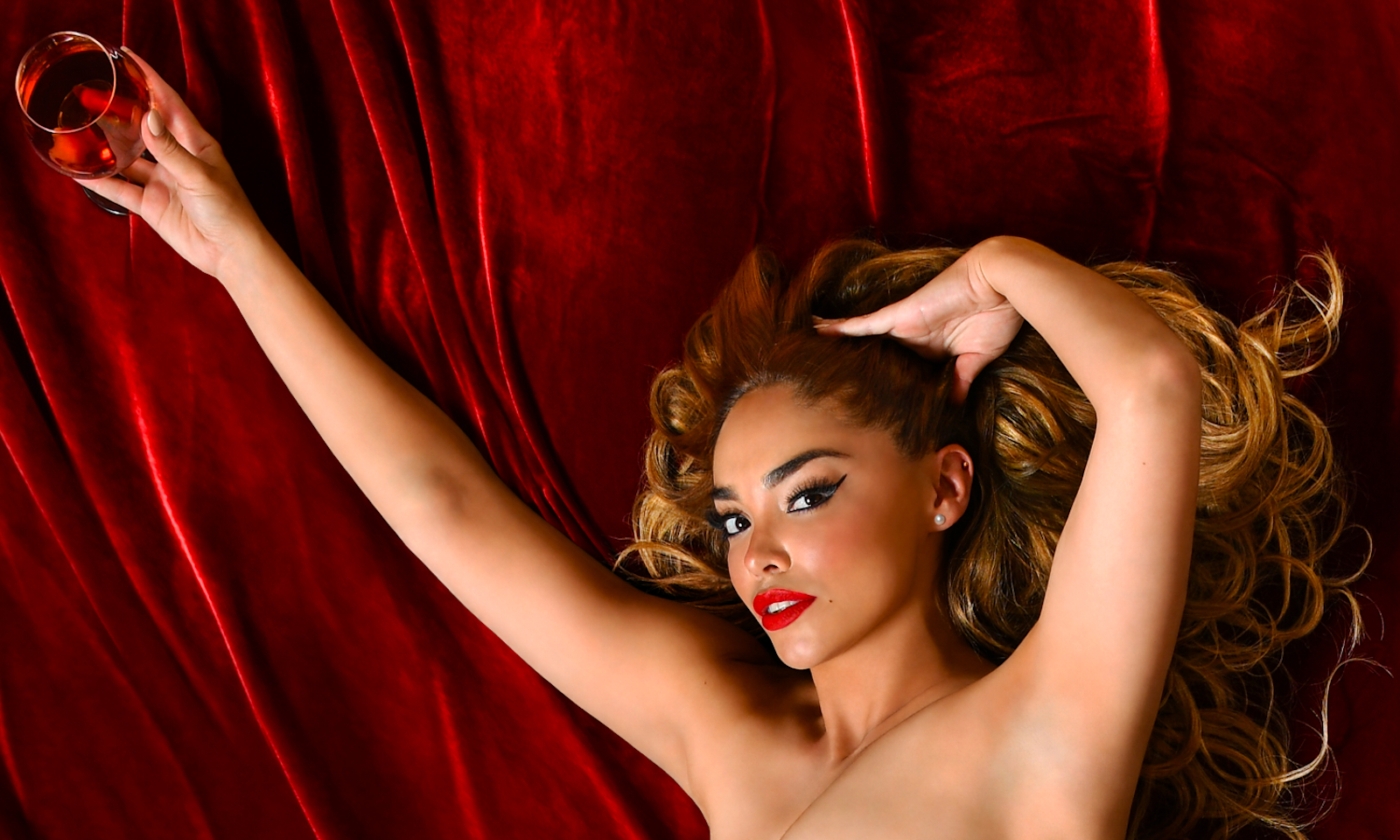 LOS ANGELES — Adult star Selena Santana on Thursday announced her debut collaboration with SLUT wine for the launch of the brand's summer art campaign, politely reminding everyone to drink provocatively.
Unveiled in photos tweeted by the label on National Rosé Day, Selena pays homage to the legendary Marilyn Monroe, in a brazen pastiche of the most iconic and controversial photo shoots of her career. Sprawled across a luxurious bed of red velvet, and wearing nothing but Gucci rouge à lèvres, Santana vogues her respect to St. Norma Jean's 60-year legacy, in the only way the actress knows how—au naturel. 
Shot by photographer and creative director Evelyn Williams, the two endeavored to pay tribute to Monroe's notorious Red Velvet Collection, revered as her most scandalous, and the most beloved nudes of the 20th century. Captured in 1949 by famed Hollywood photographer Tom Kelley, the photos of unclad Monroe were Kryptonite to the ascetic 1950's, igniting the sexual renaissance of her time.
Santana's latest, full-bodied venture is nothing like her typical creative productions. This performance is bottled up in Southern California, with a lot of flavor… A product in development since 2017, SLUT wine's debut rosé varietal is the sweet and intoxicating lovechild of Santana and Williams, blending their tastes for art, wine and the occasional linguistic revolution.
Taking notes from Muva's revolution, the label soft-launched at the 2017 Amber Rose Slut Walk and day festival, held in downtown Los Angeles. To celebrate the brand's premiere, 3,000 thornless red roses were gifted, each adorned with the label's namesake and precept, defined by authors Dossie Easton and Janet Hardy, from their acclaimed book The Ethical Slut.
Attracting a record number of event-goers that year, the activation received an amorous and thirsty welcome from attendees, planting inspiration for the brand's future voice and vision, according to Williams.
"Five years, two presidents and one lingering pandemic later, we've climaxed our way to a provocative new renaissance, provisioned through art and technology," Williams said.
It's an era that Santana and Williams aim to arm slutty revolutionaries with "a delicious new statement piece."
"It's a message in a bottle, worthy of raising your glass to," Williams added.
For more information and updates, find SLUT wine at their online store and follow them on Twitter and Instagram; follow Selena on OnlyFans  and at her official website; and see more of Evelyn's work on her official website.