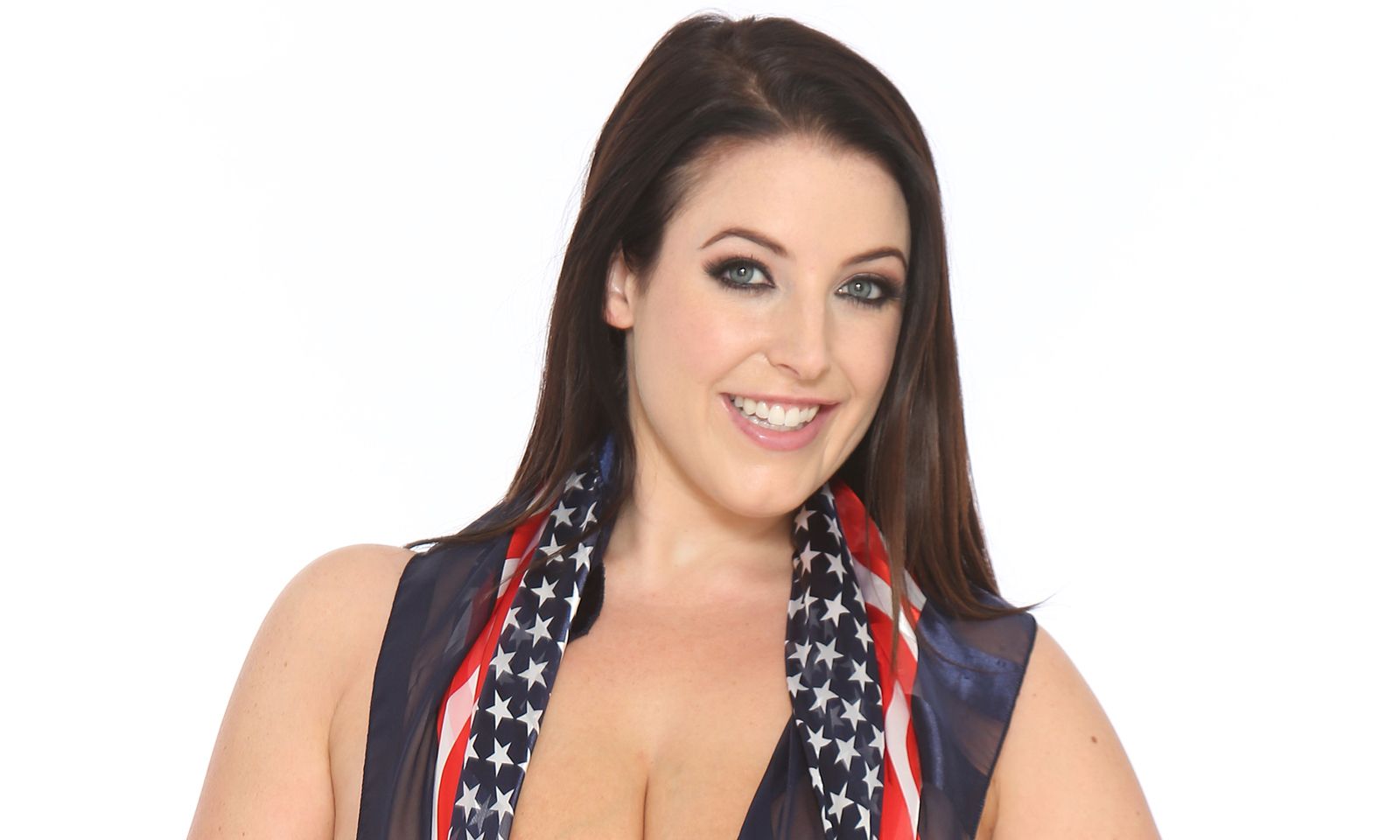 This article originally ran in the February 2018 issue of AVN magazine. Click here to see the digital edition.
Crawling slowly up a mountain dotted with spacious homes, few addresses or even street signs in evidence, it was challenging to find the location where a slice of porn history was being celebrated. But finally the right driveway appeared, and at the end of it was a house with a view that was more than worth the drive. Just beyond the entryway, on a couch in front of massive windows that looked out onto a swimming pool, adult star Angela White was running through a few lines of dialogue as director Luc Wylder with cameramen Sir Ron and Ralph Parfait prepared to capture her natural beauty on film.
White, one of the biggest stars in adult at present, had been tapped to narrate a very special compilation project. When it's finally released in March by Adam & Eve Pictures/Fallen Angel, the movie will weave together 14 scenes from Sex Across America, a series produced by Fallen Angel, the company created by AVN Hall of Fame members Luc Wylder and Alexandra Silk. To tie the selections together for Sex Across America: A Look Back with Angela White, White and co-star Chad Alva provided some narration—and at the end, they enjoy their own boy/girl sex scene.
With her saucy Aussie accent and his Midwestern drawl, White and Alva entertained the small crew. Also on set was Silk, the original host of the series, as she smiled encouragement at the two performers, reliving the memories of the scenes they were introducing. Wylder's partner in business and life, Silk performed in four of the six scenes in the first volume of Sex Across America, shot in Las Vegas and released in 2000—including one with Dale Dabone that will be the first featured in this retrospective. She bustled around the set, making sure everyone stayed comfortable and hydrated on that warm summer day.
Angela White on set with Fallen Angel
Asked how the Sex Across America series came into being, Wylder explained, "My first series was called Dirty Dancers. We traveled across the country shooting strippers having sex with their boyfriends for the first time on camera. And we did it all over the country. So I got used to that type of travelogue series."
Back at the turn of the millennium, when they began shooting Sex Across America, the porn industry was doing very well—and so was Adam & Eve. "Videos were selling great, DVDs were just coming in, we were still selling VHS on the market," Wylder recalled. "And we were looking for some way to avoid the monotony of the same old locations, the same old blue skies that you often get in porn. Not all sex is done in the state of California under blue skies. So we decided we wanted to do things like go to Colorado and shoot in a blizzard. Or a hot air balloon, which is really what we did."
Their first foray into Sex Across America was just over the border in Las Vegas. For volume 2, they headed to New Orleans.
"Each place that we went to, we sought out the local flavor," Wylder said. "So when we were in New Orleans we're eating étouffée and doing the Mardi Gras and going to a cigar bar. And when we were in Hawaii we chartered a boat. [Alexandra] caught a 158-pound blue marlin. …
"We went to Miami, shot models on the beaches. Went to Seattle, went to San Francisco and had sex in an apartment; it was right under Coit Tower. We had the budgets—we could do things like that. You couldn't shoot a series like that today. We flew all over the country with equipment, porn stars, sex toys, and lubes and condoms. Today you'd spend days trying to get through TSA with all the stuff that we did. That's were it all began."
Above, right, Alexandra Silk; left, Adam & Eve Pictures contract star Carmen Luvana
The New Orleans trip yielded the second scene in the retrospective, starring Jessica Drake, Sydnee Steele and Evan Stone. After that come two excerpts from the third stop on the Sex Across America tour, San Francisco—one of which features Aurora Snow's first scene.
The next three locations are varied, and Silk is in the middle of the action in each. In New York she enjoys group sex with Adajja, Jade Marcela and Tyler Wood, and in Miami things get wet in a girl/girl squirting scene with Lori Rivers. And finally there's the aforementioned trip to Hawaii, where Silk does an all-girl foursome with Kate Frost, Summer Storm and TJ Hart.
Also on the itinerary are stops in Los Angeles, Seattle, Puerto Rico, Aspen, the Sturgis bike rally and Virginia Beach. These are ambitious location shoots that offer a window on a different time in adult entertainment, albeit just a decade ago, with a look at various stars from the time, including Katie Morgan, Carmen Luvana, Nicole Sheridan Randi Wright, Michelle Lay, Randy Spears. Kurt Lockwood and Voodoo.
Above, Randy Spears, Randi Wright, Alexandra Silk and Katie Morgan
Wylder recalls the shoot at the 64th bike rally in Sturgis, South Dakota, released in 2005. "By that time we had the attention of Playboy TV and national broadcasting and so they came out to follow us around. We were trying to stay low-key. Playboy had one of the first HD cameras and it was huge. And they were driving around Sturgis in a bright yellow Corvette. Way to be low profile, Playboy TV."
Wylder started this huge project, which involves a lot of technical work to bring the older footage up to the standards of today's porn fans, accustomed to HD-quality fare, after he started doing a lot of video engineering work. "I have a system where I can do video standards conversions and I can go from SD to HD and do all kinds of color enhancements and frame changes. So Adam & Eve has hired me to help them up-convert their video library. And we've been doing this work for some time. When it came around to converting the media for Sex Across America, I said, 'You know, guys, this series is phenomenal. It really is. The people that we had shooting with us, and the places that we went, it's unbelievable. You've got to do something with it.'"
Silk added, "That series still to this day became their top seller. … Sex Across America is always up there. It's just a great seller."
Above, left, Alexandra Silk and Bob Christian; right, Silk with Luc Wylder
After the tour ended with the twelfth stop in Virginia beach, Fallen Angel continued to release DVDs through Adam & Eve, including the series Swingers Wife Swap and Amateur Angels, the latter of which is now up to volume 30.
"We're not the people that are into making a lot of noise," Wylder said. "We prefer to just make our movies and not be in the competitive mindset—just do the best we can with the finest quality equipment and talent and crew that money can buy."
He pointed out, "Swingers Wife Swap is one of the best-selling series for Adam & Eve right now, and that's why we're doing number 5. It's been really fun creating this  sexy, yet informative glimpse into the swinger lifestyle. The series enables us to work with new talent who are on the cusp of stardom and to work with them in such a way that they can have fun and not feel a lot of pressure from trying to play another character. We encourage people to let their own personalities shine through as much as possible. And with the Swingers Wife Swap specifically we are having people portray the roles that actual swingers would have. One person would be the newcomer, one's the more experienced one. One is the hostess of the party, telling everybody the rules of the house," he explained.
The most recent volume, Swingers Wife Swap 5: The Pajama Party, is coming out this year. Silk talked about the fun they had on set during the production, on which Alva worked along with Blair Williams, Danny Mountain, Dolly Leigh, Dylan Snow, Giselle Palmer, Justin Hunt and Zoe Clark. She described a scene in which the group wakes up in the morning after having partied the night before, and they start the action up all over again.
But whatever they're working on, Wylder and Silk focus on making their sets a sex-positive haven where performers can feel comfortable and safe. "It's not newfound behavior—I have always produced ethical porn and treated people in the business with integrity. I care about the people who are working for us, whether they're talent or crew or whoever. It's important to me that they all know that everyone on set respects and cares for each other, and that they're part of the family. And that kind of a mentality is what's enabled Fallen Angel to continue doing business in the adult industry, especially with Adam & Eve, for close to 30 years."
Below, Chad Alva, Angela White and Luc Wylder on set