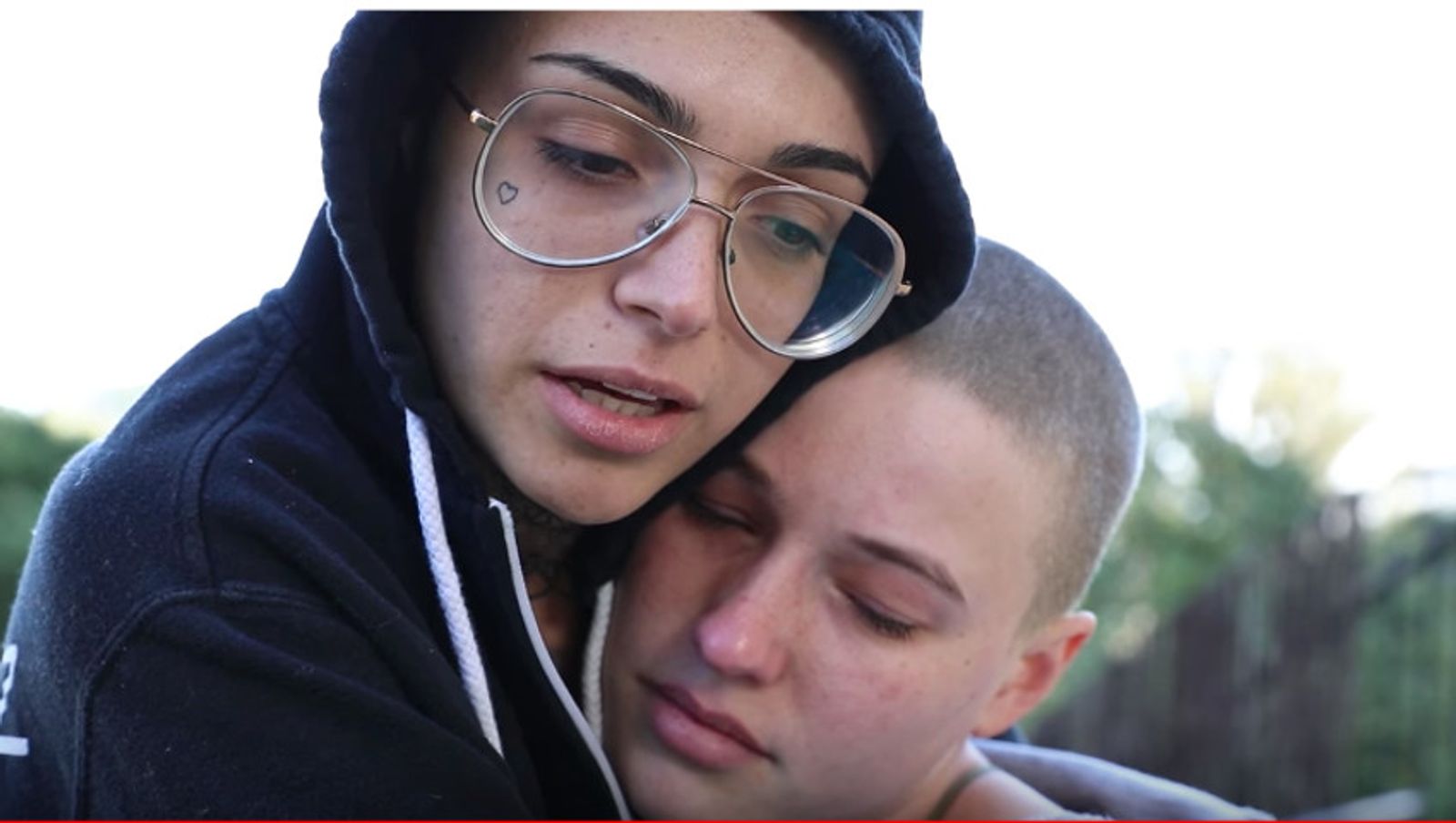 LOS ANGELES—Adult performer Leigh Raven alleges that a rough sex scene on March 6 went beyond her boundaries and what she had consented to do—so much so that she has filed a police report. Fellow performer Riley Nixon claims she endured a similar scene with the same co-star and director on January 5.
In a video posted on YouTube Friday by Raven's wife and fellow performer, Nikki Hearts, Raven claims that a scene she did with veteran performer Rico Strong for director Just Dave at his studio went too far, despite her consent that was recorded on video that day. The scene was shot for a new site that has yet to be launched.
Strong disputes the assertions made in the video to AVN; Just Dave also disputed the claims, according to Jezebel.com, citing hours of unedited BTS footage from that day that he has given to police.
In the YouTube video Raven says she took the scene, which called for a "rough blowjob," boy/girl sex and "light racial play" on short notice. She claims that despite going over her "do's and don't's" with the director before the scene that what transpired was more extreme than what she was prepared to handle.
Raven, who could not comment Monday due to an ongoing investigation, says she was "afraid" of what would happen if she called off the scene.
"I believed the director when he had said if I see any indication that I need to call 'cut,' which means I'm crying, I'm wincing, I'm pushing away—I'm doing anything that makes it look like I am struggling—that he will then cut the scene. That didn't happen," Raven says in the video.
Hearts, who filmed the YouTube video, asks Raven why she didn't say "stop."
"I didn't say 'stop' for a couple different reasons," Raven explains. "A, I didn't feel that I needed to because I thought the director would cut it. B, there were four or five men on this set. And like I said, they had been there all day. They were angry. They didn't want to be there anymore and I was fearful. I was afraid."
She says after the scene was over she received her check and answered her exit interview questions that confirm her consent to everything that took place on video—a practice that has become standard protocol for rougher fare. But after leaving the set that night, Raven says, "I broke down and sobbed."
Raven says she filed a police report the next day on March 7 and per their advisement, received a medical evaluation that showed she had a bruised cervix, and a vaginal tear that she says she noticed she had after filming the rough scene.
Raven says she also called Cal-OSHA to report what she claims were "filthy" working conditions at the studio, as well as alleged abuse and non-consensual acts.
Raven says her friend Riley Nixon reached out to her after seeing her tweet about the shoot and that Nixon shared "that happened to me two months ago."
In the video Nixon says she performed in the same kind of scene with Strong for director Just Dave on January 5, adding that she usually enjoys performing rough scenes.
"It was just way rougher than it needed to be," Nixon says. "But I don't want to upset anyone. I don't want to call the shoot off because I need to pay rent. I'm sure Rico needed to pay rent…"
Nixon later adds, "I wish I would've told more people. … Maybe Leigh wouldn't have done the scene."
Both Raven and Nixon say they want their stories to be a word of caution for other performers.
"I want to educate newer performers who are just trying to make a quick buck that it's really not worth it," Raven adds.
Rico Strong says what the performers allege is not true.
"My first reaction was I was blindsided because for one, we had an amazing scene and she left happy and smiling, all hugs and kisses; secondly, I'd never hurt or push a woman past her consent, unknowingly," Strong tells AVN. "I'm about pleasure, not pain, always trying to make a woman happy and comfortable on set with me—that's my first priority cause the woman is first in my eyes.
"I'm an actor. I act. I show up to do my job as I was hired to do no matter what director or what kind of scene it is I do my job to the best of my ability and the woman's comfort and consent with me. Never would I cross those boundary or any for that matter. I wouldn't risk my name, my whole career, my legacy and all the hard work I've put in over 14 years for one simple check to disrespect a woman. And no director has or ever will ask me to do more than what's needed and liked and welcomed by the female talent; and if any woman is ever in a situation where she isn't comfortable, speak up right then and there on set or off. It's your right and I respect that and so should all men and women, period. I love women. I love my career. I wouldn't never do anything to jeopardize that, myself or a woman."
The Free Speech Coalition on Friday issued its own statement about the scenes in question.
"A performer's control over their own body is an inviolable principle of this industry. Violating consent is not only unethical, it's criminal," the FSC statement read. "Sex workers do not give up their right to consent when they enter a set or sign a contract. We are in contact with Leigh Raven and are working to support her and other performers in whatever comes next."
FSC did not immediately respond to request for further comment at press time.