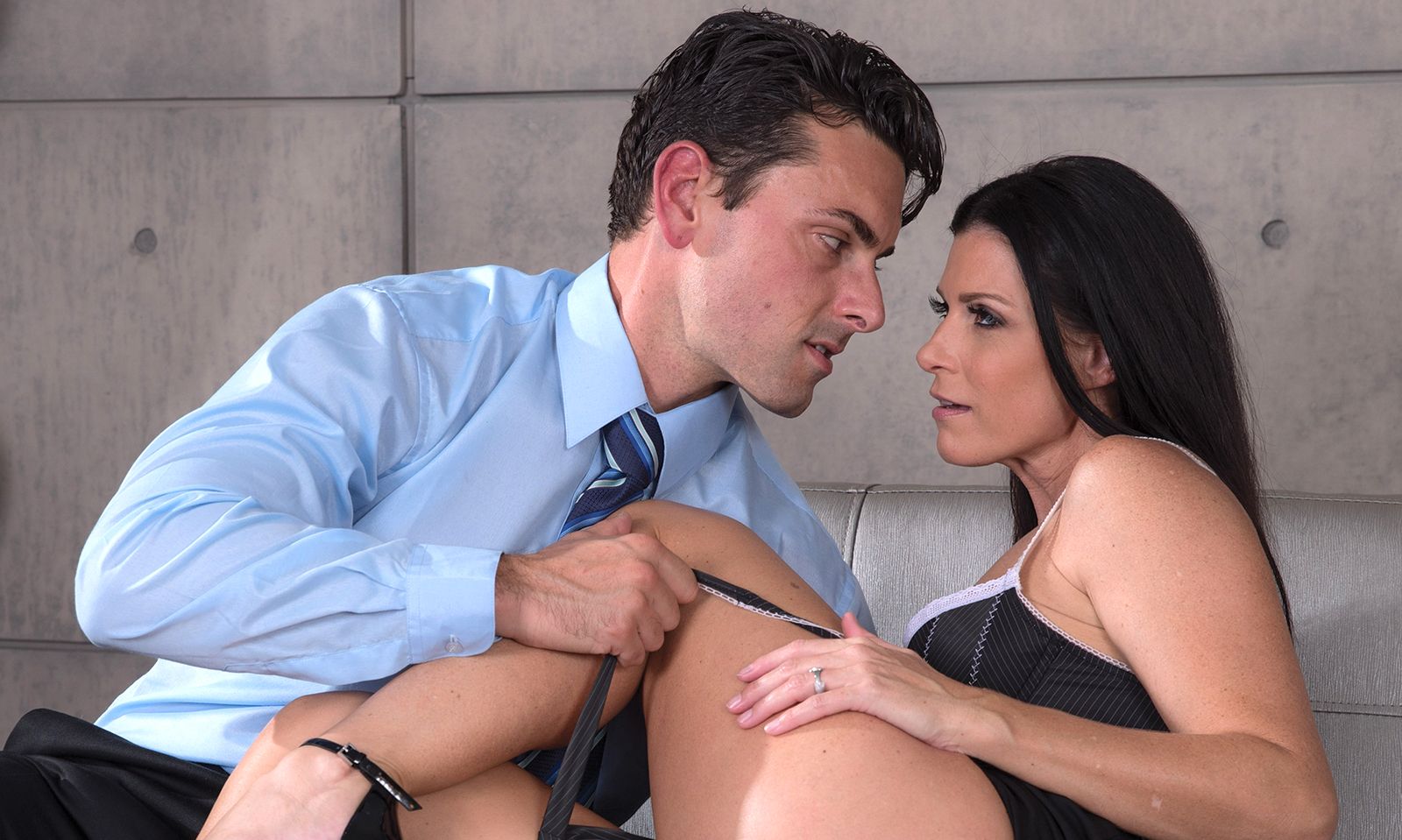 This story originally appeared in the September 2017 issue of AVN magazine. Click here to see the digital edition.
Writer/director Brad Armstrong is eschewing his familiar large scale for his latest production, an intimate drama titled An Inconvenient Mistress. "It's an insider-trading story, really," Armstrong says. "Jessica Drake is the mistress of the very handsome Ryan Driller, who's a stockbroker-type financier. She overhears some of his trading conversations and she and her brother use the information. I play Ryan's boss and I'm kind of shady so I'm going to use the information too, but I'm doing it the smart way, covering my tracks, and ... I don't want to give too much of it away so I'll stop there."
The cast also includes Ember Snow, Cali Carter, Bridgette B, Honey Gold, Morgan Lee, Michael Vegas, Isiah Maxwell and Seth Gamble but none of them are here for the next scene, a living-room confrontation between India Summer and her two-timing husband Driller. "We're showing the disconnect between them," Armstrong says. "She's the rich, pampered wife and their lives are fairly separate. He has an envelope with compromising pictures that were sent to him, sent to me, sent to the wife. She's like 'How could you be so fucking stupid? You want to fuck somebody? Fine. Don't be stupid about it.' These are the bookends of the movie."
In rehearsal, Driller walks in the front door, the midday sun effectively blocked by black drapes to simulate night, the incriminating envelope in his hand. Driller steps toward Summer, slowly, deliberately. "Slow walk. You know you're fucked," Armstrong directs. "Dead man's walk." Summer confronts him, spitting out her lines, and as the rehearsal ends he grabs her by the waist, deftly turns her around and pushes her down onto the couch.
"I like it," Summer purrs.
When the camera rolls, Summer plays it cold, hard, angry. She snarls, "How could you be so fucking stupid?" as the door is clicking shut. When he chokes out, "Sorry" she keeps the pressure on: "Don't give me some bullshit excuse and do not tell me this didn't mean anything." Measured, deliberate. Furious. "You are going to wreck our marriage. Your career. My future. What is so special about this bitch's pussy that you'd throw all of that away? Tell me what you need. Fuck me like you fuck her." She grabs him and pulls him onto the couch. "Yeah. C'mon." Still cold. Still hostile. "Fuck me like you fuck your little fucking whore." Intense eye contact. Pause. "And ... cut!"
Summer giggles, the pressure off.
Summer and Armstrong work out the sex scene details: "What's your favorite anal? How about cowgirl?"
"Hate it. Can we do reverse?"
"Okay."
Armstrong tells Driller and Summer that they will be shooting softcore and hardcore at the same time, which takes longer to shoot but lets the scene play straight through without backtracking.
The scene resumes with Driller and Summer both on the couch. He leans in to her, pulling up her skirt, pushing her legs apart and fingering her, then reaching up, unbuttoning her shirt and pulling down her bra as she groans appreciatively. "Keep talking." Armstrong prompts. "Talk shit to him." She grabs her bra, pulls it off over her head, tosses it aside, then rubs her pussy with the butt of his hand. She pulls his face to her breast with a high-pitched "Oh fuck meeee." He pulls her leg up, retreats down, starts to lick her pussy behind her upraised leg. Softcore. She mutters, "Mmm-hmm" then WHAM brings her hand down on the couch. "Oh yes, yeah yeah yeah" rhythmically "yeah yeah yeah yeah oh yeah you eat my pussy so good."
"Switch to hard."
She opens her legs and Driller has a lick, then starts fingering her, one hand on her middle holding her down. "Oh. Do that," she purrs. He licks up, slowly, grinning, then speeds up. She holds his head down. "Ho-ly shit," she moans, still in revenge-fuck mode. "Fuck you. Fuck you. Yes." Her upper body tenses, she pushes his head down into her pussy, then sits up.
"I don't recall saying 'transition,'" Armstrong says placidly. "But we have enough. Be more of her slave, Ryan. And ... action." Driller stands up and Summer opens his zipper, sucking his dick as soon she sees it, hiding the action behind his turned hip. "Is it hard?" Armstrong asks. Her mouth full, Summer grunts a negative "Uh-uh."
"Okay, we'll shoot soft."
She slurps and he groans as they overplay for softcore, then she opens his pants triumphantly. He's hard now. She looks up at him. "Is this how she does it?" They play the actions and dialogue twice, back and forth, as he first holds her hair out of the camera's way and then drops it, getting the action—and the moment—in both hardcore and softcore versions.
She gets on all fours on the couch and he pulls off his pants and rolls on a condom.
"A condom, eh?" Summer snarls, still in character, still angry.
"Is that how you do it with her?"
Wicked Pictures will release An Inconvenient Mistress this fall.