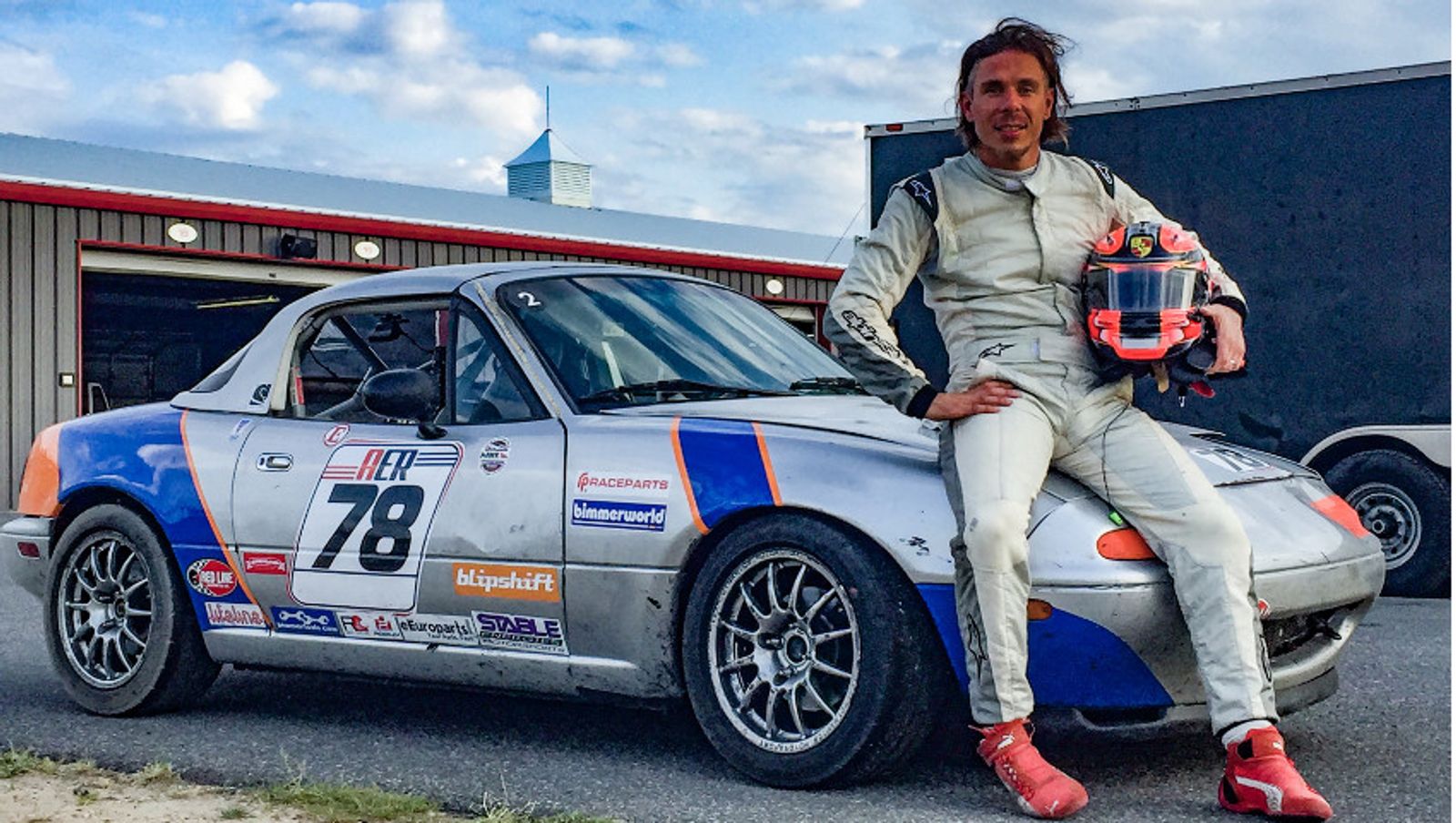 By Dan Miller
LOS ANGELES—Mick Blue performs extreme sex acts on camera on a daily basis, but strapping himself into a race car is a different kind of pressure.
The Austrian porn stud took the next big step in his motorsports career in May, competing in the American Endurance Racing event in New Jersey.
"I was so nervous," Blue admits. "You're driving for your team and you want to do good. You know that you have to bring the car back safe and at the same time you also cannot be slow or you lose valuable time. It's a very intense, interesting experience."
Blue helped his team qualify the car on Friday, May 19—in pole position, no less—on the Thunderbolt Raceway road course in Millville in Cumberland County, and then he raced on both Saturday and Sunday.
"I think it was fantastic," Blue told AVN Thursday.
Blue entered the event after receiving his three-year competition license from the Sports Car Club of America (SCCA) as he pursues his dream of professional motor racing in between producing, directing and performing in about 25 sex scenes per month.
The only man in porn history to win the AVN Male Performer of the Year award in three consecutive years (2015-17) shared seat time with four other drivers for the May 20 race; the following day he teamed with three other drivers for what amounted to two nine-hour races in one weekend.
"We qualified for pole on Friday and Saturday during the race we had a fallback; the driver that drove the first stint damaged the front suspension, so we had to repair that and lost about an hour on the rest of the field," Blue said.
"The second car had to have the transmission changed on the first race day, so we lost a lot of laps there but we still made it into 10th place with one of the cars and made points for the championship."
Blue said on Sunday, May 21, their car—a silver 1994 Mazda Miata—was involved in a collision at the start of the race, resulting in tire damage and a 45-minute pit stop before they could get back on the course.
"But for a nine-hour endurance race other teams are having the same problems," Blue explained. "So we came from dead last and drove it up to seventh place in our class, which is still great. Without those incidents happening we would've been able to place in the Top 3, but that's what racing is about.
"For myself, I'm very happy with my performances."
Anikka Albrite, the 2015 AVN Female Performer of the Year who is Blue's wife, watched all the action from pit lane.
"I was very proud of him," Albrite told AVN. "This was his dream his whole life and it was his first time doing a real professional race and he did really amazing.
"He was the fastest on that team and took them from 10th up to seventh place. I was really impressed."
Blue drove so well he was asked to do back-to-back 90-minute stints.
"They wanted him to do a double stint—three hours straight of driving—and he was able to stay consistent and remain fast," Albrite said.
She wasn't really worried for her husband because "I was confident in his driving ability." Albrite even spoke to Blue on the team radio during the race.
"I talked to him on the headset from pit lane. It was awesome being in pit lane with everybody," Albrite said. "There is actually an app and I was following him on my phone. It showed where he was on the track, or if it was a red flag or yellow flag, or any time if it looked like he slowed down or if they had to tow somebody out. There were a lot of crashes. It was great being able to follow along on my phone. I was doing my best to document it and take pictures."
Blue said his three-hour stint included just one brief pit stop to refuel.
"It's mentally and physically quite tiring because you're not just cruising around," Blue said. "You're going from corner to corner and there are faster cars who are in a different group racing that pass you and other slower cars that you want to pass to gain position. So it's very demanding."
Blue reached top speeds of 120 mph on the straights on Thunderbolt Raceway, which is 2.3 miles long. He averaged around 80 mph per lap—quick considering the Miata only generates 140-160 horsepower.
"The biggest advantage for the Mazda was in the corners because it has really good handling," Blue noted.
He did not meet the other drivers on his team until he arrived at the track on May 19.
"You want to make sure you're good and that you fit in the team and nobody is sad because you don't give a good performance," Blue said. "But more importantly, you need to keep the car safe. If you're fast and you crash the car, you can lose the whole day.
"It was very interesting to try to perform with this high level of concentration and to keep the car safe. For myself there's always improvement. I was happy for the first step—to keep the car safe and to be consistent. There is still a very, very long way to get where I want to be."
Blue plans to next race in December at the Circuit of the Americas in Austin, Texas, with the same team.
"It's my Christmas present to myself," he said.
"Right now I'm at this point where I'm looking for companies who are interested to be represented by my persona on social media and also on the racetrack, who are interested to sponsor some of the expenses that have to be paid on race weekends.
"How the racing industry works and what I found out over the past few months—and I'm still learning—is no matter which kind of league you drive, everything kind of like depends on the entry fee you pay for a seat and the sponsors you have. It's like a brand new language for me to learn."
The decorated performer, who has created the brand Mick Blue Racing, said he wants to specialize on road courses rather than oval tracks.
"It's more entertaining for myself. On a road course you have so many different corners. There are so many different opportunities to be fast on a road course. You can be two to three seconds faster than a driver in the same car just because of your driving ability," Blue reasoned.
He also wants to reassure fans that his main focus is still on making porn and that he did not retire from the adult industry.
To see his message to potential sponsors, click here or to contact him directly, email [email protected].
Follow Blue's racing career on Instagram @mickblueracing. For a photo gallery of race weekend, click here.
Photo by Anikka Albrite