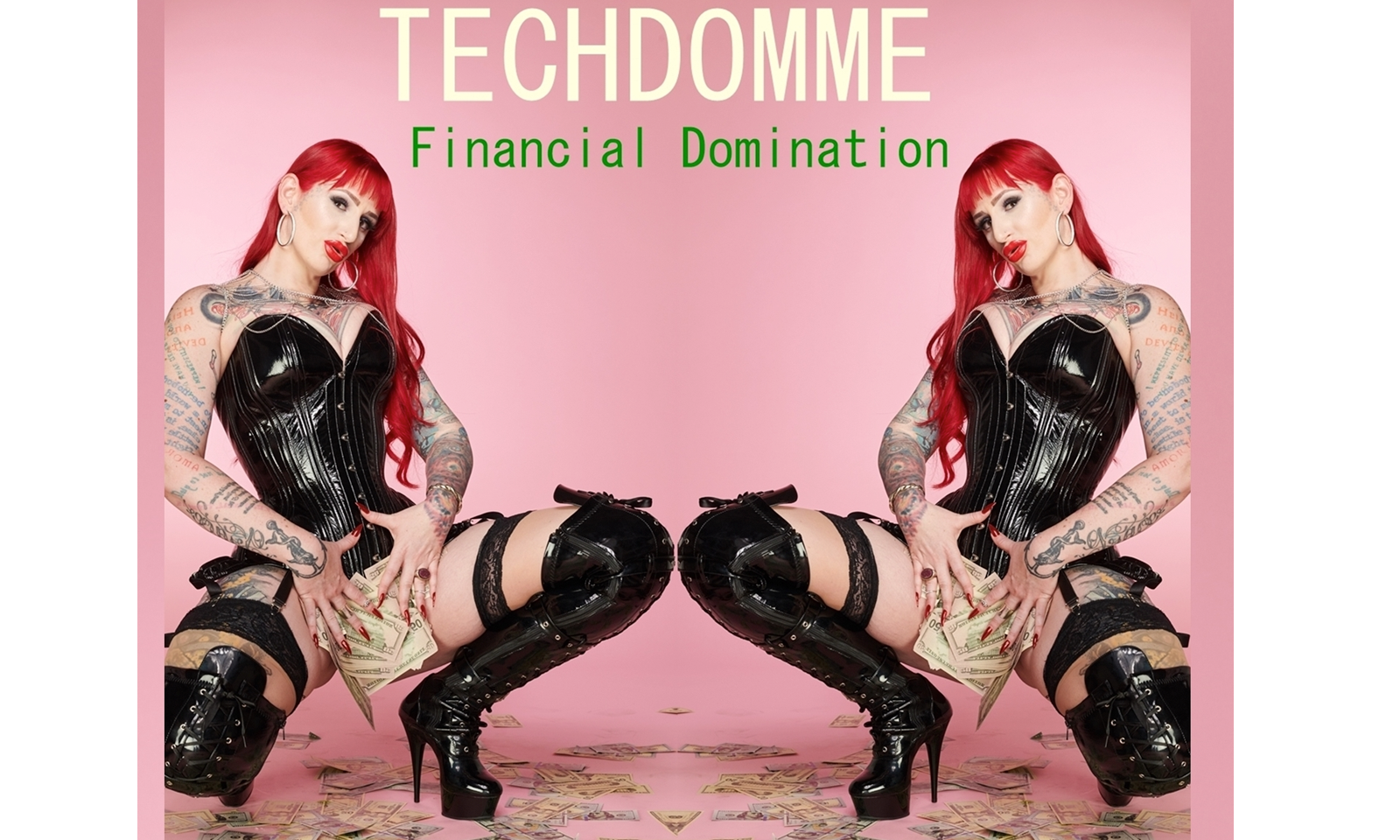 LOS ANGELES—World-famous professional Dominatrix Mistress Harley, known as the TechDomme, has released Financial Domination, a hip-hop album featuring nine self-penned tracks inspired by Harley's lucrative career as a pimptress and online financial Domina.
"I have always enjoyed listening to hip hop music, and after growing up listening to artists like Ice-T make music about pimping out and exploiting women, I thought turn-about was fair play and that it would be fun for a woman like me, who also has real life experiences in pimping and exploitation of men to make a similar album," Harley said of the inspiration behind her songwriting.
Financial Domination is Harley's first foray into the music industry, and the first full-length album to be released by a renown Pro Domme.
Available for purchase on Amazon, iTunes, Google Music, or direct from TechDommeHipHop.com, the album delves into the world of submissive men and the powerful women who dominate their lives and bank accounts.
"One of my songs, "10 Pimpstress Commandments," was inspired by Necro's "12 King Pimp Commandments," but with a twist for the ladies," she said. "Hip hop has always been a very male dominated genre, and just as being a dominatrix is about overturning the patriarchy, so is my album."
Mistress Harley's unique TechDomme brand centers around full, consenting control of her submissive male clients, lending a seductively deviant and outright bitchy attitude to her record. Once under her command, Harley monitors her subs 24/7 using home security cameras and GPS tracking, and often has full access to their bank accounts, which she frequently empties to her submissives' delight.
"My entire mission as a Dominatrix and a musician has been about empowering women—showing girls that they can do all the bad ass gangster shit that men have been doing to women for centuries," Harley said. "If men can become wealthy, famous, and respected for making art about abusing women, why shouldn't I be able to do the same? Why shouldn't ANY woman be able to do the same? I want girls and women who listen to my music to realize that they have just as much power to subjugate men, the same way women have experienced subjugation."
Among the nine tales of pimped-out slaves, boss-bitch manifestos, and BDSM degradation on Financial Domination, several feature spoken interludes from Harley's slaves, all of whom vied for a coveted spot on her musical debut.
"Many of my subs paid to participate in this album, and loved admitting the power that I have over them to my audience," she said. "They want other men to know that this is also a valid lifestyle choice and that they love being dominated by a woman."
Harley has been heavily featured in mainstream media over the past several years, including interviews in Vice, New York Post, and Engadget. This brainy fetish queen is also a published author, holds a Masters in Information Technology and Library Science, and was once a project manager in San Francisco's tech industry.
Since cleverly transitioning to a self-made millionaire in the online kink industry, this in-demand Mistress plans on venturing into other artistic projects that inspire and empower other women to take command of their feminine privilege.
"Music is just the first of many ventures for me," Harley said. "Being a financial dominatrix made me wealthy enough to pursue whatever projects I want, including the production of this album. I'm trying to spread the gospel of female supremacy, and I think music is an amazing format to spread that message."
Visit TechDommeHipHop.com to learn more about Mistress Harley and her debut album, Financial Domination.