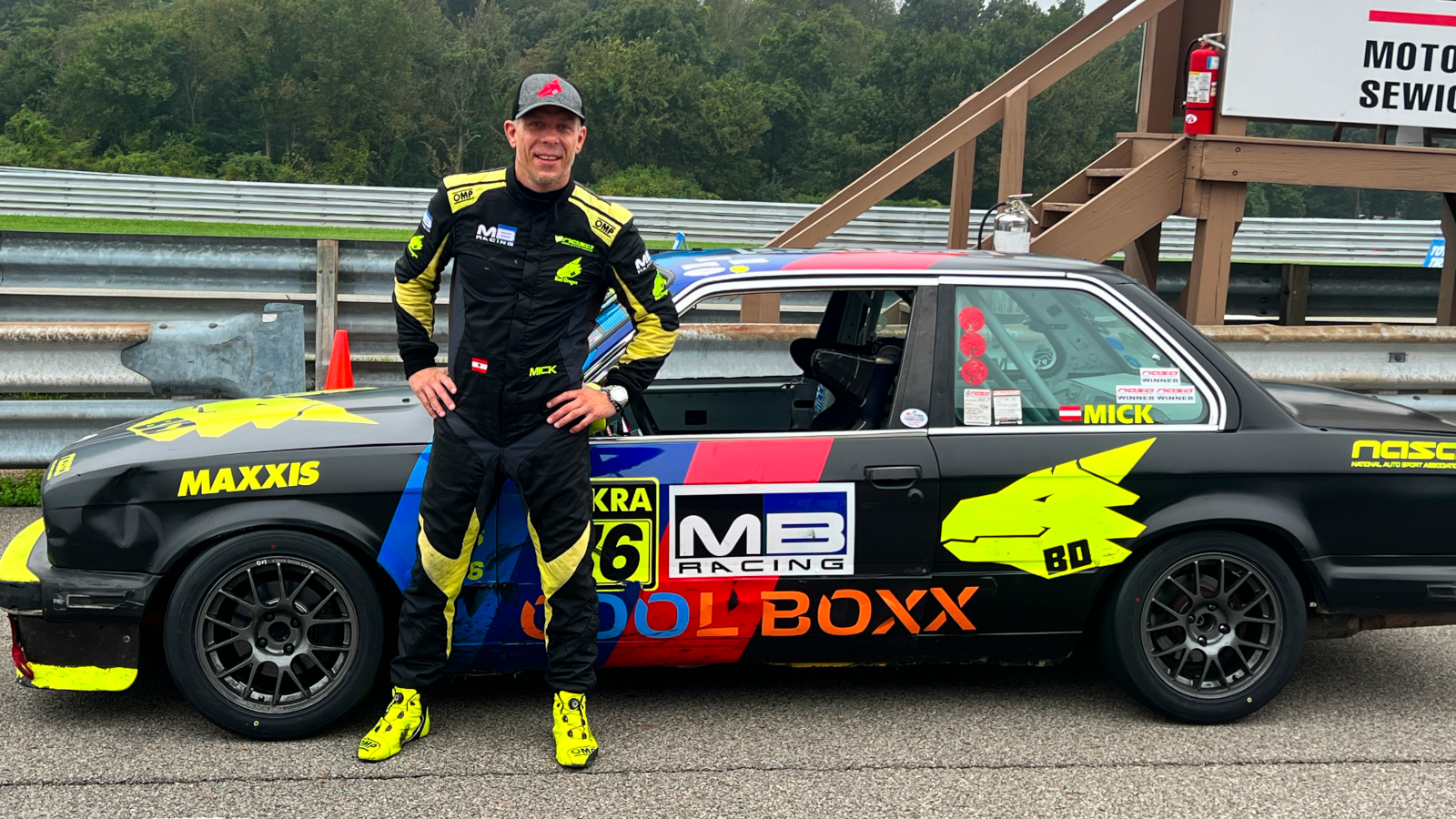 LOS ANGELES—Mick Blue drove his Bad Dragon BMW to a second-place finish Sunday at the National Auto Sport Association (NASA) TT6 Championship.
The three-time AVN Male Performer of the Year from Austria—who entered this year's event as the defending champion—delivered a lap time of 2 minutes, 6.5 seconds at the Pittsburgh International Race Complex.
The prolific performer and racing driver navigated the numerous turns and elevation changes on the 2.78 mile road course en route to a podium finish for Mick Blue Racing and the neon yellow-and-black, No. 76 Bad Dragon BMW 325i. Blue brought his car home just over a second off the winning pace and six tenths faster than the third-place car in the closely contested time trial.
In addition to his TT6 podium, he also finished seventh in the Super Touring 6 (ST6) race and 12th in the Spec E30 class race during the hectic four-day weekend in western Pennsylvania.
"It was a tough weekend," Blue tells AVN. "It was lots of driving and really good competition and a few minor hiccups with the car.
"I came in as the champion from last year in this event and of course I wanted to win it again. Even though it wasn't first place in the end, I'm super happy about the second place just because the winning lap time was just out of reach for my car with the way it was set up and running this weekend."
Blue says he "tried everything" to extract the maximum performance out of his car in the final session.
"There was maybe half a second more in it that I lost in this session because my fuel pump started to go out," Blue says. "But the winning time was a 2:05.2. … So I'm very happy with the result. It's a huge accomplishment. It's a podium at the nationals."
Blue tells AVN the humid conditions in Pittsburgh made for an unpredictable weekend on the track.
"You never know if it's going to start raining or going to stay dry," he says. "Or whether you'll need rain tires or if you're out there on slicks and it starts to pour and then you have to come back to the pits."
He says outside of the actual races one of the biggest challenges is managing the car over four days through testing and qualifying sessions, so he can make it to the main event.
After qualifying in P6 out of 14 cars in the ST6 race, Blue had to start last in the field for the championship race because he inadvertently made contact with another car during Lap 2 of the qualifying race.
He also started from P6 in the Spec E30 race, before falling back in the field.
"That race should've gone better but there were two minor mishaps in the opening run of the race that basically put me fighting with other cars and losing momentum and being passed by a bunch of other cars," he says.
"I did a total of three events in four days and I probably sat in the race car on the track a total amount of seven hours. Usually people go there and they do one event, maybe two. I was definitely the only one who did three events and I was also the only one who was representing Southern California because its a huge, long tow to get up there—2500 miles."
Blue thanked his right-hand man for the weekend, Ray, who not only towed his car from LA to Pittsburgh, but also worked on his car during the weekend changing wheels and tires.
"It definitely would not have been possible without his help," Mick says.
Blue also thanked another one of his sponsors, Cool Box, which created a mini air-conditioning unit that he used in his car, making all the difference when he was track.
"The device is absolutely amazing," Blue says.
This year Blue was part of the flagship opening ceremony that saw each of the cars participate in a parade lap before the race.
Blue, who launched his professional race driving career six years ago but only started racing a BMW last year, now sits in P2 of the regional Southern California NASA standings with six races over two more events to go. He is 45 points out of first place.
His next race is at Buttonwillow Raceway—about 30 miles north of Bakersfield, Calif., on Oct. 7-8, followed by the season finale at Chuckwalla Valley Raceway Oct. 28-29 in Desert Center, Calif.
"The whole focus is to get the car ready for those," he says.
Blue is an AVN Hall of Fame performer and director who is the only man in porn history to win the AVN Male Performer of the Year award in three consecutive years (2015-17).