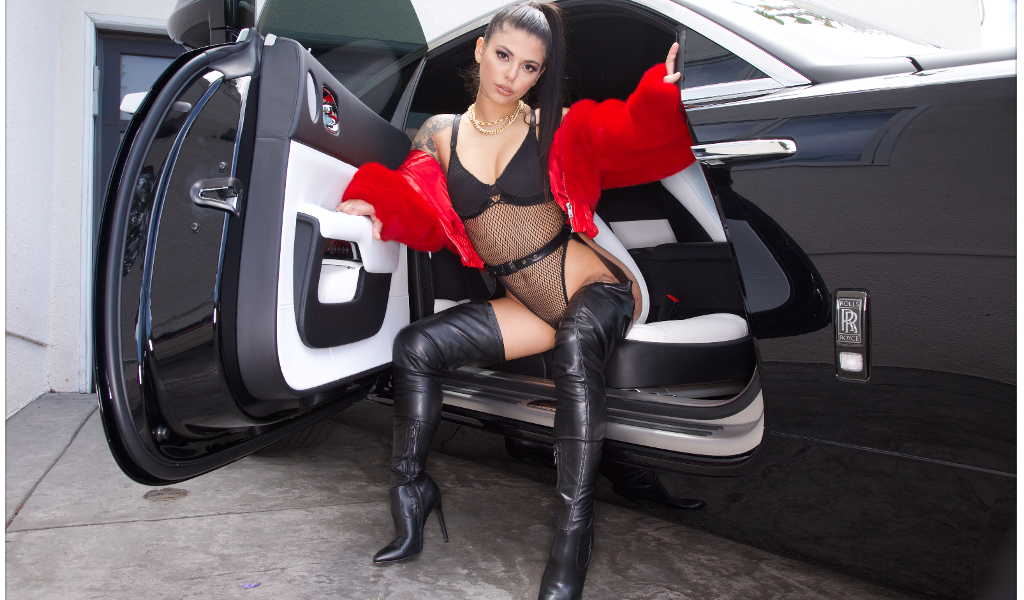 A version of this feature appears in the June issue of AVN magazine. Click here for the digital edition.
WEST HOLLYWOOD, Calif.—The timid sixth-grade girl who always sat alone at lunch stood in line with classmates, waiting to pay for her food.
Gina Valentina's shoulders slumped. Her arms were crossed and, like always, she stared toward the floor to avoid locking eyes with the kids who heckled her each day—the ones who teased her on the school bus and called her names at recess.

All because of her crooked teeth.

Gina had already fled her previous elementary school because of bullying, and the one before that, too. Now it was happening again here, in the cafeteria line, where a group of boys a few spots behind Gina began to snicker. They were pointing at her.

She could feel it.

"Oh my God, bro. Look at her!" one of them said. "Look at those teeth, bro. Look at those teeettthhh!"

Now 23 years old and one of the most recognizable names in porn, Gina retells the story over a two-hour dinner at Katana, an upscale Japanese restaurant in West Hollywood with a second-floor patio that overlooks the Sunset Strip.
More than a decade later, as the Brazilian-born actress visualizes herself back in that cafeteria, the humiliation that engulfed her that day returns. The evil in the boys' voices remains fresh and makes her wince. She can still sense their disgust.
"I paid for my food, threw it in the trash can and walked out of the school, crying," Gina says. "I left. I never wanted to go back."
Before she embarked on her lonely trek home that afternoon under the punishing Florida sun, 12 year old Gina—tears trickling down her cheeks—did something that encapsulates her persona to this day. She reached into her backpack.
And pulled out her headphones.
"Music was my escape," Gina says. "Anytime I felt alone—and I felt alone a lot—I'd isolate myself and listen to music. Sometimes it would make me cry because the words were so beautiful. It was like they were singing about my life."
Certain songs motivated Gina and gave her ambition and encouragement. Other tunes helped calm her, and there were those that uplifted her spirit. Now, 11 years later, music has taken on an even greater role.
Not only is it helping Gina cope with her life.
It's helping her change it.
Valentina is scaling back her porn career to pursue her lifelong dream of becoming a recording artist. Her first pop song, "I Don't Care," debuted in September as part of a scene for GirlGirl.com's Lesbian Rockstars DVD, but it quickly turned into a hit on its own. Two more singles—"Pull Up On Me" and "Rendezvous"—followed a few months later and a fourth is on the way.
Much like her early performances in front of a porn camera, Valentina's musical talents created an instant buzz. Her three tracks combined have generated more than 600,000 downloads and streams. Industry luminaries such as producer Scott Storch and rap mogul Russ have offered words of encouragement through social media, and nationally-respected Los Angeles Times music critic Randall Roberts endorsed Valentina after listening to her songs in April.
"They are pro quality, for sure," Roberts told AVN. "I could imagine 'I Don't Care' fitting in seamlessly with anything on contemporary pop playlists, and (Valentina) has a vocal delivery that could set it apart."
Judging by the comments posted under her YouTube songs, listeners are not only impressed, but also a bit surprised. It's not that people didn't think Valentina could be good. But this good? This fast?

Damn, is this Rihanna or Gina?
I can't get this song out of my head.
Is this Gina Valentina the porn star? Same person? For real?

Valentina is flattered—and almost overwhelmed—by the praise. It's the type of feedback that fuels her as she surges forward with music while putting her lucrative porn career on the back burner.
"It's not that I wasn't enjoying it anymore," Valentina says of porn, "but I felt like I'd done everything I could do. I wanted a different challenge. I wanted to discover something new about myself."
What Valentina found, however, is something that was inside of her all along.
***
Four-year-old Gina Valentina sauntered into the kitchen, wiping sleep from her eyes as the soothing voice of reggae legend Bobby Marley danced through the speakers of the CD player.
Sidling up to her stepdad as he cooked breakfast near the stove, Gina grabbed his hands and stood on top of his feet. The two swayed back and forth to "No Woman No Cry" and "Three Little Birds" until their pancakes and eggs were ready.
"That," Gina says of her routine as a toddler, "is when I fell in love with music."
Shortly after Gina began grade school, her mom bought her a karaoke machine. She'd rehearse during the days and then put on shows at night. Clutching her microphone as she pranced back and forth across the dining room table, Gina would sing and dance as an audience of friends and family members clapped along.
Other times she'd mix in acting—she especially liked drawing a mustache above her lip to mimic Inspector Clouseau from The Pink Panther—and even tinkered with instruments. Instead of Barbie dolls for her birthday, Gina asked for a guitar.
"I just remember how happy everyone was during those moments, how good everyone felt," Gina says. "Even way back then I could sense it: music was a powerful thing."
Just before middle school, however, Gina's persona began to change. As is common at that stage of adolescence, many of her classmates began wearing braces to straighten their crooked teeth. But Gina's single mother wasn't making enough as a dancer to afford an orthodontist for her daughter. For the next two years, Gina was bullied mercilessly about her dental problems.
All of a sudden the girl who sashayed across that dining room table couldn't look anyone in the eye. The kid who used to sing and dance like no one was watching was scared to smile.
"I knew I wasn't pretty," Gina says. "I hardly had any friends. No one would sit by me on the bus or at lunch. I hated school. Hated it."
From one school, to the next, to the next. Bullies forced Gina to transfer three times during the sixth grade alone. Sometimes, she said, her teenage brother even razzed her about her teeth at home. Gina still listened to music each day, but now the songs were more sad and melancholy. Her favorite tune became "Sticks and Stones" by Aly and AJ, which included one stanza that resonated more than others.
I wonder what I could say
To stop the voices taunting, laughing.
The way they're acting, I wish they'd disappear.
The joke is always on me.
By the seventh grade, Gina had reached her breaking point. With her mom's blessing, she returned to her native Brazil and moved in with her aunt. She said people treated her with respect there. She was quick to make friends. Her spunk returned. And so did her smile.
"People in Brazil are poor," Gina says, "so having bad teeth was normal."
She laughs.
"Everyone had fucked up teeth."
After about a year into her stint overseas, Gina received a surprise. Her mother had been working extra hours back in Miami and had saved enough money to pay for her daughter to get braces in Brazil, where they were cheaper. Gina received the funds in the mail and was in a dental chair shortly thereafter.
Gina moved back to Miami just before high school. She remembers looking in the mirror after about a year of wearing braces. Her teeth were beginning to straighten.
"I started tearing up," Gina says. "I walked through the house and found my mom, and I just hugged her. I kept saying, 'Thank you! Thank you!' It changed my whole life."
Indeed, the confidence and swagger Gina had as a child returned. When high school started she was quick to make friends, "and most of them were boys," she laughs.
Gina's passion for music also enhanced as she began hanging around members of Miami's underground rap scene. One of them was Bruno Dickemz, the controversial manager for performers such as Ski Mask the Slump God the late XXXtentacion.
Dickemz also produced a porn series called Groupie Lust. Gina shot her first-ever scene for the series when she was 18 and then moved to Los Angeles, where her career took off quickly. Gina was a Trophy Girl at the 2017 AVN Awards, when she was up for Best New Starlet. Nominations for Female Performer of the Year followed the next two years.
By the fall of 2019 Gina had filmed more than 400 scenes and worked with every major company in the industry. Through it all, though, her fascination with music remained a focal point in her brain, as was evidenced by her life away from porn.
Recording artist Chris Brown became—and remains—a close friend. She dated popular Anaheim rapper Phora and had met the late Juice WRLD through mutual friends. The "Lucid Dreams" singer, who died Dec. 8, sent Gina an uplifting text shortly after meeting her: "If you need anything you ask me. I read good energy from you."
Gina said Juice WRLD didn't carry himself like a celebrity. He treated her as an equal and was humble and sweet. They clicked instantly, with the rapper even introducing her to his girlfriend.
"Artists inspire me," Gina says. "I love their minds. They're so creative, so emotional."
Gina's interest in music continued to swell. She became a fixture in studio control rooms, listening to stars record songs throughout the night before going straight to a porn shoot the following the morning.
The more time Gina spent around musicians, and the more she absorbed how the recording process worked—from the writing to the mixing to the actual song release—the more she wondered if she could do it herself.
"It became a constant thing in the back of my head," Gina says. "I started wanting the same things I'd wanted as a kid, to sing and make music. It's crazy how things come full circle. I was like, 'Damn, I really want to do this!'"
But Gina was too shy to say anything. She says she was scared of failure. And she questioned whether anyone would take her seriously because she was a porn star.
"I didn't want to fuck up," she says.
In August, though, Gina finally mustered the courage to get into the studio. AVN Hall of Fame producer Jules Jordan was launching a new website called GirlGirl.com and his director, Alan X, had asked Gina to appear in a film entitled Lesbian Rockstars.
The movie would feature four segments with stars lip-synching to songs of various genres: rap (for Gina), country (Kenna James), heavy metal (Karma Rx and Joanna Angel) and pop (Anny Aurora). Gina agreed to accept the role on one condition: no lip-synching over someone else's song.
She wanted to write and record her own.
Alan X loved the idea. He gave Gina a month to complete the song and promised to give her the top spot on the movie's box cover.
"I didn't care about the cover," Gina says. "I was just glad I finally had an excuse to force myself into the studio to make a song."
If only it were that easy.
Valentina arrived at Paramount Recording Studios in LA three weeks later accompanied by close friend and fellow porn star Morgan Lee, who had taken a break from the industry to pursue a music career of her own. Also on hand was Hoodybaby, a producer and ghostwriter who has worked with artists such as Brown, Lil Wayne and Timbaland.
Before Gina ever rapped a verse, Lee could sense she was uneasy.
"There were other people there, too—big-name people," Lee says. "I don't even think Gina realizes who all was watching her that day. She had a lot of pressure on her and she was nervous. She turned to me and said, 'I can't do this.' I was like, 'No! You've got to get this done.'"
After only a few attempts and a lot of failed coaxing by her friends, Gina removed her headset.
"I had no idea what I was doing," she says. "I was trying to rap, and that's not me. There's no 'tough bitch' in me. I'd be lying straight through my teeth. It couldn't have gone any worse."
Gina left the studio—for which she'd paid $2,000 to reserve—and told Lee she was giving up.
Her song was due in one week.
***
To conquer the obstacles of completing her first career single, Gina Valentina needed someone to hold her hand.
Literally.
Less than a week after the fiasco at Paramount, Gina found herself in front of the microphone again—only this time she was in the private studio of Joey Djia, an Australian singer/songwriter whose L.A.-based company, Djia Media, specializes in mentoring inexperienced, aspiring artists. Gina, who had contacted Djia at the urging of Morgan Lee, told her she had less than a week to come up with a song.
"No problem," Djia said. "I got you."
Djia penned the lyrics to "I Don't Care"—a pop tune—almost overnight and summoned Gina in to record the following evening. Although she was clearly more of a natural singer than rapper, the session was still challenging. During one moment of frustration, Djia left her seat in the control room, walked into the booth and clutched Gina's hand, calming her as she sang.
"Yeah, that happened," Gina laughs. "I needed it. It got me over the hump."
From 10 p.m. until 6 the next morning, Gina and Djia worked to perfect the song. On multiple occasions Djia asked her to sing the same line 10-20 times in a row. The process was maddening, Gina says, "but also so much fun."
"Once she successfully recorded the parts that initially seemed impossible," Djia says, "I'd make her come out of the booth so I could play it back for her (in the control room) so she was able to hear how amazing it sounded.
"That's when Gina's spark came back. It motivated her to persist through a long session."
Gina went home that morning while Djia and her team stayed behind to compose the song. The following afternoon Gina received the final version via text as she ran errands with fellow performer Judy Jolie. Gina plugged her phone into the car radio and lit up when she heard her voice.
"Oh my God!" she screamed. "That's meeeee!"
Over and over the song played as Gina sat in the passenger seat, bopping her head and singing along to "I Don't Care" as she and Jolie wove through the West Hollywood Canyons.
"An amazing moment, almost surreal," Gina says. "It was the greatest feeling ever."
Djia recognized immediately the song would be popular, so she was quick to make it available on Apple Music, Spotify and all of the big streaming services. Alan X, the movie director, was taken aback by the single, too. The music video he filmed for "I Don't Care" features adult star Gianna Dior and Lacy Lennon dancing alongside Gina.
"Being involved with that project was the highlight of my year," he said. "The song was just so professionally done. It sounded every bit as good as something you'd hear on the radio. I assumed Gina would do a great job, but what she came back with was on a whole different level."
Once Lesbian Rockstars was released in October, the buzz about Gina's song escalated quickly. The Instagram stories of countless adult performers were filled with congratulatory messages for Gina—or with snippets of stars singing and dancing to her song.
Proud as she was of the single, Gina vowed her future efforts would be even better. "Pull Up On Me" was released later that month and "Rendezvous" —a slower tune, but every bit as addictive and catchy—debuted in February. Djia said the 600,000-plus downloads and streams Gina's songs have generated is "amazing for a new artist, regardless of their initial platform."
Gina is working with Djia on a fourth song that should come out this summer, and after that she's hoping to collaborate on more tracks with other producers and artists.
As hard as she's worked, Gina knows things could soon become more difficult. Of all of the obstacles she's overcome, none are as big as the hurdle she'll encounter moving forward—the same one all adult workers face when they explore opportunities outside the industry.
The porn star stigma.
Performers routinely complain about how hard it is to land simple, every-day jobs once they leave the business. Morgan Lee says gaining acceptance in the high-profile world of mainstream entertainment is even more difficult. Lee recently returned to porn after attempting to become a rapper. She plans to re-brand herself and return to the music industry soon.
"I thought that me doing porn would pop me off bigger," Lee says. "That wasn't the case at all. No one takes you seriously. Sometimes people usually want something from you—and we all know what that is. Everyone is expecting you to fail."
Even when a performer earns respect in the recording studio and produces a quality product such as "I Don't Care," there's still skepticism it will succeed.
Or at least that's how it's been in the past. Djia believes times have changed.
"We are in the most open-minded and accepting time in history," Djia says. "Even the haters are still listening and streaming."
Roberts, the Los Angeles Times music critic, said a porn star's chances of being embraced by the music industry and its fans are better now than they would've been 10-15 years ago. It's never been easier to transition from porn to mainstream entertainment, he says, because social media is all-powerful. Performers like Gina have built-in audiences—ones that are more than willing to follow them on new adventures.
Cardi B, he notes, started out as a stripper, which only enhanced her online brand.
"Singers have expressed eroticism for as long as humans have had vocal cords and genitalia," Roberts said. "Granted, if her fans are metalheads and she's delivering trap-inspired pop music, there could be a disconnect. But I'd imagine Gina's fans would forgive her for almost anything."
Gina believes society is more receptive now—but only to an extent. She says there will always be people who are hesitant to give her a chance because of her career as a porn star.
"It's up to me to change their minds," she says. "It's not going to happen overnight. It's going to have to come with the way I carry myself, the way I present myself to the world each day. I'm going to have to show people who I am inside."
Gina is determined to do it—not just for herself, but for all of her other industry friends who have dreams, as well.
"There are girls in this industry," she says, "who don't pursue other talents because they think they can't make it. They can make it. I'm going to be the one that proves it to them."
***
Her red-eye flight to New York departs in three hours—and a few days later she'll be in Miami to visit fellow porn star Abella Danger and reconnect with friends from high school.
Still, as she sits on the patio at Katana, Gina Valentina hardly seems rushed.
Instead she's sipping Don Julio tequila and eating salmon carpaccio with a set of chopsticks. Sushi rolls and rock shrimp fill the table. When a plate of Kobe beef skewers arrive, Gina moves plates aside and rubs her hands together in excitement.
"Ohhhh, thank you, my love," she tells the server. He blushes as Gina looks him in the eye and beams. Her smile is gentle and disarming. Once a cause of embarrassment—Oh my God, bro. Look at her!—Gina's perfectly-straight teeth are now a source of pride.
If only those guys from sixth grade could see her now.
"I don't have any bitterness," Gina says the about bullying she encountered as a child. "Everyone goes through things. I had to see the really cold side of the world to make me tougher. It shaped who I am today.
"I don't believe in destiny, but everyone has a path to travel, where they have choices they have to make that define who you become. It's all about how you react."
Gina's childhood may have thickened her skin, but it also softened her and helped mold one of porn's most genuine, empathetic personas. One month she's on Instagram raising money for animals injured in the Australian wildfires, the next she's buying Popeye's fried chicken for a homeless woman on a Chicago street corner—and then sitting with her as she eats.
"There can be a lot of jealousy and animosity in this industry," Alan X says, "but Gina is one of the rare performers who is universally liked. She cares about people. You can feel it when you're around her. She likes making people feel good about themselves."
More than anything, that is what will continue to drive Gina as he pursues a career in music. It's her best chance, she says, to impact other people. Music can be her way of changing someone's life—just like it always has for Gina, going all the way back to those mornings in the kitchen with her stepdad, dancing to Bob Marley.
"Think about it," Gina says, "Bob Marley died 40 years ago. He's not even on the planet anymore and he's still impacting people, still making people happy, still changing lives."
Gina pauses, gazing over the balcony at Katana and down toward the Sunset Strip.
"I just want to feel like I'm doing something for somebody," she says. "I want to feel like I'm putting something into this world.
"And not just taking from it."
Lacy Lennon, Gina Valentina and Gianna Dior on the set of "I Don't Care" music video.
Photography by Alan X for GirlGirl.com/Jules Jordan Video