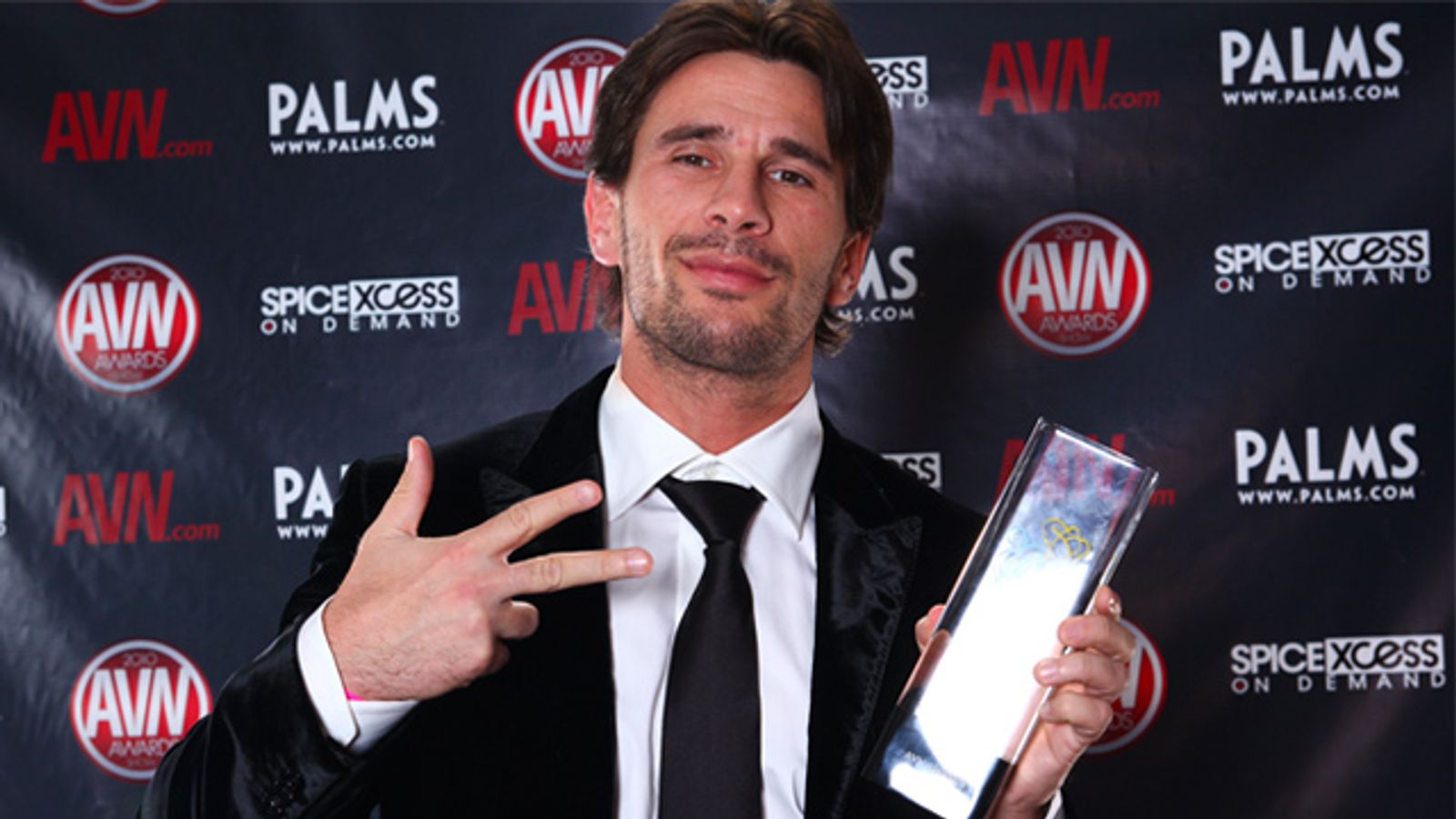 CHATSWORTH, Calif.—Manuel Ferrara told AVN one of the keys to performing starts with the approach.
"You have to be into the girl. For me you have to show that you're here and that you want to fuck the girl and please the girl," he said. "It's really important to show how much you want to be here, how lucky you feel that you're here. That's really how I feel every day."
It's that attitude that shines through in Ferrara's sex scenes. It's the mindset of the 2010 AVN Male Performer of the Year. The French star won the award for the third time on Jan. 9 at the AVN Awards Show inside the Palms' Pearl Concert Theater in Las Vegas, 13 years after his adult film debut.
"It makes me really happy," Ferrara said. "It makes me also happy for the people I work work with—Evil Angel and the Internet people."
Ferrara also captured the same honor in January 2005 and 2006. He and Lexington Steele are the only three-time winners of the AVN Male Performer of the Year trophy.
"I was really, really surprised actually for that reason," Ferrara admitted. "I won two times, and there are so many performers and good ones in this industry. I didn't think, 'OK, one more time.' Especially this year was not the year I performed the most for people. I stayed in my corner and performed for a few friends like Robby D. at Digital Playground and at Elegant Angel.
"Someone told me it's not about the quantity. I'm really happy to win it three times. I'm really happy also that a guy like Lex won it three times too. There's not a guy who has a bigger name right now than Lexington Steele. It's just great."
Ferrara was born in Le Raincy, France, and raised in Gagny, about nine miles from Paris. He worked for the first six years of his adult career in Europe, coming to America seven years ago to perform in John Stagliano's Fashionistas epic. The 34-year-old stud fondly recalls his days as a college student in France, where he was studying to become a P.E. teacher.
"I know it sounds funny. He can jump and run and fuck," Ferrara joked. "When I started in this industry I was still at the university. I looked [at a porn career] as just kind of a fantasy. I always thought that when I'm done with my studies, I would do the job I'm supposed to do. ... Right after that I met [Rocco Siffredi] and he asked me to work for him. That's when I really realized I could do more."
The humble gunslinger has done so much more that he doesn't keep score.
"I have no clue. I've done so many scenes in so many movies, I have no clue how many scenes or how many girls," he confessed. "I don't even know the size of my cock. I don't count. For me every day is a new day, a special day. It's almost like being a virgin. ... It's incredible."
While Ferrara takes pride in bringing his best to every scene, he said there were a couple of standout encounters from 2009. "The scene in Tori Black is Pretty Filthy, that anal scene we did together, that was a really good scene," he said. "And pretty much any scene I did with Kristina Rose I think."
He revealed that his passion comes "probably from jerking off so much watching porn when I was younger."
"I'm a huge, huge fan of porn, that's why I love the MILF thing now. It brings back so many girls I used to be a fan of."
And Ferrara plans to continue to direct and perform "as long as I show up on set and the girls are not like, 'Ewww, I'm not working with that guy.'"