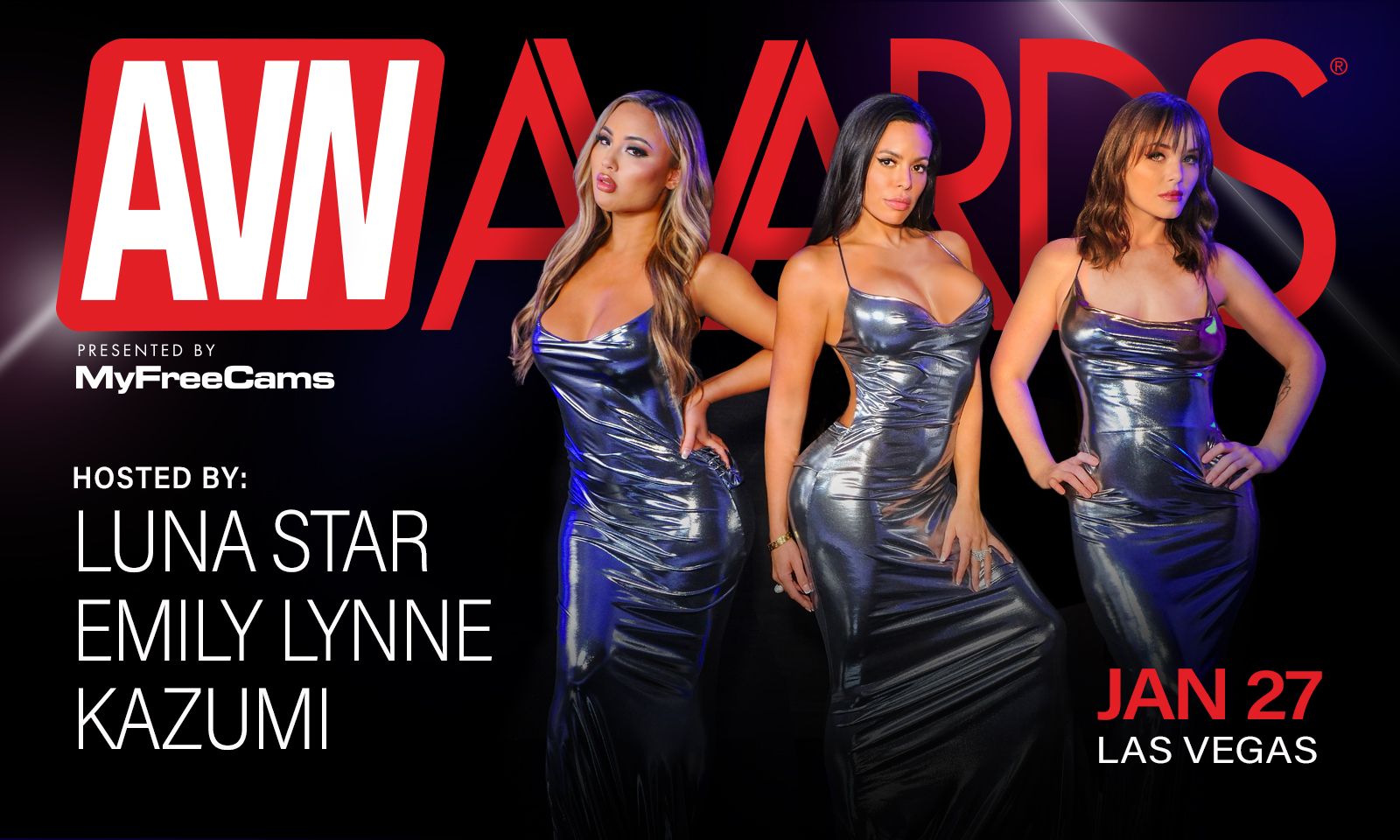 LOS ANGELES—AVN Media Network is pleased to announce that Luna Star, Emily Lynne and Kazumi will co-host the 2024 AVN Awards Show, presented by MyFreeCams, in Las Vegas.
The 41st annual ceremony is scheduled for 8 p.m. on Saturday, January 27.
In what has become the adult industry's most iconic tradition, the AVN Awards Show will celebrate outstanding achievements in areas of content production, retail and pleasure product innovations in the past year during the red-carpet event that will be streamed live for millions of adult entertainment fans around the world.
"Luna Star, Emily Lynne and Kazumi are among the crème de la crème in the adult industry today and we're beyond excited to have them at the helm of what will be the biggest AVN Awards Show we've ever done," said Tony Rios, CEO of AVN Media Network.
"We can't wait to see this incredible trio on stage together in January."
Luna Star is an 11-year veteran performer from Miami with a remarkable career trajectory.
An exclusive contract girl for Brazzers since 2019, the Cuban heartbreaker has amassed more than 800 credits since her porn debut in October 2012, making her one of the most prolific performers of the past decade in adult.
Born and raised in Havana, Cuba, Luna moved to Miami when she was 16, breaking swimming records during her junior and senior years of high school. 
Thanks in large part to her world-class performing prowess Star has been on a steady ascent to the industry's upper echelon. 
When she thinks about hosting adult's most anticipated show, Star tells AVN, "I can't stop smiling."
"I still can't believe it," Luna says. "I have been in this amazing industry for 11 years, and being asked to host the 2024 AVN Awards is a shock and like a dream come true.
"Since the year 2013, when I attended my first show in Las Vegas, I was so amazed but how big the production of this event is and how much we—the adult stars—are celebrated."
Star in recent years also has become a successful entrepreneur, opening her Espresso Cubano cafe in Miami in 2017. This year Luna was the centerpiece of her first star showcase, headlining Luna Star: Seduce & Destroy for Brazzers. She also played a supporting role in the epic feature Machine Gunner for Digital Playground.
Emily Lynne, a former cook at Hooters who has become must-see TV on MyFreeCams ever since her debut in June 2014, was the April 2019 AVN CAMStar.
The Las Vegas resident remembers posting her nudes on Tumblr just for fun before googling "how to make money by being naked on the internet." That's when she discovered MFC and everything changed.
An avid gamer who loves RPGs, Lynne since has built a fiercely loyal community on MyFreeCams that she lovingly refers to as the Salt Squad.
Now almost 10 years after breaking into the business she'll be one of the mistresses of ceremonies for the industry's premier showpiece in January.
"This is the highest honor anyone in our industry can have and I've fantasized about this since I first found out about AVN back in 2014," Lynne says. "I am so elated to represent the industry—and cam girls, in particular. 
"We are a group of badass, hard-working ladies and I get to be on stage celebrating us?! What a dream!"
Kazumi is a former marketing exec and film school student from LA who began her adult entertainment journey as an independent creator in early 2020 after achieving enormous success monetizing her Telegram. 
Fueled by her flair for unconventional marketing and dynamic social media presence, Kazumi took a fast track to stardom after deciding to focus on her OnlyFans in the spring of 2020.
Even though she had yet to launch her Instagram, her first viral moment came in March of that year, when she decided to Photoshop her face with a Fox News headline that she got kicked out of Harvard.
Now the meme-friendly creator counts airplane banners, box trucks and Hollywood billboards as some of the numerous brand-building endeavors that have raised her profile in the past three years.
"It feels like I am experiencing the best days of my life right before me," Kazumi says. "It is such an honor to represent such a wonderful class of beings!"
For tickets to the 2024 AVN Awards, click here.