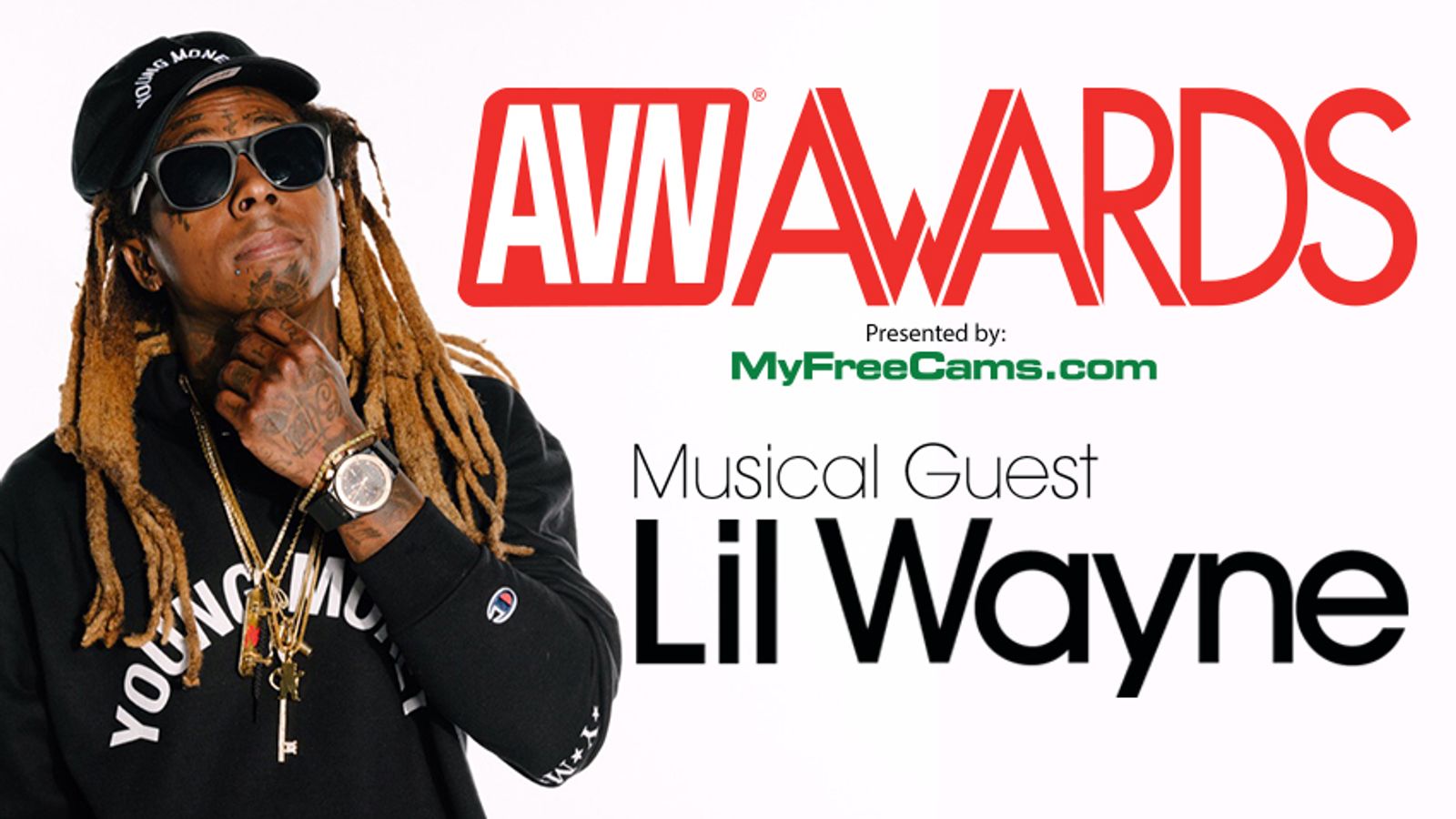 CHATSWORTH, Calif.—AVN Media Network announced today that multiple Grammy Award-winning artist Lil Wayne has been selected as the 2018 AVN Awards musical guest. The landmark artist holds the record for the most entries on the Billboard Hot 100 charts by a male solo artist, having surpassed the late Elvis Presley, and is rumored to be releasing his mixtape, Dedication 6, on December 25. The AVN Awards, the sexiest awards show of the year, will take place on January 27, 2018, at The Joint inside the Hard Rock Hotel & Casino Las Vegas.
AVN president Tony Rios made today's announcement. "We are extremely pleased to have Lil Wayne performing at the 2018 AVN Awards," Rios said. "Like many of the talent within the adult industry, he is also a successful entrepreneur, having opened his own company, Young Money Records. He's an amazing addition to this year's show and we look forward to having him."
"This is one of those bucket-list moments for me," commented Lil Wayne. "I'm super stoked to be a part of the awards show this year."
Having sold millions of albums worldwide and garnered four Grammy Awards, Lil Wayne is one of the most successful and critically lauded artists in hip-hop. He released his first project at the age of 12 and went on to release his first solo album in 1999, when he was only 17. He released his first installment of his legendary Tha Carter series in 2004 before releasing three others, including the landmark Tha Carter III in 2008. Lil Wayne also holds the record for the most entries on the Billboard Hot 100 chart by a male solo artist with 109 entries, having surpassed the record previously set by Elvis Presley. His most recent studio album, I Am Not a Human Being II, was released in 2013 and debuted at No. 2 on the Billboard 200 charts. Last year, Wayne released FWA (Free Weezy Album) exclusively on Tidal, where it was streamed a staggering ten million times within the first seven days alone. Outside of his iconic music career, Lil Wayne has continued on as the CEO of his own Young Money Records as well as the successful apparel brand Trukfit. He also has launched his own app, Lil Wayne: SQVAD UP, and his memoir, Gone Till November. His next release, Dedication 6, will debut on Christmas Day.
The 2018 AVN Awards will be hosted by adult stars Angela White and Harli Lotts on January 27, 2018, and is presented by MyFreeCams. The awards show is part of the AVN Adult Entertainment Expo presented by MyFreeCams, scheduled January 24-27 at the Hard Rock Hotel & Casino Las Vegas.
Tickets are now available by clicking here.
For hotel reservations and accommodations, click here.
For more information about the awards and the fan vote, visit AVNAwards.com.
All media inquiries may be directed to [email protected].