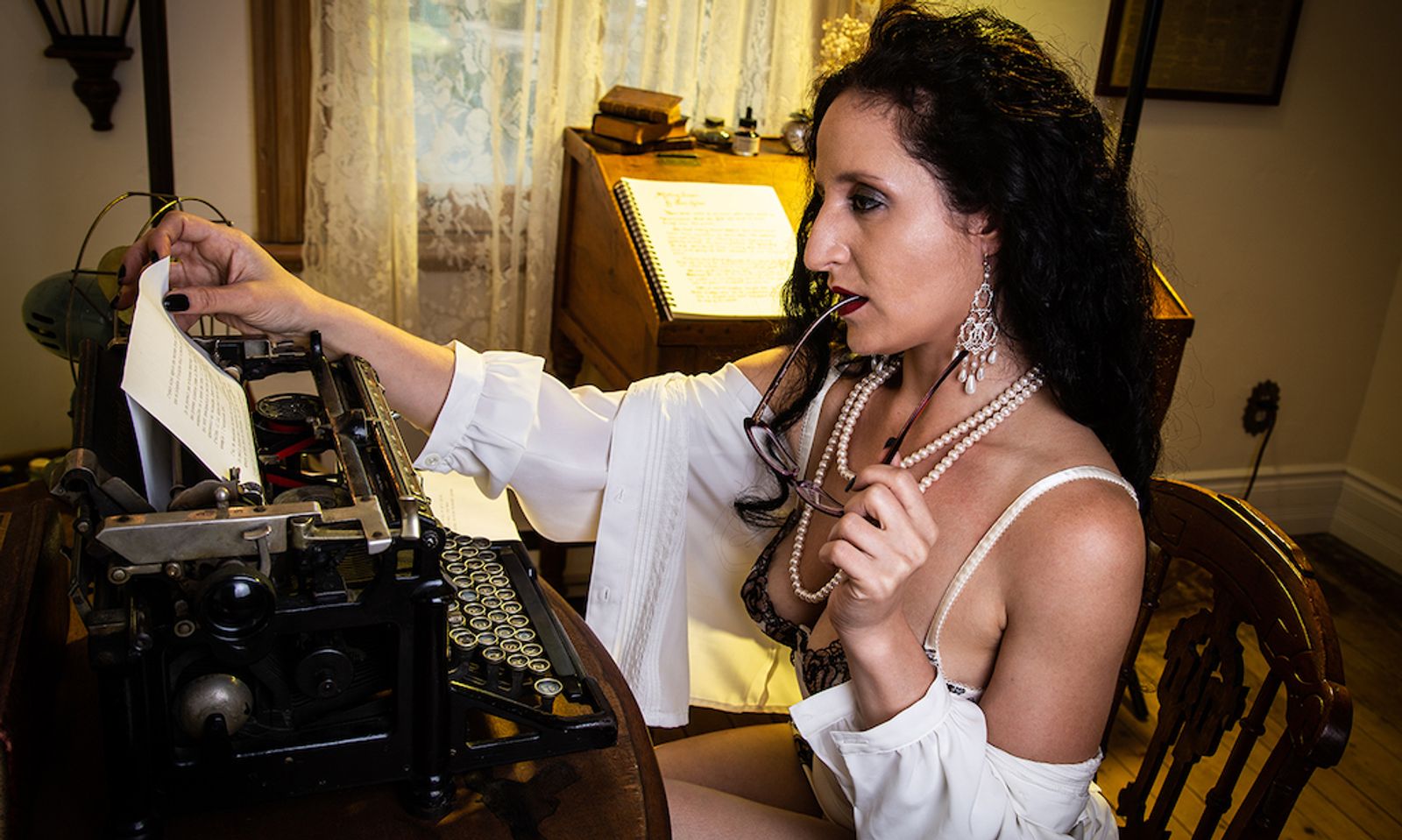 LOS ANGELES—Lexi Sylver, a 2017 AVN Best Screenplay nominee, erotica author, and podcaster, has some tips for "anyone who wants to write a dirty story."
"Close your eyes and imagine yourself in the scene. What do you want to have happen? What do you want to feel?" she says, in an email interview with AVN about her new short story collection, Mating Season. "You can do anything you want with your story! Put pen to paper (or fingers to keyboard) and let it flow out of you."
In her new book — a collection of 10 intensely erotic stories that range from a playful tale of an encounter after a highly competitive game of pool, to a BDSM orgy in an Amsterdam kink club — Sylver appears to have taken her own advice. She says that the anthology has "been in the works for my entire adult life."
"Some of the stories included are over 15 years old!" she tells AVN. "In fact, the first-ever version of Mating Season was "published" when I was in my late teens: printed and bound at a nearby Office Depot. I only printed ten copies or so and gave them out to my closest friends at the time."
Nonetheless, the stories each possess a timeless quality, and one that makes them relevant for the current, surreal times. Sylver says that she had originally planned to release the volume in July, "but with the ongoing crisis, I thought it might be a good idea to expedite the date to give people something to do, and something sexy to read and inspire them."
The new book is Sylver's first full-length collection, following her 2015 release All The Queen's Men which was essentially a standalone short story of about 30 pages in Amazon Kindle format. But Queen's Men was an erotic "fairy tale" set in a "medieval time that explores the power dynamic of BDSM from a royal viewpoint." 
The tales in her new collection are more contemporary, set in up-to-date, realistic locales. Or mostly realistic. Her story "Accidental Voyeur" is set in the lavish mansion of a wealthy Hollywood plastic surgeon-to-the-stars, for example. But the title of "Succubus" is not metaphorical. The story is told from the point of view of a sexual demon, who ravishes a human male with the help of Lucifer himself. 
Needless to say, each story contains Sylver's detailed, steamy descriptions of her characters' sexual adventures — but she also takes time to create actual, human characters whose inner lives, feelings and relationships are just as important as their erotic exploits. The sex scenes, she says, would not be effective without deeply drawn characters.
"What makes a bad sex scene, in my opinion, is when the chemistry between the characters hasn't been built up enough at the beginning in order for me to care about how hot the sex is," she says. "During the sex, I don't want to just know the ins and outs of what's happening — I want to get into the characters' minds (or at least one of theirs) and know how it all feels for them, what their own experience is like." 
When she gets to the good parts, however, Sylver isn't the kind of writer who relies mainly on the power of suggestion. Her sexual descriptions hold nothing in reserve. "280 pages of smutty literature — and the word MOIST doesn't appear even ONCE," she said, in a separate email.
"Not all writers have to do what I do and detail every moan, every lick, every thrust, and in incredibly graphic language. I didn't count how many times the words 'Fuck,' 'Cock' and 'Pussy' appear in the book... but that's just how I write," she says. "Other writers might choose to be less detailed about how they construct their sex scenes and can pull off a very sexy scene without having to go into who put what, where!"
Sylver describes herself as an "entrepreneur, advocate, educator, public speaker and coach for consensual non-monogamy and the swinging lifestyle," who also dispenses sex and relationship advice. ("No question is too taboo!") On a recent edition of her podcast "SDC Presents: Seek, Discover, Create with Lexi Sylver," she offered her insight on "How to Feel Sexy in Self-Isolation," a subject with which she now says her book can serve as an aide.
"Reading about my characters' shameless exploits in Mating Season can certainly evoke that in people and provide a welcome distraction to help others 'escape' into my erotic stories," Sylver says. "For people who aren't feeling so sexy these days — which is completely normal — reading erotic literature can be a great way to stimulate yourself. If you're self-isolating solo, reading Mating Season while masturbating is a perfect way to reconnect with your own body."
"We've actually been enjoying working from home and sharing our space. Since we're spending more time together, that also means more sex at different times of day, surprise quickies and sexy lunch breaks," she says, adding that she remains "virus-free, with a roof over my head, a stocked fridge, a drawer full of candy and a functioning internet connection."
She also believes that even the difficulties imposed by social distancing measures can ultimately have at least some positive side, providing "time and space for some self-awareness."
"I just recommend people practice patience, and take this time and make the most of it, however they can. Stay connected to the people who are important to you," she says. "Connection is crucial, so don't let go of that. If you need help from a professional to help you through this tough time, then don't hesitate to seek someone out. Your mental health is very important."
Mating Season is now available from LexiSylver.com, or as a Kindle download from Amazon, which also sells the book as a $16.99 paperback, for readers who prefer their erotica via the printed page.
Photos By Fabrice de Bray