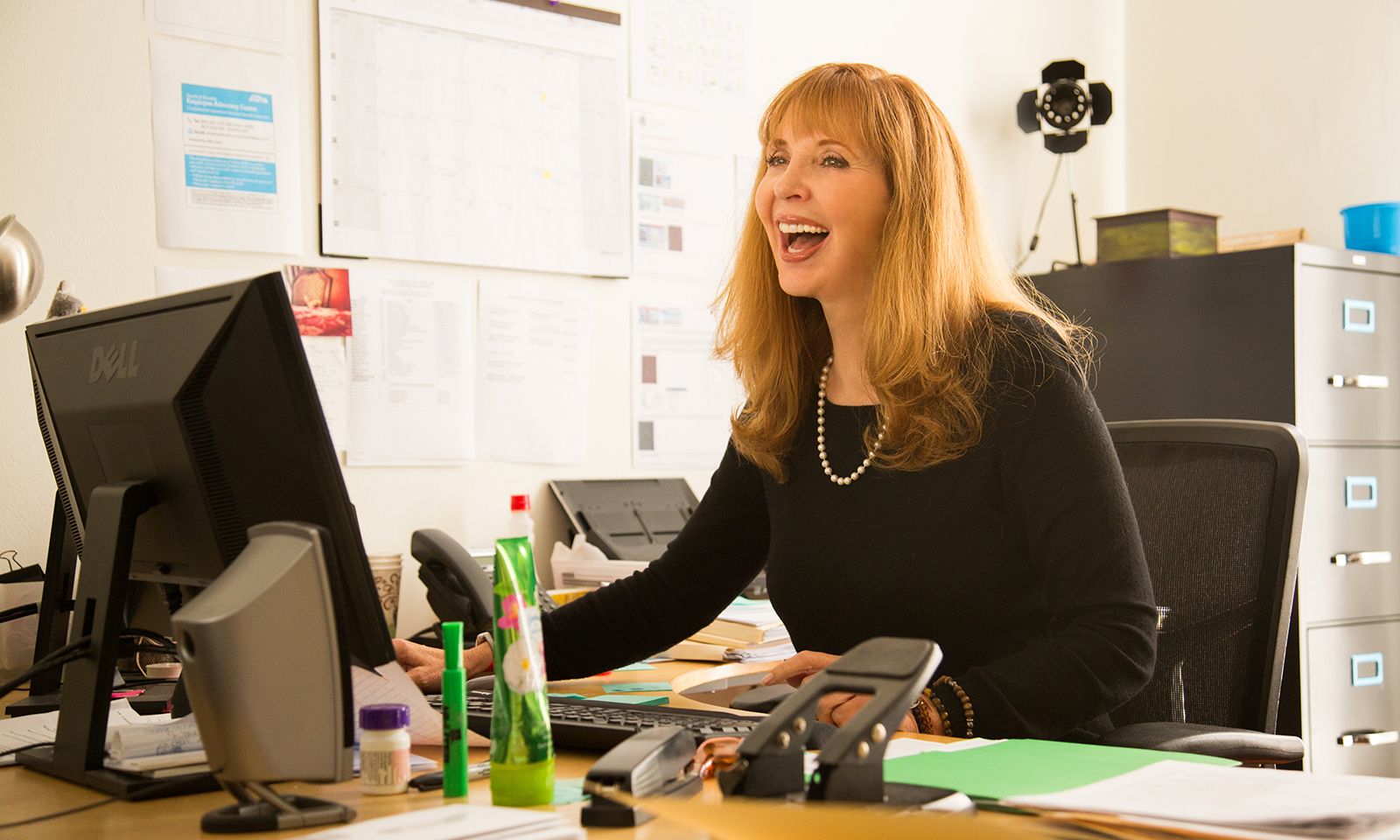 CHATSWORTH, Calif.—As this is written, former Penthouse owner Kelly Holland is (or will be momentarily) winging her way to Cannes to take part in the Marché International des Programmes de Communication, better known as MIPCOM, which bills itself as "The world's entertainment content market"—and content, or rather a content producer, is exactly what Holland plans to sell there: Chick Media and the Chick Channel.
"If I were going to produce content, being Kelly Holland, being a spokeswoman for women in this industry, having 15, 20 years of experience contemplating that, loving disruptive propaganda and loving the political disruption that I believe is pornography, I thought, given the temperature of the times, with the #MeToo movement, that there was an opportunity to create some interesting content," Holland explained. "I thought about the old United Artists concept from 1919 with Mary Pickford, and I thought, wouldn't it be interesting to bring together all the top woman directors in the industry, those that were not under contract, and launch a product called Chick Channel? It's not erotica for women, it's erotica by women. It's for everyone. It's very broad. Its only caveat is that it's high quality content for discriminating viewers. It's not the same-old, same-old."
And Holland's definitely been around long enough to know what that "same-old, same-old" is. Beginning in the early '90s, Holland, then a documentary filmmaker, began earning extra money by editing XXX movies for Vivid Video (as it was then called), and co-owner Steve Hirsch was so impressed with her work that he offered her directing jobs, which she accepted, and in late 1993, "Toni English" was born. As English, Holland directed about 150 movies for not only Vivid but also Adam & Eve, Wicked, Jill Kelly Productions and little-known distributor East West before taking back her own name in 2006 and adding Penthouse Video to her list of outlets.
Since then, Holland has had a storied career, which actually began taking off in 2005 when she was given the job of head of production for Playgirl TV.
"I created Chick Media back when I was at Playgirl," Holland explained. "I wanted to pitch an alternate channel to Playgirl; Playgirl had the challenge of trying to rebrand a long-existing brand, something I understand from Penthouse. It begs the question of whether it's easier to rebrand versus launching a new brand. At that time, Playgirl was struggling and I suggested to the ownership that they contemplate doing a younger, edgier brand called Chick TV or Chick Channel, and it would be under a parent corp called Chick Media. They never did anything with that. And then I got swept off to the world of Penthouse, and 110 percent of my energy was focused on Penthouse for the last 10, 12 years.
"Finally, I have decided it was time for a change," she stated. "I left Penthouse about a month ago. Penthouse, now under new ownership, I felt that my vision was not in alignment with their vision; it was going to go in a different direction that was not very interesting to me, and I did not share that vision."
So she has struck out on her own and found financing to help create the vision she's had for more than ten years: Chick Media.
"Over the last two or three years, I think, the adult industry has undergone some very cataclysmic changes," Holland noted. "The center is no longer holding, so the entire industry has decentralized and moved on to a good thing, actually, which is this incredible entrepreneurship by talent, so you have cam girls, you have the clips movement, Clips4Sale and free clips and commissioned clips. All of that is good in a way, so you have cam girls corresponding to Facebook and mainstream, and you have the clip movement corresponding to YouTube, its mainstream doppelgänger, but the traditional models aren't holding anymore, so the big companies are struggling, paysites are struggling, DVDs are a bit of nostalgia at this point. I think the tube sites are now starting to feel it because I think their business model of selling traffic is also diminishing because that traffic is worth less and less, not to mention selling pirated material, but their business model, whether you believe in it at a moral level or copyright level, I think the business model is not working in the way it used to."
Essentially, Holland believes, with quite good evidence, that if porn studios stopped shooting non-storyline content such as gangbangs, bukkakes, blowbangs and just plain wall-to-wall sex, "chronics would still have gangbang bukkakes to watch in 20 years when they were colonizing Mars—there's just so much content. And although some stands out from the rest, it's the same, the same, the same, the same.
"The connoisseur, the discriminating viewer has very little to view anymore," she observed. "Everything's very niche in that way, and that's a good thing, but the high-quality content doesn't have an economic base to it because that was sitting in the center of adult, and when it decentralized and sort of blew apart and the center wasn't holding anymore, that's what you sacrificed."
So ... Holland considers it her mission to bring back that high-quality content.
"I think there's still a market out there for discriminating viewers and content users," she said. "I left Penthouse and I would say within a week I was contacted by an investor who wanted to put money up to produce quality content, over a million dollars in the first year to produce content [but] I said, 'I don't know what content needs to be produced at this point. I really don't. The world doesn't need another gaping anal. The world doesn't need another gangbang bukkake. I have to believe in what I'm producing ... I don't have a passion for just putting more crap into the marketplace; I find that is just boring and there's much better ways to make money, and in this very competitive, disintegrating world of traditional content production, I am less than interested."
But Holland definitely wanted to make content that was both highly sexual and that she felt was worth her time to create. So now she has several irons in the fire, all of which will come to fruition under the Chick Media banner.
Perhaps the most intensive will be The Chick Channel, to be made up largely of female-directed hardcore movies, some of which will be full storyline features, and others of which will be collections of vignettes, though with a theme running through the collection.
"The first person I talked to, because I happened to be working with her one day, was Dana Vespoli, and I said, 'I can't really characterize what would be core to a movie on Chick Channel other than somehow, it must speak to someone. It can be a fantasy but it must have some sort of reality, some core reality.' At the same time, I saw a trailer that Jacky St. James had done, and I love her; she's marvelous. Dana Vespoli, Joanna Angel, Skye Blue and young emerging actresses that have an ambition to direct; Layla Sin, who was a Penthouse Pet; Olive Glass, Penthouse Pet—smart women with great esthetics and vision and insight into telling a truth; not necessarily a true story, but in that story, a truth, and that is the genesis of it."
But features aren't all Holland has in mind.
"Under Chick Media, there's another project that's very near and dear to my heart, which is a 30-minute behind-the–scenes show on-set on a weekly basis," she said. "This is how everybody remembers me, from 15 years ago when I came into the business as a documentary filmmaker, and everybody that's over 35 will say to me, 'Oh, sure, I remember you on set in your overalls and a Betacam on your shoulder.' I was then doing a series called Adult Television Entertainment, 30-minute episodes, much of which went into the mainstream. It was a weekly show, and I did 105 episodes, which is an incredible archive of everybody in the business 15 years ago. I still have those, when everybody was young, when all those performers that have transitioned to other places were young, and so I'm relaunching that concept under a different brand called Naked Hollywood, and that, to me, is as compelling as Chick Channel. The reason is because I get sick of opening up newspapers or going online or looking at television and seeing Rashida Jones trying to define the plight of cam girls, the good, bad and ugly of cam girls, and it's from the outside in. Or seeing Fox News trying to define who we are, or any other broadcast outlet trying to define who we are. I think we need to define who we are, and I think it's critical that we do that because the adult industry has such a skewed image in the popular imagination that it's usually—I would say 99 percent of the time—misrepresented. If they would just allow us to speak, and not edit it to their beliefs about us, everybody would be much clearer."
To create Naked Hollywood, Holland plans to interview workers and executives across the entire adult community: male performers, female performers, directors, producers, toy manufacturers, salespeople.
"I want to get a really broad spectrum of the industry. However, because so much is tied up with women and this concept of women being exploited, and that the women in the industry are broken, I think it's most interesting when you interview actresses, both veterans and newcomers. I've been doing these interviews for the last week, just starting this project up, and what's been most interesting to me is, it's a fast-forward from 15 years ago. It's the same conversations. I believe everybody's claimed the politics of it a little bit more clearly because they think in those terms, but what I hear, what I heard when I did 105 episodes and what I've heard from every interview that I've done except one ... is, 'I wanted to do this when I was young. I aspired to do this. There was nothing else I could do. This is where I wanted to be and when I got here, I felt like I came home. I was highly sexualized, I was marginalized when I was younger because I was highly sexual. When I got here, I felt accepted, I found my power'."
But Holland isn't looking for puffery; she also asks the performers what's the most negative aspects they've seen/experienced in the industry—and she'll be including some of those interviews as companion pieces to the Chick Channel movies those performers are in.
And that's not all Holland's working on for Chick Media.
"I have for 15 years believed that there was a great need to have a place and a space where people could go to get advice on their questions regarding their intimate life, their intimacy questions," she explained. "Twelve, 13, 14 years ago, I envisioned a service, which would be called My Sexpert, and it came from my own personal experiences, in that every time I was in a group of people, particularly if it was a group of people I did not know very well, and they found what I did, that I was in the adult industry, I immediately became the sexpert and the seer of their personal lives, and every issue they had: Their inability to have vaginal orgasms, their conflicts over the fact that they had foot fetishes but didn't know how to share it with their partner—all of the above.
"If you're with me," she continued, "the natural questions are, 'You know, I've been married for four years, I really love my husband, we have two great kids but frankly I fake my orgasms and I'm becoming more and more uninterested and detached from intimacy with my husband and I'm thinking I'm gonna cheat or I'm thinking he's cheating; what should I do?' That's the simplest and most common question. The whole world has questions no matter how sophisticated they are. They have questions about their intimacy life because it is by nature intimate and they don't talk about it with people around them, and some of those questions, if they're really uncertain about their sexuality or their proclivities, they won't even share it with a best friend because they're embarrassed to share it; everybody's embarrassed that the world is going to go, 'Ecch.' We know here in the adult space that there is no 'ecch' moment; that we applaud almost everything you do as long as it's legal and consensual. The rest of the world doesn't understand that. So I had the idea of doing just essentially a call-in line that was My Sexpert, pay per minute—like a psychic hotline but with true value. And then I got swept away to Penthouse and I put that to the side. However, it always sat there as something that I considered to be a really useful product in the marketplace. I still consider it to be a useful product in the marketplace and now that we are in what I call the concierge service industry, the info economy, it's an even more valuable service."
If all of this sounds like a lot for one person to handle, let's not forget that this is the same woman who ran Penthouse Global Media. But while Holland says that Penthouse scored most of its earnings from its international channels, she expects that The Chick Channel will find homes not only in Europe and Africa, but also here in the U.S.
"Look, I know there's probably only four of us in the world that are my peers that understand international channels and I think we all know who we are: Michael Klein, having been at Hustler and then at Vivid; Tony Cochi, who is at Hustler and was formerly at Vivid; and Marc Dorcel. I mean, who else is there? I guess Scott Justice to some extent with Brazzers—I mean, who else is doing it? There's individual channels in Europe, but to run global international channels, you can count those people that do that on one hand. That's my skill set, and although I was happy to go develop other skill sets with the technology platform, the investors who came to me saw that as an advantage, so I believe, given the temper of the times, it's a good time to launch it. I'm impassioned by it and I'm impassioned by the politics, which is what moves me, but there's also strategic reasons to do this right now because the broadcasters are scared and they want cover, and you give them a channel that's dedicated to women's voices and women's views, that's a lot of cover when anybody from the #MeToo movement or—I don't want to single out the #MeToo movement but there's a fraction of the #MeToo movement that believes that women that are sexual are somehow sexually exploited. You can't make that case. So that doesn't play when it's smart, talented, accomplished, visionary women who are behind it and aren't afraid to talk about it. So now come talk to me about it! So I think that that gives broadcasters a good reason to take a channel like that."
And that's exactly what Holland will be finding out this coming week at MIPCOM in Cannes!