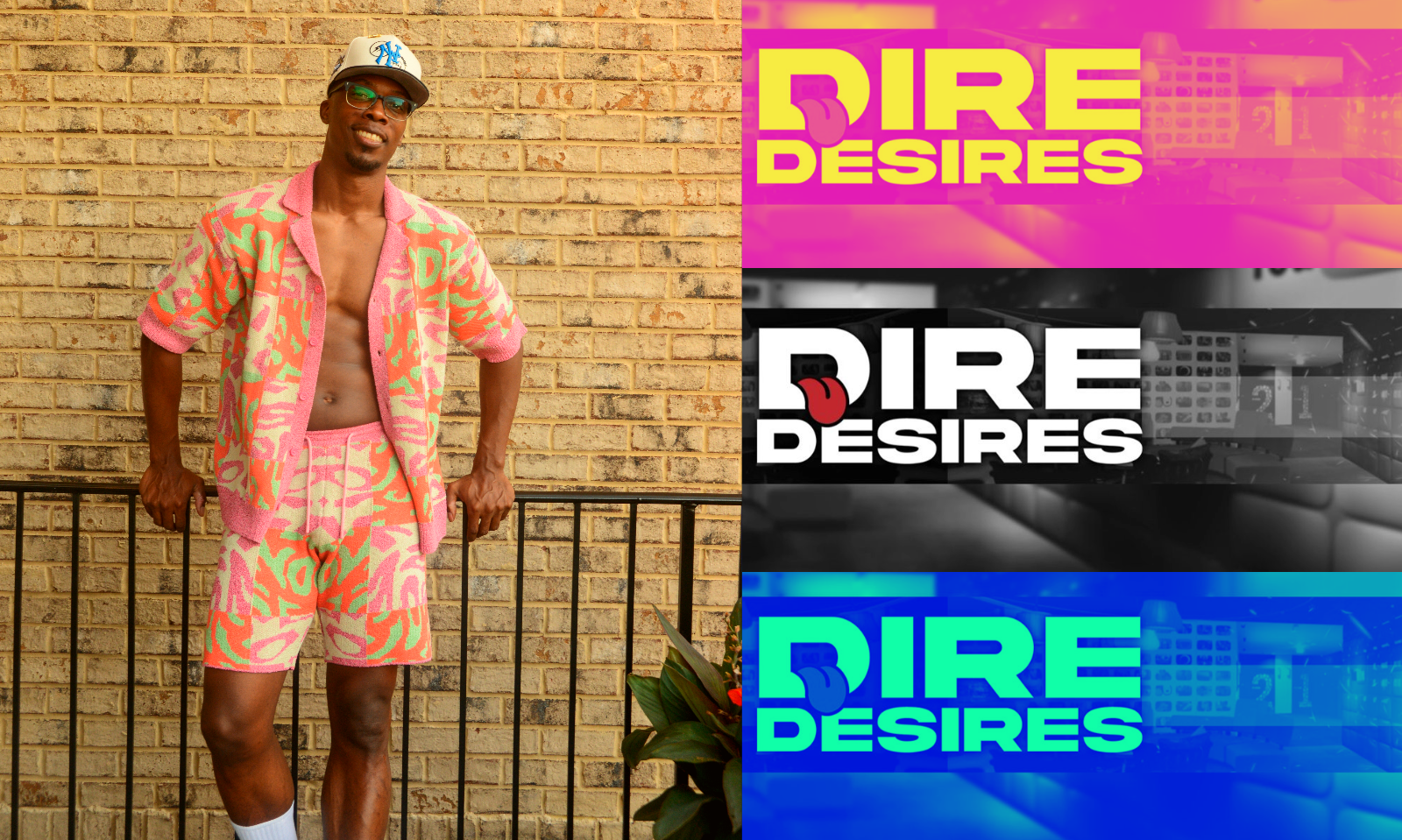 ATLANTA—For many who are new to the adult entertainment industry, they realize quickly that it is a crowded market. The market environment is saturated due to the popularity of creator platforms and the industry-wide shift towards a creator-driven economic calculus.
This isn't to say that newcomers to the industry can't make a profit. But it does mean that dedication is required—a level of dedication that is rare to find unless you have a true vision for the future.
This is the modus operandi behind the rising pro-am adult banner Dire Desires. The company's founder, Jay, opened up to AVN recently about his dedication to the crafts of acting and directing, and how he sees nothing but expansion, accolades and—not unimportantly—dollar signs in his future with the ever-evolving adult industry.
"Dire Desires launched in July 2018," Jay told us in a phone conversation from his base of operations in Atlanta. "I incorporated probably July 10, so, probably before the month ended." 
Since its launch, Dire Desires has steadily grown into a true contender in the pro-am game, and according to Jay, this success is owed to history going back well over a decade and his mission to not only achieve financial success but to be the next "big thing" in porn. From Brooklyn, N.Y. originally, Jay explained that he was first exposed to the industry by dating a former porn star.
"If you ask any guy who is very sexual, they are all going to say that they want to do porn," he remarked. "Ten or 12 years ago, I was dating a porn star—a former porn star. She had just left the industry, and we happened to meet. We started dating and were in a relationship. After that ended, I was broke, sleeping on my homeboy's couch—with no money."
He explained that while he was looking for work after the relationship, he met someone who was doing amateur porn.
"I met somebody ... it's funny, I met her on Facebook, and I kept telling myself: 'This female looks familiar.'" He thought he knew this mystery woman from his neighborhood. "I couldn't put my finger on it, like she looked very familiar. I thought she went to a high school in my neighborhood." Eventually, Jay's questions were answered when he made the move and hooked up with the woman. 
"I said, 'Oh, that's where I know her from,'" he recalled, laughing. "She did amateur porn." Looking for work opportunities and the need to make an income, Jay—as bold as he is—asked her to put him in some of her videos and connect him to professionals who were already in the adult industry and looking for leading men to cast.
According to Jay, she quickly put him in contact with a producer, and the producer invited him to audition and get tested beforehand to appear in scenes with female talent he had under contract. "I performed well because, you know, I was just so stoked to be there," Jay said.
After many trials and tribulations over the years, Jay saw an opportunity to launch his own paysite and scale the brand into a near-self-sustaining adult studio.
With over a decade of experience in the industry thus far, Jay now parlays all that he has learned into producting content with visual aesthetics and a composition that he says are inspired by the output of well-established brands like Vixen Media Group.
But what's unique about Jay's style is that it speaks to the man's range as a solely self-taught director and editor, augmented by years of experience as a performer who understands stage direction, acting, the importance of chemistry and more. 
On a personal level, the success Jay has experienced running Dire Desires reflects in all aspects of his life. Purporting to earn an average of $40,000 per month in revenue, he also benefits from the love and support of his family with no judgment.
"You know, nobody looks at me any different," he said proudly. "Thanksgiving is still in my house every year."
Aside from maintaining a very close relationship with his family, Jay said that he is also spreading his wealth by hiring his most trusted lifelong friends to work with him in managing his expanding businesses and striving to be a force for good in an industry that outsiders often misunderstand and regard as taboo.
In addition to wearing the hats of a director, producer, editor and production manager for Dire Desires, Jay stars in most of its scenes. The most recent release to the site features him opposite Ritaa Bang. Other starlets and rising performers he has appeared with on camera include Deja Marie, Fantasii, Majesty Nasty, Ari Sins, Baby Gemini, Lethal Throat and Mena Carlisle.
Jay says that the roles he's most proud of, however, are those of business owner, executive and entrepreneur. Maintaining a businessman's mindset is what drives him daily in all of his ventures, adult-related or mainstream, and it has served him quite well.
Offering a word of advice for those who wish to seek out a career in adult entertainment and eventually own their own business, Jay noted: "If you do something viral, you always have to do something viral, right? But if you have something that's pure and has substance, you will retain customers."
He concluded by saying that because of this substance, he could go for six months without uploading a new scene, and his "bills would still be paid." 
Dire Desires was nominated for Best Pro-Am Studio of the Year at last weekend's 2023 Urban X Awards. 
Jay also just launched a brand new video podcast focused on interviewing adult industry personalities, available on his safe-for-work YouTube channel. To watch the videos, click here.
For more, visit DireDesires.com and follow the brand on X.com (formerly Twitter) @TheDireDesires.