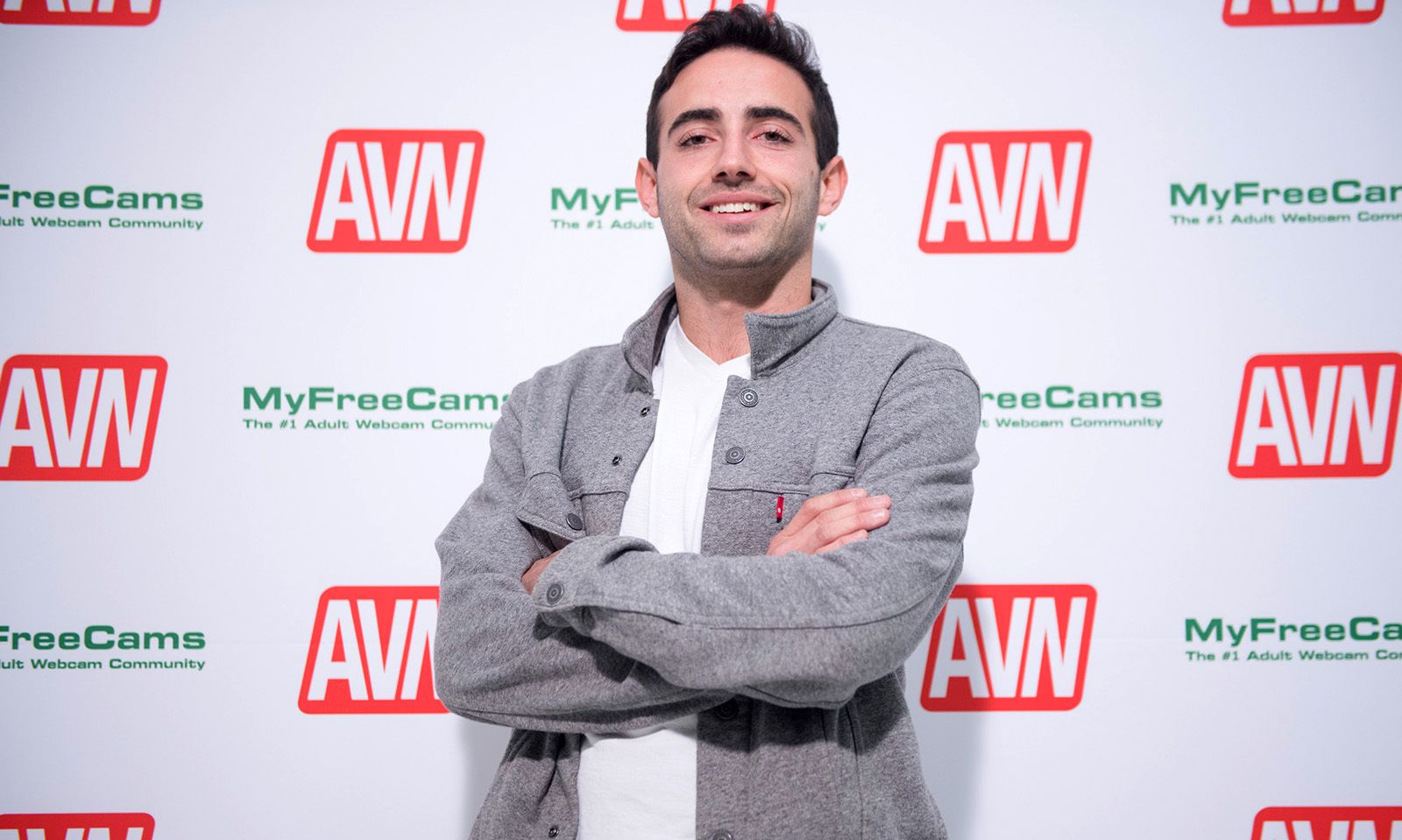 LOS ANGELES—Performer Jake Adams was the victim of a fatal motorcycle crash on Wednesday afternoon on the 101 freeway in the Encino area. He was 29.
Multiple Los Angeles news outlets reported late Wednesday that the crash occured at around 4:15 p.m. and involved multiple vehicles. Though Adams' identity was not released in those reports, AVN confirmed it via documentation from the L.A. County Medical Examiner-Coroner's office.
Adams amassed more than 700 credits as a performer in the past five years, working for just about every major studio in adult. Some of his early work was for Brazzers and Mofos, and he was a contender at the 2018 AVN Awards for Best Male Newcomer. One of his most memorable turns came in director Will Ryder's 2019 Adam & Eve Pictures comedy Love Emergency, which landed him a 2020 AVN Awards nomination for Best Supporting Actor. He also was a busy director, shooting for sites such as Exploited College Girls and Bellesa House.
The Charleston, South Carolina native majored in business in college, managing restaurants before taking the leap into adult in late 2016. He got into adult after having sex at a porn party he attended with his friend. In a 2018 Fresh Face interview with AVN, Adams said, "I'm just thankful to be here, ready to see what happens in the future, and stick around if people let me stick around…"
Adams was well liked among the adult industry community, and had gained a reputation in the past few years for hosting sprawling industry parties at his San Fernando Valley home. Having not held one since before the onset of the COVID-19 pandemic, Adams brought the tradition back with a vengeance this July 4th weekend, and industry members turned out in force.
As news spread Thursday morning of Adams' death, an outpouring of shock and grief erupted across social media from industry friends and colleagues. A handful of comments that had appeared as of press time follows:
Lacy Lennon (@MissLacyLennon): "My heart is shattered by this mornings news. Rest In Peace Jake."
Billy Visual (@BillyVisualXXX): "This is gut wrenching news!! Such a good guy and kind hearted. Always throwing the coolest parties!!"
Emma Starletto (@Estarletto): "Jake Adams was one of the first people I ever met in the industry and He made me feel so welcomed. Jake, you are so cared for and you are loved by many. Hearts are broken this morning. We love U. RIP JAKE ADAMS."
Ashley Lane (@AshleyLaneXXX): "This is absolutely heartbreaking. You will be missed dearly"
Allie Nicole (@allienicolexxx): "Rest In Peace @jakeadamsxxx I really can't believe it. I was just with you catching up and excited for all the exciting things you had coming. Thank you for being a real friend to all who crossed your path. I love you forever. Fly high"
Kenzie Reeves (@ItsKenzieReeves): "Can't believe I'm even typing this… you were always a friendly outgoing person that always welcomed anyone always had a smile on your face. Gone too soon. Rest easy Jake"
Joanna Angel (@JoannaAngel): "This is devastating. Holy shit. God damn it. This is really really really sad- my heart goes out to his family and close friends and everyone grieving right now. RIP to a wonderful and talented person"
Evelyn Claire (@LuvEvelynClaire): "I  don't wanna believe it. @jakeadamsxxx glad I knew you."
Emily Willis (@emilywillisxoxo): "So so sad at the news this morning. rip Jake."
Mike Quasar (@mikequasar): "Put aside petty differences and love as much you can. You never know when it could be all over. Rest In Peace my brother. You were loved by many."
Avery Cristy (@ACBayybee): "Wow. I'm totally fucking speechless. R.I.P Jake."
Adira Allure (@AdiraAllureXXX): "My heart is sad today. RIP Jake"
Seth Gamble (@sethgamblexxx): "Such shocking news my condolences the friends and family of Jake Adams. It's a very sad day We lost a really good guy"
Will Pounder (@TheWillPounder): "I can't believe it's true... @jakeadamsxxx was one of the good ones. He cared about everyone else more than himself. Rest in peace ... we lost a good one."