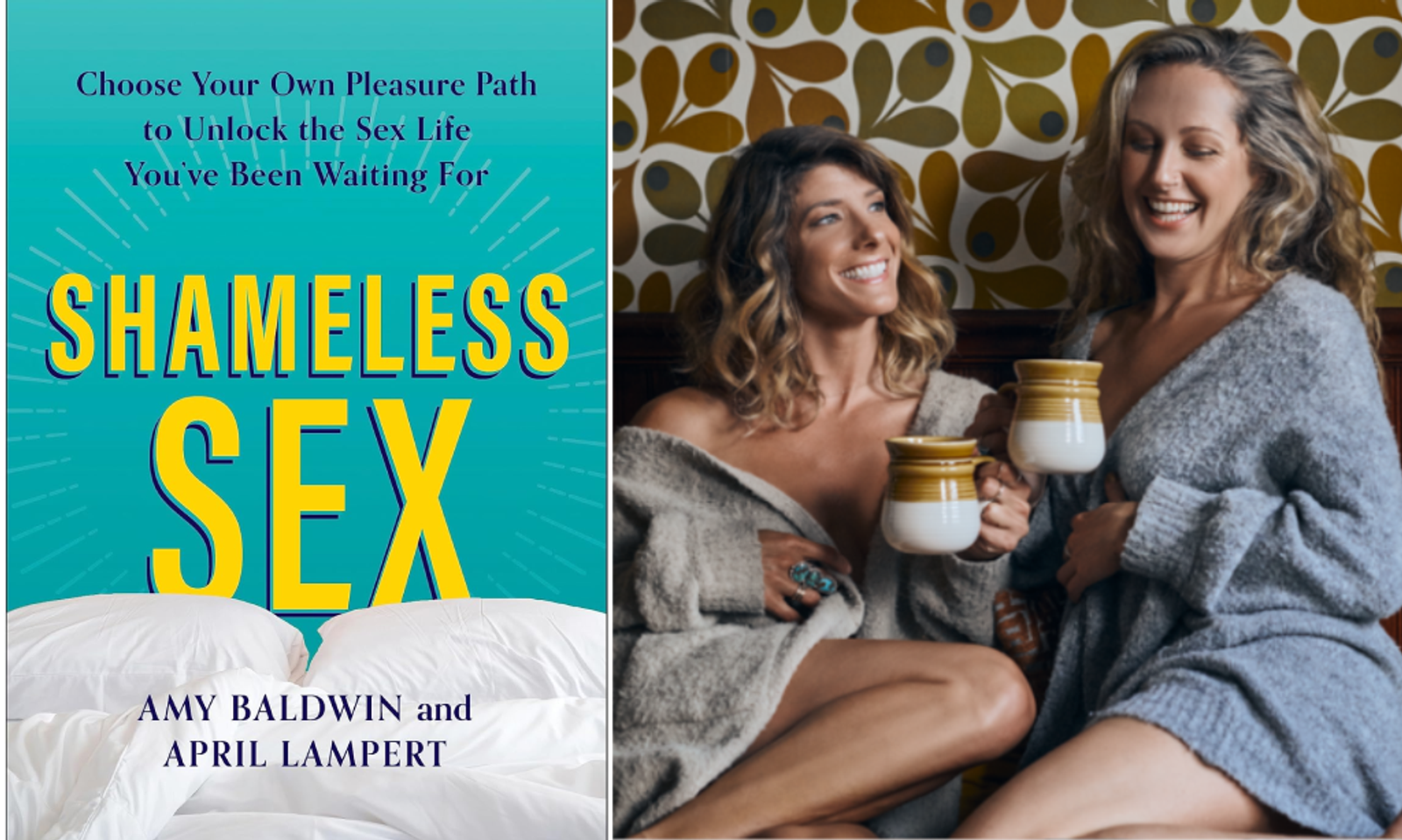 SANTA CRUZ, Calif.—Sex podcast hosts Amy Baldwin and April Lampert from "Shameless Sex" have released their first book, Shameless Sex: Choose Your Own Pleasure Path to Unlock the Sex Life You've Been Waiting For, now available for pre-order by BenBella Books in hardcover ($28.95), audiobook and audio CDs in major bookstores nationwide including Amazon, Babeland, Barnes & Noble, BenBella, Books-A-Million, Bookshop, Discover Books, FUN FACTORY, Good Vibes and Penguin Random House.
The book is a compilation of Baldwin and Lampert's best sex and relationship advice addressing the most commonly asked questions from over 350 podcast episodes and features interviews and expert commentary from hundreds of doctors, sex educators, therapists and coaches.
Written in a "choose-your-own-journey" format, readers are empowered to navigate their personal pleasure path. The new wellness guide is based on the co-authors' podcast "Shameless Sex" and comes from two sexperts who give sex and relationship advice weekly to thousands, with over 16 million downloads to date and more than 300,000 listeners per week.
Certified sex educator Baldwin said, "Regardless of gender, sexuality or relationship status, the book helps readers embrace their desires, gain confidence in relationships, and explore an ever-changing world of sexual pleasure to cultivate one's dream sex life. Designed to be revisited time and time again whenever those new, inevitable questions about sex and relationships arise—this is the handy guide to tackle those burning queries."
Co-host Lampert added, "Through Shameless Sex: Choose Your Own Pleasure Path to Unlock the Sex Life You've Been Waiting For, we want to inspire radical self-love, sexual empowerment, and shame-free intimacy. The same passion, depth and connection we bring to our podcast, we brought onto the page—with actionable, real-world advice to cultivate the sex of their dreams."
Baldwin and Lampert will also be hosting a book reading and signing this week—toplessly—at their event "Topless & Tapas" Book Launch at San Francisco's Monarch on Wednesday, Nov. 15, from 6:00 to 8:00 p.m. (PST). Held in the Emperor's Drawing room in the Monarch, tickets ($45 each) include a "Shameless Sex" signature cocktail, tapas, the topless book reading and signing, and access to the speakeasy next door. Copies of Shameless Sex will be available for purchase on-site.