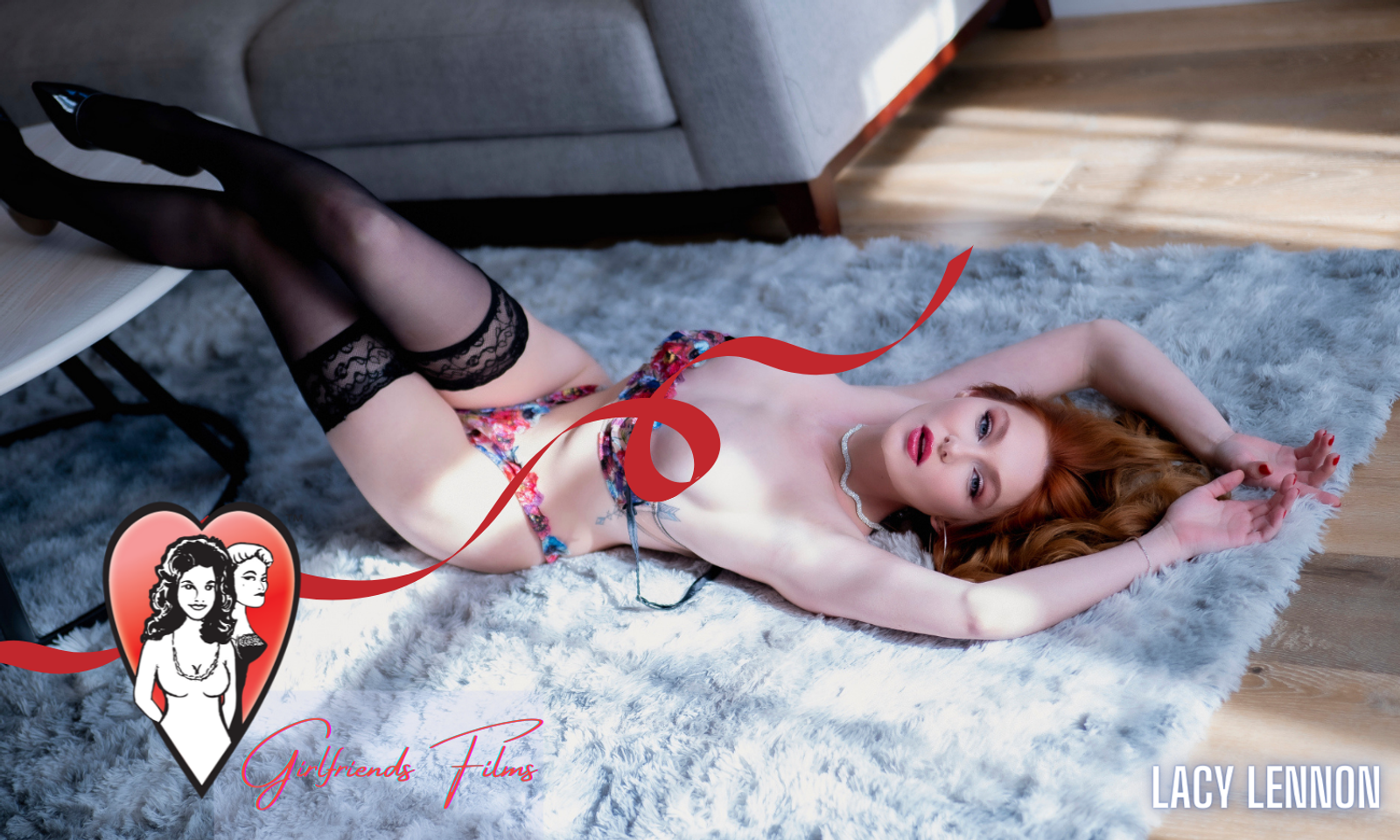 VALENCIA, Calif.—Lesbian studio Girlfriends Films announced Monday that it has signed AVN Award winner and 2020 Penthouse Pet of the Year Lacy Lennon as the newest addition to its girl/girl contract roster. Known to Girlfriends fans for her AVN Award-nominated performance in the feature Alien Rhapsody, Lennon will perform in, as well as write and direct original productions for the studio.
Lennon says she is "most excited to write and direct" as part of the new deal. "Very happy to announce that I not only will be performing for Girlfriends, but expanding my career to create more depth within my brand," she commented. "Do not get me wrong, I am over the moon that I will be smothered by some of the most beautiful women in this industry, but it really gets me excited that I will be behind the camera creating visions that I have had for so long as a performer. We need more female directors to empower our fellow female performers that the sky is truly the limit if you create a career out of [adult] work."
The self-described "girl next door" says she loves communicating with fans often, and looks to them in order to "scope out" what people are searching for. "I have had my eyes on many performers who I feel the industry doesn't give the time of day," she added. "I want to be the person who gives these women scenes that they deserve."
Elaborating on the type of realism fans can expect in her upcoming projects, Lennon promised, "What fans may expect from me are genuine lesbian performers and performances. I am sure that sounds overdone, but I have a keen eye as to who the fans enjoy, and who isn't faking it. Expect some new flavors within the features as well. I am excited to start doing more gonzo especially. It is a genre that really resonates with the fans. Plus heavier script work, as I always have a story to tell. Now that Girlfriends is giving me so much inspiration, it allows me to use my skills for truly unique scenes with detailed 'Lacy' touches."
Remarked Girlfriends Films president Moose, "When we first met Lacy, I think everyone could tell she had that unique star quality that could take her as far as she wanted to go in her career, and we're incredibly stoked not only to bring her into the Girlfriends family as a contract star, but also working with her on developing her upcoming projects and bringing them to life. She's got some amazing ideas for writing and directing, and we're looking forward to what the year will bring in 2022."
Having appeared in nearly a dozen Girlfriends Films titles to date, Lennon reflects on one of her earlier scenes, in Mother-Daughter Exchange Club 58: "Some of my first scenes were directed by Dan [O'Connell, founder of Girlfriends Films]. During a scene with Channel Preston, the light fell on Dan's head. He was bleeding, but the scene was so good that he didn't want to cut. So Dan is filming away with blood dripping down the side of his face, while we had relentless orgasms. Now, that is the director I aspire to be!"
Also on set that day was future Girlfriends director and contract star Serene Siren, who directed Lennon in 2020. "Serene Siren hired me as a lead for her feature Alien Rhapsody, I believe this was almost two years ago, probably one of the hardest scripts I have ever done, and the majority of what was written and performed was lost in editing," Lennon recalled. "That time on set though with Charlotte Sins and Serene was pure bliss."
In addition to the Best Leading Actress nominations Lennon earned from AVN and XCritic for her performance in Alien Rhapsody, the movie garnered Siren an AVN Awards nod in the Best Non-Sex Performance category. Lennon and Siren were recently reunited in Girlfriends' first title of this year, Lesbian Massage Club, directed by B. Skow. Upon release of their scene on demand, Lennon tweeted "Best GG of 2022, I swear."
Next slated to appear in upcoming title Lesbian Sex 25, Lennon reflected, "Today's Girlfriends feels like home. I have known this crew for three years now and every time it simply gets better. I am a girl next door—Girlfriends showcases the girls next door! That is something I absolutely adore about the company. I always get cast with top tier talent and get a superb scene in return. They take care of their talent and no funny business happens. Everyone is there to create something beautiful without any stress or drama. They really care about the fans, which shows within their work."
Follow Lacy Lennon on Twitter @MissLacyLennon.
Keep up with Girlfriends Films on the studio's official blog www.girlfriendsfilmsnews.com, and on Twitter @GF_Films and @LoveYourGFF.