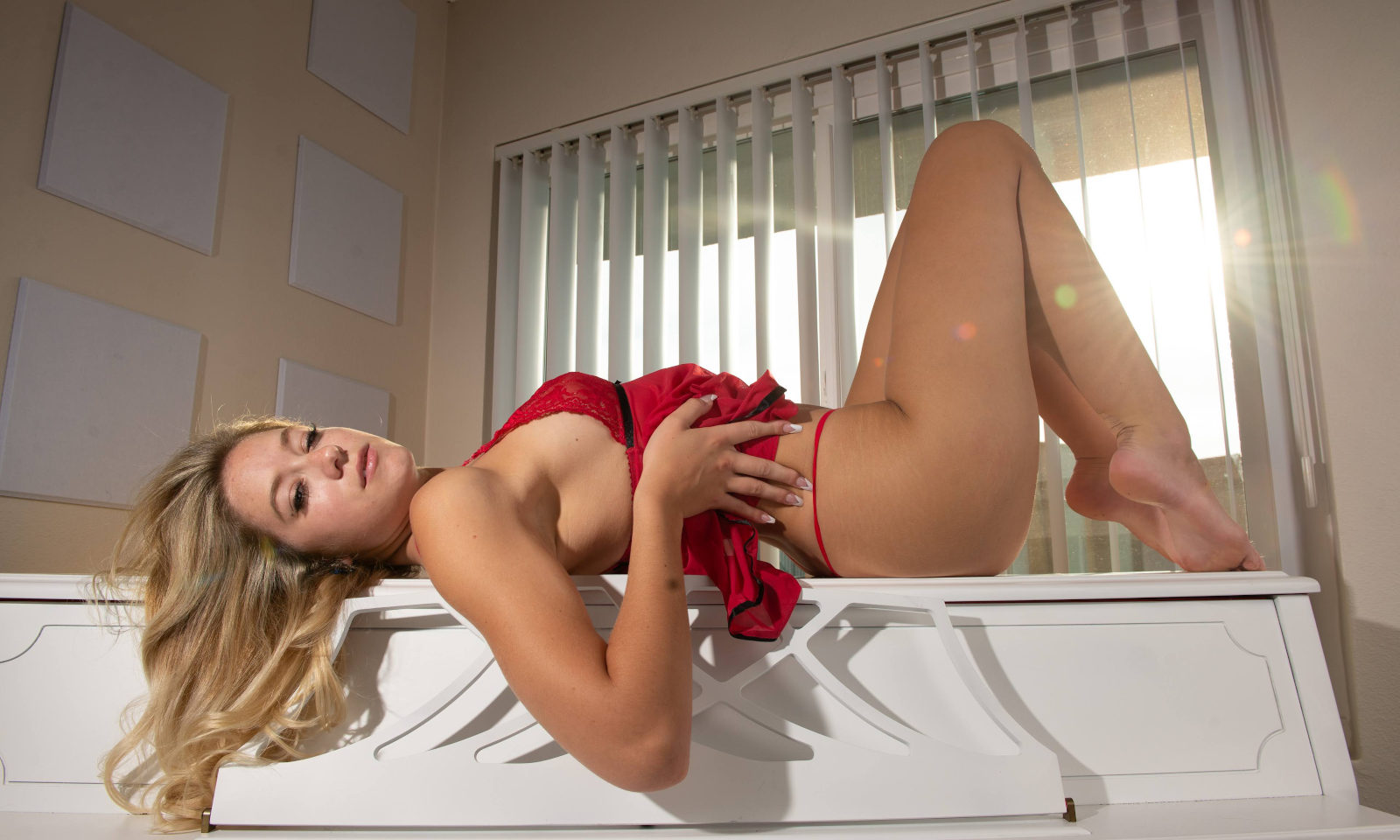 A version of this feature appears in the August issue of AVN magazine. Click here for the digital edition.
LOS ANGELES — The first day of school is only a few weeks away, and River Lynn has her wardrobe all picked out. 
On what could be a blistering weekday afternoon in August, the 5-foot-7 blonde says she'll stroll through campus at a "big SEC college in Alabama" wearing a short mini skirt, a pair of sunglasses and a black t-shirt that reads "I Heart Slutty Women."
"Porn clothes," Lynn says with a laugh.
"Just so everyone knows who they're dealing with."
Indeed, almost every adult industry newcomer is cast as a college girl at some point early in their career. But for Lynn, the role is especially fitting.
She actually is a college girl.
And we're not just talking online courses here. After spending the summer shooting in Los Angeles, Lynn will return this month to her native Alabama for the start of her senior year.
Lynn, 21, will attend in-person classes each morning and head to the library in the afternoon to study. At night she'll barhop and attend fraternity parties with friends. Perhaps more than anything, Lynn is excited for Saturdays in the fall, when she'll cheer from the stands at her school's 105,000-seat football stadium.
"Just like any normal college student," Lynn says.
Even though she is anything but.
While most people on her campus probably have no idea that Lynn is a porn star, she hardly feels the need to keep it a secret.
"The fraternity guys definitely know," Lynn says. "And some of the sorority girls who know are jealous and don't like it. They look down on it. But my close circle of friends loves what I'm doing. They support me, and that's all that matters."
Lynn's hectic class schedule prevents her from shooting much studio content during the school year, but she takes cross-country trips to Los Angeles to work during the winter holidays and Spring Break. Lynn is slated to graduate in May of 2023 with a degree in Communications and Entrepreneurship. She intends to work in the adult industry full-time after she receives her diploma.
Lynn, who says she's shot about 70 studio scenes in the past year, is represented by Foxxx Modeling.
"This is a great fit for me," Lynn says. "This is who I am. I'm a sexual person. I like meeting new people and having sex with them. I like going to fancy set houses and doing cool, different videos, or videos that I laugh at because they're so corny.
"This doesn't feel like work to me. It's such an interesting job. I don't think I could have another one."
Becoming a porn star was hardly something Lynn envisioned while growing up in Gulf Shores, Alabama, a beach town of about 13,000 on the state's Gulf Coast. Instead of participating in athletics or other extracurricular activities, Lynn says she and her high school friends worked at various seafood restaurants and surf shops and then spent their free time on the beach—drinking and partying while maintaining their yearlong suntans.
Shortly after she enrolled in college in the fall of 2019, Lynn's boyfriend began working in the adult industry. Hurt and upset, Lynn told him the only way she'd be OK with his career choice was if he shot content with her—and no one else.
Lynn's boyfriend agreed to the ultimatum and, just like that, a star was born.
"I'd always been a sexual person and was always very confident in my body," Lynn says. "But living in Alabama made things difficult. I was in the Bible Belt. People get shamed. You couldn't always be open about how you feel."
Now with a willing and uninhibited partner, Lynn was unleashed. She launched an OnlyFans account and also posted her videos on Pornhub. Even though her face was blurred out, the content Lynn filmed with her boyfriend became wildly popular on the site, with several scenes tallying more than 1 million views.
"(The Pornhub numbers) gave me so much confidence," Lynn says. "I thought, 'Whatever you're doing, you're doing it right.' I was hooked. Eventually my boyfriend and I broke up. I took a few months off and missed it. I was like, 'I love doing this. I'm not going to stop.'"
Lynn began posting content again, and what happened next was almost textbook. She was discovered by her eventual agent, flew to Los Angeles and began shooting studio porn in late June of 2021.
By the time summer ended, Lynn had shot 13 scenes, with the most memorable being a boy-boy-girl romp for Black Ambushed with Isiah Maxwell and the late Jake Adams. After receiving a blowjob from Lynn in the living area, Adams guided her into the bedroom, where she was surprised to find Maxwell.
"I didn't know who all the big porn people were at that point," Lynn says, "so I didn't know Isiah. I just remember him being in there all propped up. He looked amazing. I loved having the freedom to do exactly what I'd want to do in that situation, which is walk up and suck his dick."
Lynn laughs.
"That was such an amazing day," she says. "It was my second scene ever."
Shortly after she returned to campus last fall, word about Lynn's part-time career began to spread. Fraternities began asking her to make appearances at their parties. A few times she passed out autographed copies of a Hustler magazine that featured her on the cover. Classmates expressed their support and peppered her with questions about the industry, and it was never difficult to find a guy to cut the grass outside the place she shares with her roommates.
"And if the guy was hot," Lynn says, "he could, you know … stay and hang out a while."
Truth be told, Lynn is enjoying the adult industry so much that, if her circumstances were different, she'd probably drop out of school altogether. Especially considering her father stopped paying her tuition in March after discovering she was involved in sex work.
Lynn, though, is just one year away from graduating.
"I'm too close to the finish line to stop now," Lynn says. "If I don't do it now, I never will. I've got to push through it.
"Plus, I don't want to miss out on my senior year. I love going to the football games—especially the big rivalry games at home the atmosphere is insane. I'm also extremely close with my roommates and I wasn't ready to leave them. We always go to the bars on weekends. I'm always going to be going out. With this being my last year, I want to go out and make it count and experience everything for the last time."
As hectic as her shooting schedule was this summer in Los Angeles, Lynn also took a few classes online. In July she discovered her newfound fame could prove beneficial when it came to math homework, as her Twitter plea for assistance with logarithms was answered immediately.
"It was amazing how quick and eager people were help," Lynn says. "It makes me feel like a mini-superstar. I love that everyone on my Twitter is super-supportive of everything I post. Whether I'm having a bad day or a good day, they're very supportive. They always have my back, which I love."
The majority of Lynn's focus this summer, however, was on producing content. Chris Cane of Foxxx Modeling estimates that Lynn shot more than 30 scenes in June and July. She worked for studios such as Team Skeet, Cherry Pimps, Naughty America, Reality Kings and Hustler. Lynn's proudest moment, though, came at the end of July, when Hall of Fame director James Avalon cast her alongside veteran Kenzie Taylor in a girl-girl scene for Adult Time.
"It felt like a dream, like I had made it to the big league," Lynn says. "Everyone on set was so professional, so nice. Kenzie and I talked a lot before the scene and she gave me so much great advice about how to be a good performer. It's something I'll always appreciate."
Working for an elite studio such as Adult Time was a bucket list item for Lynn, who also hopes to shoot for Vixen, Brazzers, Pure Taboo and others. Considering the ever-increasing demand for her services, Lynn may indeed get that chance when she returns to Porn Valley next summer.
"She's very reliable, very responsible," Cane says. "She shows up to her scenes on time. I've never had anyone call me to ask me, 'Is she coming? is she here?' She's already already there. She's a very pretty girl. She has an all-natural look. I'm trying to remember whether anyone has anything negative about her, and nobody has. Everybody loves River."
That includes veteran performer Donnie Rock, who went one-on-one with Lynn for PornDude Casting and has also directed a handful of her scenes for Team Skeet.
"She genuinely wants to graduate college," Rock says. "She's driven. She's motivated. I respect that. I like motivation and motivated people."
Rock says the fact that Lynn is indeed a true college student gives her an extra appeal.
"There are definitely some angles to work with there," he says. "A lot of these girls say they're in college and I don't believe them. With River, the storyline is real. She goes to the frat parties. She goes to the bars, just like I did when I was in college, so I can relate to her. She has fun. She tries to hook up with people. I'm going to take someone home tonight. She's slutty. That's why she's perfect for this industry. With her it's about the sex first, the money second."
As she continues to evolve as a performer, Lynn is also discovering more and more about her sexuality.
Before porn, Lynn had mostly been submissive in her sexual experiences, but now she's learning that she occasionally likes to dom. She's also realized that she's bisexual—the scene with Taylor was her first girl-girl tryst—and is considering doing anal, as well. The thought of a bondage scene for Kink also intrigues Lynn.
No matter what happens, though, Lynn vows to maintain her youthful, spunky, upbeat personality—both in front of the camera and away from it. She knows it can take her a long way in the adult industry.
And in life.
"Even though I don't have much of an accent, I think people notice my southern qualities," Lynn says. "'Yes ma'am, no ma'am' … basic stuff like that. If you forget your wallet, I'll pay for your dinner and you can get me back another time. I'm always trying to help and make the best of a situation. If someone is having an attitude. I'm the person who says, 'Let's calm down and talk about it.'
"I just want everyone to be happy."
Photography by Michel Lim/@archangelfoto