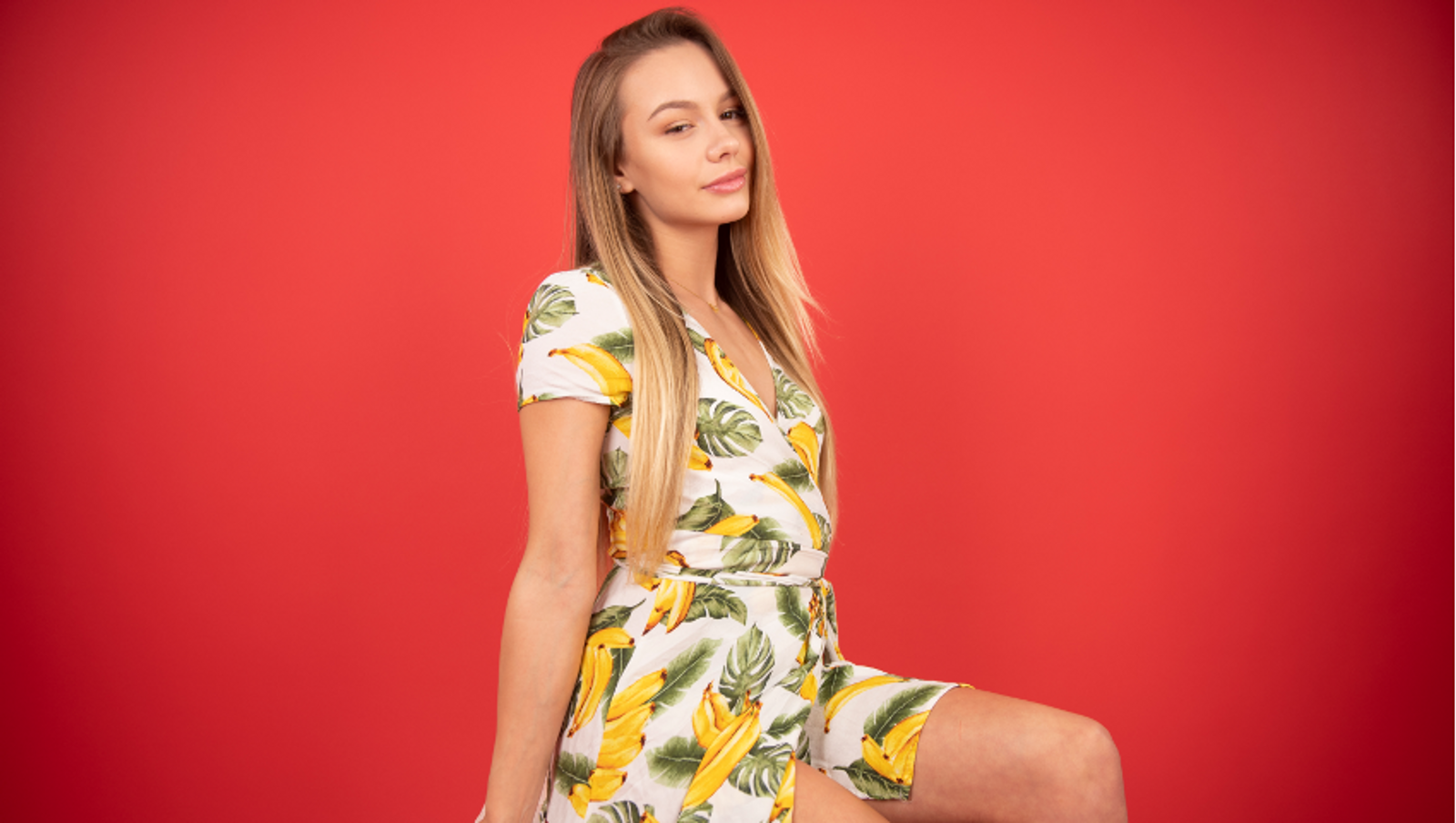 LOS ANGELES—Naomi Swann loves to go rollerblading when she's at home on Florida's Gulf Coast.
The 19-year-old native of St. Petersburg calls it her "biggest hobby."
"I try to go every day that I can," Swann says. "I'm really good at it. I can do a lot of cool tricks. It really calms me.
"I danced all through my childhood, doing every style of dance from ballet to hip-hop and acrobatics—competitively. I don't do that anymore, but this is a way for me to still express that. I'll just put my headphones in and dance all over the park on my blades."
Now the former Wing House waitress is bumping and grinding her way through Porn Valley en route to one of the hottest starts of 2019. An experienced fetish model who gives world class foot-jobs and can bust balls with the best of them, Swann made the move to hardcore sex scenes in February in impressive fashion.
The dreamy starlet, who is represented exclusively by Motley Models, did her first three scenes for Greg Lansky's high-end sites—Blacked, Tushy and Vixen—and is now booked through late July as the buzz about her performances builds.
Swann credits her smooth transition to the 80-something naughty clips she has posted on Clips4Sale, where she cultivated a loyal fan following without even getting naked.
"All of my Clips4Sale stuff is mostly POV and fetish," says Swann, a brand ambassador for the popular platform since the fall of 2017. "It does give me a really nice income on the side."
She tells AVN her exploration of the fetish world enlightened her to the breadth of niches that drive adult entertainment revenue.
"I really enjoy doing the fetish side of this industry because it just makes me such an open person and I'm into it all—I'm not judgmental," Swann says. "I've had to work a lot of custom scripts in the past in the fetish world, so I'm comfortable with memorizing lines.
"Because in fetish, I get the script five minutes before I have to do it. So just having all that history has definitely made doing porn a lot easier—with being aware of the camera and stuff like that."
Neil, the owner of Clips4Sale who has known Swann for almost two years, tells AVN, "We all knew she was going to do something big with Clips4Sale and we weren't sure when but we are very happy for her."
He says Swann's clips sell "very well" on the platform, adding, "she knows how to work the camera and exactly what the audience wants to see and hear."
"She stands out in a crowd," Neil continues. "She's very approachable, professional and is very friendly to everyone she meets."
Now that she is doing full-length hardcore, he adds, "I think the sky is the limit for Naomi."
"I think she has what it takes to go very far and if Naomi wanted to be the top porn star in 2019, 2020 and beyond she can easily accomplish this goal by just being herself and working hard," Neil says. "We at Clips4Sale are behind her 100 percent and can't wait to see where she takes it."
Swann wants to go deep.
"Absolutely," she says. "I want to do this for as long as I can. I want to be as good as I possibly can. I'm going to give 110 percent constantly and see where it takes me."
So far, so good.
Swann had thought about doing porn for a while, but just wasn't sure. Then in late January when she was signing at the Clips4Sale booth at the AVN Adult Entertainment Expo at Hard Rock Hotel & Casino in Las Vegas, she connected with Motley Models.
"It's funny the signing with Motley was kind of a spur-of-the-moment thing," Swann says. "I had been thinking about doing nude finally on my fetish. I've always been really into the whole porn world and I was like, 'God, that would be so awesome to do that but I don't really know if that's my thing.'
"When I met with Motley I was like, 'Look, if I'm going to do this, I'm going to do it right. I want the best and I'm not going to really settle for less.'
"After talking to [Motley Models owner] Dave [Rock] and agent Ryan [Kona], they introduced me to a bunch of other people and I felt really comfortable with it—that I was going to have a really good career if I did this.
"And I was like, you know what, my personality type is perfect for this industry, I think. And so they definitely gave me that last little push—like 'this is for you.'"
She debuted with Brad Newman on the three-time AVN Director of the Year Greg Lansky's Vixen in March and then appeared in her first anal encounter on his sister site Tushy on April 1, followed by the release of the first scene Swann shot when she got to LA, which dropped two weeks ago on Lansky's interracial juggernaut, Blacked.
"My first scene was my first-ever nude release out. So it was pretty cool how it worked out," Swann says.
Motley Models president Dave Rock tells AVN, "Naomi is the real deal."
"I knew within five minutes of talking to her she was a superstar," Rock says. "She's smart, well-spoken, beautiful face, super-fit body, reliable and an amazing performer. Her social media game is also at a very high-level, so the fans are following her in droves.
"Naomi is exactly what brands look for when attaching themselves to talent. This being most evident with her first three shoots in the biz being for Greg's prestigious brands—Blacked, Tushy and Vixen. So Lansky saw it, too."
Rock adds, "Since those first three shoots, she's been on a tear working for other high-profile brands such as Jules Jordan, PureTaboo, PornPros, Nympho, Penthouse, Brazzers and New Sensations. She loves that work and is already booked through the end of July. She will do whatever she wants in this business and we are pumped to be guiding her through that exciting journey."
Swann's whirlwind entry into porn came just a few weeks after she left Vegas—when she returned to LA to square off with heavy-packing Jax Slayher for Blacked, which won the AVN Award for Best Membership Website in 2016 in addition to 12 other AVN trophies in the past four years.
Even though Swann was more familiar with the bright lights than most newbies on Day 1, she admits there still were some butterflies.
"I'm a pretty open and confident person in the first place. I definitely was nervous because I had no idea what to anticipate at all," she says. "But being on one of Greg's sets is so professional. Derek [Dozer] was my first-ever director and he was perfect for my first time. Just really gentle and sweet and comforting. And the whole time I was just comfortable and happy and excited. They hyped me up and it was awesome."
She says Slayher "was also wonderful to have for the first time."
"Really sweet," Swann says. "The whole thing was really smooth and I couldn't wait to do more after."
Dozer, a 21-year industry veteran from LA who has shot 3000-plus scenes and has been directing exclusively for Lansky's sites for almost a year-and-a-half, tells AVN Swann made it look easy.
"She is just one of those girls when you walk in the makeup room and you meet her for the first time—even before a word came out of her mouth—just her energy and everything about her is infectious," Dozer says. "I was enamored the whole day. You would think she'd been doing it for 20 years. She was like a seasoned pro."
Dozer continues, "We don't have huge scripts and they don't get it until they walk in the door. But she glanced at the script and that was enough. … We said 'action' and it was perfect the first time; it was incredible.
"I called the office right after the shoot. I think my exact words were, 'This girl's a fucking winner. We need to sign her; we need to shoot her for every site.'"
Dozer, who started his career sweeping up the warehouse at Extreme Associates before also doing the shipping, says Swann "doesn't have any limitations on her sexuality."
"The sky is the limit for that girl—100 percent," he says.
Swann knew of porn super-stud Mick Blue before she arrived on the Tushy set to do her first anal scene with the three-time AVN Male Performer of the Year.
"That's probably my favorite scene I've shot," she says. "Mick is an amazing performer and was really great to work with. We had really good chemistry together. And I was very nervous for my Tushy scene just because it's porn and I'm doing anal and I don't know how different that's going to be from personal life.
"But I had way more pleasure than I thought I was going to. I thought it was going to be way more challenging or painful at points but the whole thing was surprisingly enjoyable and that was awesome to me. I had Laurent [Sky] for the director and I love that type of personality.
"So it was just a lot of fun. The scene is beautiful. It was really beautifully made."
She says Sky, the 20-year veteran shot-caller who has been one of Lansky's exclusive directors for the past three years, "definitely is the pickiest of directors I've worked with so far"—in a good way.
"And like just 'go, go, go.' Do everything a million times and it has to be perfect," Swann says. "But it does come out perfect. He really puts in a lot of work and it comes out beautiful. When I saw that scene I was blown away. I'm like, 'Oh my god, I can't believe that's me.' Like you made me look like that and do that."
The Frenchman Sky calls Swann "a great person to work with."
"As a director you're looking for beauty; you're looking for incredible performance; and you're looking for someone who takes direction really well. Naomi does all of that. She was simply amazing," Sky tells AVN. "And Mick is a top pro so it was like a dream package—beautiful girl, amazing performers. It makes the process easier when you have that level of people."
The Austrian playboy Blue, the only man to win AVN Male Performer of the Year three straight times from 2015-17, says he was looking forward to being the first to go balls deep in Swann's ass on camera.
"I got the call sheet and I did what I usually do; I looked at her on the agency site and also on social media and I thought she's cute and it's gonna be a good day," Blue tells AVN. "But you never know when a girl does her first anal how it's going to play out. Is it going to be great or is it going to be difficult? You don't know what the situation is and what you're stepping into.
"I was just open-minded and went to work. My first impression was that she does have a great personality, she looks beautiful and how can I say—we had a good connection from the beginning. Basically, we just played it from there and once it came down to do the anal preparation and the sex stills we said, 'OK, let's try to get it in there.'
"She was really amazingly prepared for that day, which I think is so important—that the girls know how to prepare perfectly and know how to loosen up the muscle a little bit so they don't hurt themselves. She was just fantastic."
Blue continues, "We got into the scene and it was a firecracker. She has a tremendous amount of natural passion, which I think shows when you will watch the scene. She's just so natural. I think she is definitely one of the new superstars this year. It really depends on what she's gonna end up doing down the road and how far it can carry her. I think anybody who can work with her is lucky…
"It really was a breeze."
Swann adds, "It was a really good step into this industry—pretty much the best that I could've anticipated. It really showed me a good side of this. So I was like, 'Yeah, I definitely love this and want to do it.'"
Even though at the time of this interview in late April Swann had done less than 15 scenes she already had a chance to demonstrate her versatility, landing her first major acting role in a PureTaboo featurette opposite fellow Motley Models star Emily Willis and AVN Hall of Fame performer Steve Holmes.
"I've personally watched PureTaboo for my own pleasure, so when Ryan called me at 9 in the morning and was like, 'PureTaboo, you want to fill in?' I'm like, 'Yes, doh! Of course I do. Oh my god, it's a dream.' I've been watching Steve Holmes on PureTaboo for a year and now I'm in it and I'm doing it. That's crazy to me."
Swann continues, "It was so much fun. That was my first boy/girl/girl experience. And I think that scene is going to be really sweet.
"I love being on a feature film set like that. I love the acting part of everything. I love those long intros and the whole storyline. I'm personally into taboo, so shooting a taboo scene is a lot of fun to me. It was an awesome experience to be a part of."
Swann plays a college student who is selling drugs on campus and then her professor (Holmes) finds out about it.
"And so he asks me to come to the house to tutor and his stepdaughter is supposed to be tutoring me," Swann explains. "But he has ulterior motives…"
Holmes' character tells Swann that he won't tell her parents or get the police involved about her drug dealing as long as she seduces his step-daughter.
"So he can watch and have a way to sleep with both of us," Swann says.    
PureTaboo's veteran director Craven Moorehead—a native of Southern California who has been a porn go-to guy for more than 20 years—says Swann showed him something that day.
"I had never shot Naomi Swann until her PureTaboo scene when she was called in for a last-minute replacement," Moorehead tells AVN. "On a site like PureTaboo where the acting is actually just as important as the girl's looks or performance, shooting a brand new girl in an important role as a replacement could end up as a disaster. Or as in the case with Naomi Swann—a fucking blessing.
"Not only is she stunningly beautiful, she also had her scenario memorized and delivered her performance as well as the best of them. I was blown away. A girl like Naomi Swann will definitely make a huge name for herself. … Her attitude, her looks, her raw talent and her desire to be a better actress will take her to the top of this industry. The sky is the limit for a girl like that."
Alex Legend agrees. The French performer worked with Swann two days in a row—for Reality Kings in Vegas and then Mofos' DontBreakMe site in LA—during the last week in April.
Swann had to switch from submissive to dominate during the setup for the Reality Kings scene.
"He was like bossing me around at first and then I turned into this whole dominatrix with a whip," Swann jokes.
Legend, who is from a suburb of Paris and has racked up more than 400 sex scenes in the past five years, tells AVN Swann aced the assignment both days.
"In that first scene she was supposed to be kind of the submissive girlfriend/wife as I'm walking around the house and telling her to get me coffee and bring me the newspaper," Legend explains. "Then cut to the evening part. In the first part she was wearing a cute girl-next-door outfit and the second part she was wearing a latex dominatrix outfit and then the role was totally reversed and she was actually taking the lead and being more dominant. And she did really good with both sides, which was a really nice surprise. …
"When you need the girl to be a switch I can't take the lead too much if the girl is not taking the lead, but she wasn't like that. She was embracing the sub part at the beginning and then the dominate part. So she showed some true maturity.
"I think those scenes went really well. … I think she's already a pretty natural performer and on top of that she is easy going and fun to be around on set. That goes a long way with directors, photographers, PAs, anybody. Because everybody talks."
Legend continues, "From the get-go I could tell she was going to be a good performer. On my end it's pretty easy when I start to understand someone's personality I can already tell before the sex starts if the person is going to be a difficult person to work with or a team player."
The 36-year-old—who has played guitar for the past 20 years and has more than 15 years experience in music production, even rode to the airport with Swann after the scene and offered her some advice about the business on their way back to LA.
"She is definitely going to do well," Legend adds. "On top of that she's cute, too, and as far as the performing I have a pretty thick dick and it was no problem. She could take the dick and she could take the pounding, whatever was needed in the scene."
"I was obviously very relieved seeing how well it was going—that we're going to work together again the next day. I knew it would be kind of easy since we already broke the ice with the first scene and it was just a continuation of that."
Swann remembers making good money waiting tables when she turned 18, befriending another girl who worked at Wing House.
"We became close friends and I moved in with her—and she did fetish," Swann says.
Even though St. Petersburg isn't a big city, the fetish community is vibrant there, she notes. Swann got to know some of the local producers during a few nights out and then realized the fetish scene could be an opportunity.
"I probably knew them for a month or so before I was actually like, 'I have cute feet. I can do this. I want to make more money,'" says Swann, who began working with other producers on Clips4Sale in October 2017. "And when I started doing that, oh my god it took off like crazy. And then within a few months Clips4Sale wanted me as an ambassador and I was like, 'I can do this full time.'"
By November she had quit her waitressing job and was on her way to becoming Princess Naomi Swann, whose top-selling clips have titles such as "Hot footjob for step dad", "How long can you survive in my mouth" and "Naomi destroys balls."
"I didn't open my own Clips4Sale store probably until like summer of 2018. I have not had that store opened for a year but it does really well," she says.
"I have a fetish producer in Florida who films for me, so I go and I shoot with him probably two or three days out of the month and we just shoot a lot of content in one day. 
"And then I just slowly release it throughout the month. And it's just seven 15-minute clips, so it's really quick, easy stuff."
Swann says there was a learning curve to creating the customs, but she caught on quick.
"I am pretty good at anything I set my mind to," she says. "As soon as I start doing something and I get the idea of it, it kind of just clicks and I'm like, 'Alright, I got this.' And if I really enjoy doing it then I'm going to put my all into it."
Now Swann is well-versed in fetishes such as giantess and vore.
"Giantess is like the camera is POV on the ground and you're stepping on it and crushing them. And vore is like you're eating tiny people. You can do it POV where you're putting the camera in your mouth and you're a giant and you talk about digestion and stuff like that," Swann explains.
"Or you could do it where you actually have little tiny figurines and you're like playing with your spit and eating and stepping on them. So learning what these fans enjoy and what it is they want to hear when you're filming this stuff—that just takes time."
So does becoming comfortable with kicking guys in the balls and trampling them.
"When you're stepping on guys and crushing their balls you have to get that fear of hurting them out of the way. Like, 'OK, you like this?' she says. "If you look at my early trampling clips and you look at them now I'm like crushing the guy. It's crazy. And then new girls see me do it and they're like, 'Oh my god, that's so scary.' I'm like, 'It's fine.'"
Swann continues, "Giantess is probably the most popular and then anything with my feet. ... It sells better if I have a male talent in there being a foot slave to me.
"Foot jobs are a really big seller for me. ... I've done so many foot jobs in my life."
Now a fourth-degree black belt in foot jobs, Swann says her Clips4Sale fans were thrilled she decided to go all in with performing.
"Even just seeing me naked," she says. "All these fans have been following me for a year and begging me to do nudity—and I did it. I just ignored them and finally I had a nude release and they went crazy.
"I have a LoveHerFeet.com booked and my fans are gonna freak on that."
Swann, who will turn 20 in August, also did her first scene with two guys—2018 AVN Male Performer of the Year Markus Dupree and Hall of Fame producer/performer Jules Jordan—for an upcoming JJV title.
"I had worked with Markus for Tushy Raw and that was so fun," she says. "My scene with Jules was originally just a boy/girl."
But she says Jordan asked her if she would be open to banging both he and Dupree at the same time.
"And I was like, 'I'm down, let's do it.' ... I had a blast doing it," she says.
Swann, who at press time was planning to move to LA in June, was a hostess at Hooters when she was 16 before getting a job at Panera Bread and then Starbucks.
"I've had so many jobs. Starbucks was my favorite vanilla job. They're a really great company to work for," she says. 
Swann points to her involvement in her high school's Naval ROTC program and then attending a well-known military boarding academy—where she was a day student for her senior year—with her poise.
"I held a really high position in that and was in command of a lot of things," she says. "I definitely think that's where I get a lot of this confidence and professionalism from. I'm really glad that I did all of that."
She's been intrigued by the career of Riley Reid, the 2016 AVN Female Performer of the Year.
"I have been obsessed with Riley Reid for a really long time," Swann confesses. "And we share really similar interests that she doesn't know that we share… I would love to do a scene with her. … As far as male talent goes I've already worked with all my crushes—Steve, Mick and Markus. I'm into the older guys."
Her stage name was inspired by a character in the 2002 hit comedy Van Wilder.
"He's trying to hook up his friend Taj with a girl. So they go to a roller rink and it's this blonde hot babe on Rollerblades and her name is Naomi," Swann says. "He's like, 'This is Naomi. Her name backwards is Imoan.' And I watched that when I was in middle school and I wasn't even supposed to be watching it—I snuck it.
"Then when I became a fetish model I was like, Naomi, that's what I'm doing. I'm a hot blonde rollerblader—and I moan, so… and then for the last name I just went on a last-name generator on my phone and found 'Swan' and I thought, 'I like that. Let me just add another N to make it more last-namey.'"
Photography by Jeff Koga/@KogaFoto, Blacked.com and RealityKings.com