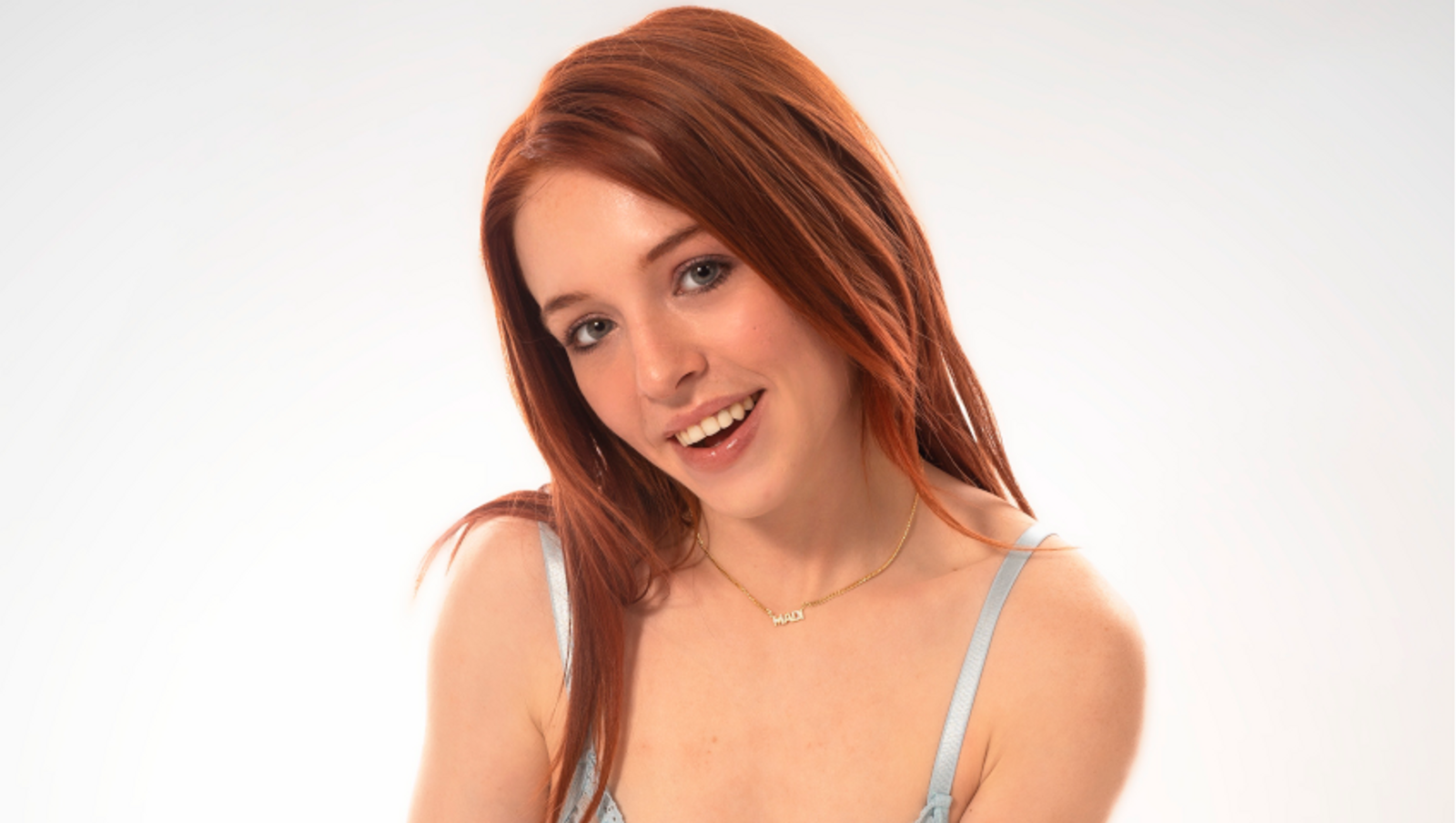 LOS ANGELES—"Growing up, I lived a really, really sheltered life in the beginning. Going to church Sunday and Wednesday, the whole shebang. I was raised up super Catholic, so I kind of became the wild child," says Madi Collins, the recent Hussie Models signing whose career in the adult industry is gaining momentum after what she describes as "a rough start" in the business. "I was always in my own flow of things. I never felt right doing the cookie-cutter, 'go to high school, go to college, find your husband or wife there, settle down.' I just always wanted more."
What she says she did not know was "how to get more." So she spent time traveling, "just to kind of find out where I wanted to be, what felt right to me as a person, and really just make my own path."
She finally found it after a move to Arizona, where she took up exotic dancing, which she did for "about a year and a half" until the COVID-19 pandemic shut down strip clubs along with most other indoor entertainment and dining establishments. 
"I really found that flow that I was looking for," Collins told AVN. "That life path. I resonated really well with sex work."
From the strip clubs, the 4-foot-10 redhead moved to OnlyFans where she set up an account and quickly moved, she says, to the top one percent of performers on that platform. But since breaking into the professional adult industry she has come to realize that she "wasn't educated in what I was doing." She found herself taking what she realizes now were unnecessary risks.
"I was testing pretty frequently, every couple of months. Now I look back and think, 'Oh my God, how did I get away with that?'" she recalls.
She would sometimes travel to a new area "and go on Tinder and find someone to shoot with. It was very risky."
But since Hussie Models discovered her via OnlyFans, she has found the professional porn industry to be "a lot safer, and a lot more welcoming than sitting on your computer alone at home trying to find people to shoot with. The porn community opened up and said, 'Hey, here's a safe place to do whatever you want, pretty much. And that's what I like about it."
She signed with Hussie in July of 2020, after a recommendation from a scene partner in one of her OnlyFans shoots. "It was a really quick process, with everything just falling into place," she said. "But starting in porn, I did have kind of a rough start because I had dyed my hair blonde right before I thought about joining porn. I'm a natural redhead, and I didn't feel like myself. So ever since I went back to red, I feel like I'm exactly where I need to be."
While Collins says that she feels at home in the professional porn community, she remains a bit starstruck as well. She recalled an early sighting of one of her idols — at a Talent Testing Service facility, an experience she said made her feel like "I was really doing this."
"It was in my mind that I was going to run into some big porn star that I had watched, and I was hyping it up in my head — this is the same place that all these people go to," she told AVN. "And I was waiting in line at TTS, maybe the second or third one in line, and I looked up from my phone and I saw a really well-known porn star, Abella Danger, walking out. It really blew me away. That was another moment it all got so real to me."
Not only does she remain a fan, she also enjoys interacting with her fans, which sometimes happens under unusual circumstances, as with one fan who recognized her from her antics on an airplane.
"When I'm on a flight for work, I'll always go into the bathroom and I'll take some raunchy little pictures," she revealed. "There was a guy who commented on my Instagram picture after a flight, who said, 'I just sat behind you on a flight, and saw you go into the bathroom, and I knew what was going on!' I thought that was really funny, because that was my first, in-person, where somebody recognized me. That was a really cool thing."
The church-going "wild child" who was raised "super Catholic" has apparently found the path in life she had been looking for just a few years ago. And she says she is pursuing her career in porn with the support of those same parents who took her to church on Wednesdays and Sundays.
"They're both very cool with it. I got super lucky," she said. "My parents are the type of people who have always wanted me to figure out my own path. Because they also are that way. They were raised to find their own path, and to just have the support of family. They're super good about it. Way better than I would have thought. I'm super lucky that I got blessed with that kind of support system. They're both super happy seeing me happy."
Photography by @jeffwpobst & @lucasortizphotography